Janmashtami is the most awaited festival throughout India. The celebrations are bound to be more fun when you have a toddler at home. After all, little Krishna's mischievous ways will strike a chord with the little one!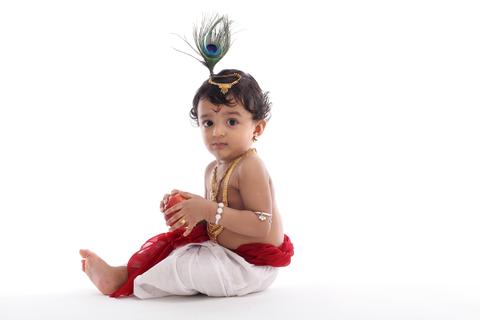 So, are you planning to dress your kid as little Krishna this Janmashtami? If you are wondering how to get that look, here are two Krishna Dresses Ideas to transform your little one into a cute Krishna!
1. Dhoti
Get the dhoti fabrics like cotton or silk as they are soft and will be comfortable for the baby. You can drape a silk dhoti yourself by cutting one off your silk dupatta or sarees to make a cute little dhoti for your tiny one. Alternatively, you can purchase promptly accessible dhotis from the market, which are available in different vibrant colors and varieties. You can pair the dhoti with a kurta if you wish to do so.
2. Kurta-Pyjama
Dressing the little one in a Kurta-Pyjama is one of the easiest ways to dress as Krishna if you do not wish to spend. You can simply dress your little one in his fav kurta pajama-set that you have already at home and tie a cotton dupatta around their waist. Complete the look with a homemade crown and jewelry for a charming representation (and our own version) of Baal Gopal/Lord Krishna.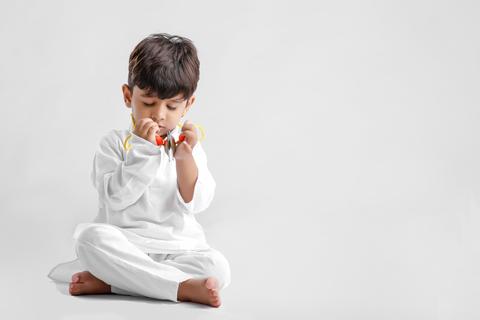 We have some tips for you to create your own DIY accessories for an ultimate your little 'Natkhat' Krishna look:
1. Crown (mukut): You can make a lovely Krishna crown using say a piece of cardboard and decorate it with a golden paper. For embellishments, stick some beads for a royal look and feel. As an add-on, you could use a beautiful peacock feather to get that perfect look.
2. Jewelry: Lord Krishna was a prince, so go ahead and transform your toddler into one! Matching jewelry for the neck, arms (armlets) and legs (anklets) will add an amazing touch and give your costume a more realistic look. You can create the adornments using a golden cartridge sheet or use the floral necklace. Ensure that your little one doesn't eat them.
3. Stole: Choose a sparkly bright dupatta from your closet. Fold it in three parts so that it develops creases and use it for tying over the waist or as a stole over the shoulders.
4. Flute: One cannot imagine little Krishna without a flute. You can either get a simple toy (wooden) flute or make one yourself. Choose any material with the cylindrical shape of a flute, like a plastic pipe and decorate it by wrapping cloth or paper over it. Make sure that the little one doesn't chew it.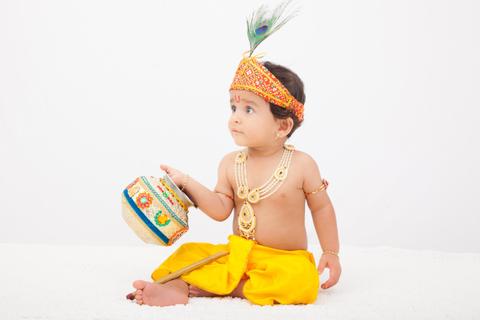 5. Mud Pot: Lord Krishna is known for his love for butter and we all have grown up listening to his naughty tales of stealing makhan (homemade butter) at home and from the neighborhood. The whole Krishna theme can be taken to another level with a simple accessory — a small mud pot. You can make a butter pot for your Natkhat Krishna by using a small plastic pot (as they are lighter). Decorate it by wrapping a red cloth over it and using some Gota-Patti.
Festivals are a great time to dress up your kids. All you have to keep in mind is that your child should feel happy and comfortable. The idea is to have fun and rejoice festivities with great fervor, therefore keep it simple!
 We would love to see your little Krishnas and Radhas all dressed up in cute traditional dresses! Send us pictures at mail@slurrpfarm OR post a picture on Instagram and tag/ hashtag us @SlurrpFarm #SlurrpFarm!
Happy Janmashtami!