by Vaishali
My life as a mom is a hectic life, and it is tough too. What makes it tougher is the thought of packing an appetizing and healthy tiffin box for a school-going kid. As moms, we are always wanting to pack everything healthy in our kid's lunch boxes, wanting to be sure that our little munchkins eat nutritious food and stay healthy.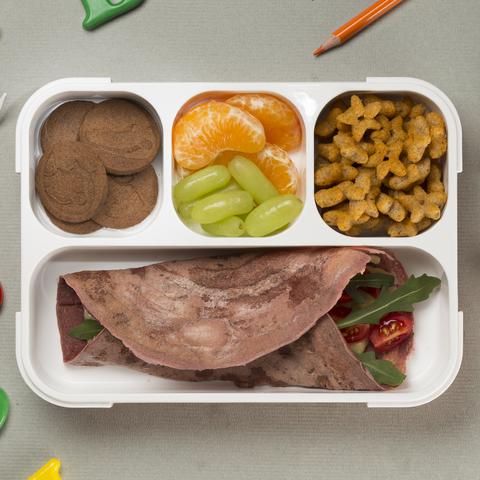 Just as most other mommy friends I was always struggling to find good and fun tiffin-box recipes for my son. Constantly googling lunchbox food ideas, quick recipes, mostly healthy snacking/lunch options for school which looked good, and tasted heavenly. I would ask other moms about what did they pack in their kids' lunchboxes. I was only hoping to not see my child bringing his tiffin back home. I was obsessing over it so much that my dreams were about rainbow food, grape eyes, banana cheeks, rice puddings, and gourmet salads. Literally eating, breathing and sleeping tiffin box recipes!!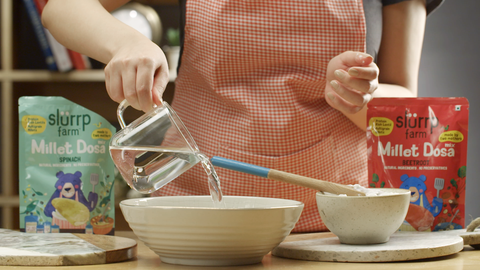 One day, a friend introduced me to spectacular recipes using 'Millet Dosa mixes. Sharing those 5 amazing, healthy food tiffin ideas with you:

1. Vegetable Pizza Dosa
Ingredients:
1. One cup Slurrp Farm Dosa batter (spinach or beetroot)
2. Freshly chopped vegetables like bell peppers, capsicum, onions, tomatoes, olives
3. Chopped basil
4. Homemade marinara sauce*
5. Mozzarella cheese
6. Dried herbs like oregano, basil
Method:
1. Mix all the chopped vegetables with some salt, pepper, and dried oregano
2. Heat the tawa (non-stick pan) with some ghee on it. When hot, sprinkle some water on the tawa and pour dosa batter to make a small circle (pizza base)
3. Cook the mini-dosa on both sides till crispy and set it aside. Make enough for the whole family!
4. Line a baking tray with butter paper and lay the mini-dosas on top
5. Spread some homemade marinara sauce* on top of the mini-dosas
6. Add the chopped vegetables on the top of the dosa and garnish with chopped basil, grated mozzarella cheese, and dried herbs as desired
7. Toast the pizza in a preheated oven (180℃ for 15 mins)
8. Yummy and healthy dosa-pizzas are ready to be served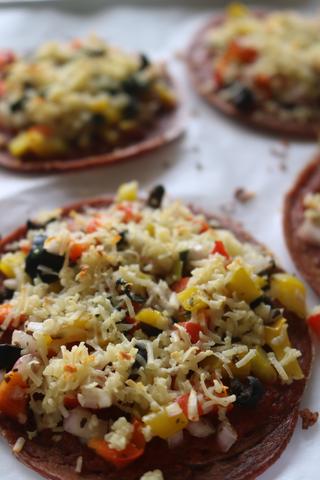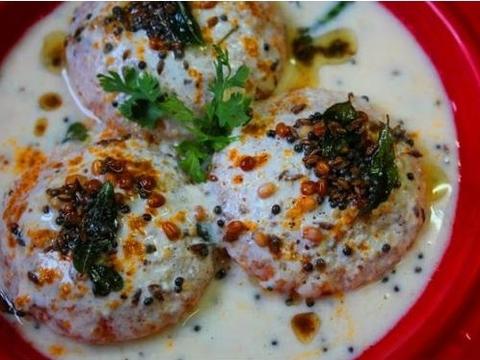 Source: Doonatdoor
2. Idli Made With Dosa Batter
Ingredients:
1. One cup whisked dahi (yogurt)
2. ¼ Cup water
3. Slurrp Farm Dosa batter idlis (how to make- the process explained below)
4. ½ Tsp powdered sugar
5. Two tsp ghee (clarified butter)
6. Salt to taste
7. One tsp mustard seeds
8. One tsp cumin seeds
9. Six curry leaves
10. ¼ Tsp asafoetida
11. One tsp finely chopped coriander
Method:
How to make Idlis:
1. Blend 1 measure of the Slurrp Farm Dosa mix. Add ½ measure of plain yogurt to it. Mix well
2. Add ½ measure of water to the batter to attain a thick consistency. Add salt, if required
3. Grease the idli mold with ghee and place it in a vessel. Add the mixture in each of the molds. Cook for 7-8 minutes
4. Remove the hot idli mold from the vessel and let it cool for a few minutes before scooping it out of the molds
How to make the final dish:
1. Combine the curd, powdered sugar, salt and ¼ cup of water in a deep bowl and mix well
2. Heat the ghee in a pan. Add mustard and cumin seeds to it and stir
3. When the seeds crackle, add curry leaves and asafoetida. Sauté on a medium flame for a few seconds and pour the seeds over the curd mixture. Mix well
4. Arrange the idlis on a serving plate and pour the curd mixture evenly over
5. Garnish it with coriander and serve with chutney immediately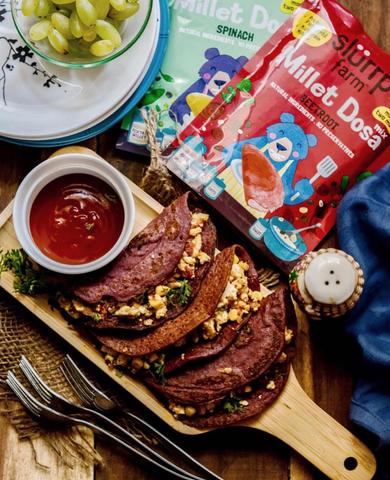 Source: @spoonforkandfood
3. Dosa Wrap 

Ingredients:
1. One cup Slurrp Farm Dosa batter (spinach or beetroot)
2. One boiled and mashed potato or 100 grams grated cottage cheese
3. One finely chopped onion
4. One finely chopped tomato
5. Salt (if required)
6. Oil/Ghee (clarified butter)/Butter (as required)
7. Chopped coriander leaves (optional)
8. Homemade tomato sauce (optional)
Method:
1. Take Slurrp Farm Dosa batter and mix the chopped onions and tomatoes to it. Add salt, if required
2. Add chopped coriander leaves to the mixture. Heat the tawa (non-stick pan) and grease it with oil, ghee or butter
3. When the tawa becomes hot, pour one ladleful of batter and spread it in a circular motion
4. Drizzle oil around the edges and at the center. Cover and cook on a medium flame for a few seconds
5. Flip the dosa to the other side and cook in medium flame for another 2 minutes
6. Apply a gracious spread of homemade tomato sauce. Follow it up with a layer of mashed potato or grated cheese evenly on one side of cooked dosa. Sprinkle some salt and ground pepper (as per taste)
7. Now make into a wrap and relish!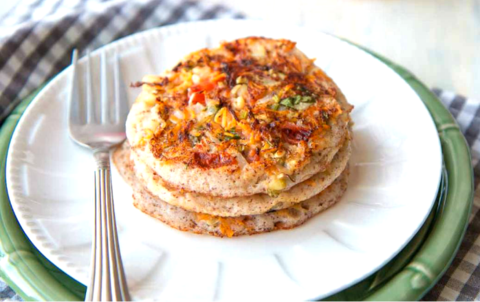 Source: SanjeevKapoor
4. Vegetable Uttapam
Ingredients:
1. One cup Slurrp Farm Dosa batter (spinach/beetroot)
2. ¼ Cup onion, finely chopped
3. ¼ Cup green bell pepper, finely chopped
4. ¼ Cup carrot, finely chopped
5. One tomato finely chopped and deseeded
6. Two tbsp coriander leaves, finely chopped
7. Cooking oil, for greasing
Method:
1. Take the Slurrp Farm Dosa batter in a bowl. Add water to get the desired consistency
2. Heat a non-stick tawa and grease it with oil. When the tawa becomes hot, pour one ladleful of batter and spread it in a circular motion
3. Add the chopped vegetables on the mixture. Drizzle oil around the edges and at the center
4. Cover and cook on a medium flame for a few seconds
5. Flip the uttapam to the other side and cook in medium flame for another 2 minutes
6. Serve immediately with chutney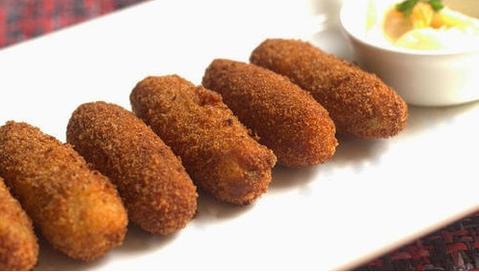 Source: Indiamart
5. Dosa Cutlet
Ingredients:
1. Two cups Slurrp Farm Dosa batter (spinach/beetroot)
2. Two tbsp onion, finely chopped
3. ½ Tsp ginger, finely chopped
4. One tbsp coriander, finely chopped
5. ½ Cup poha (Flattened rice)
6. Salt to taste
Method:
1. Take the Slurrp Farm Dosa batter and mix poha in it. Keep the mixture aside for 10 minutes so that the poha gets soften in the batter
2. Add chopped vegetables along with the salt to the batter. Mix well
3. Make small balls and deep fry
4. Serve with ketchup or chutney
Do let us know your favorite recipe. In case if you have your own recipes to share, send across as mail@slurrpfarm.com