Let's welcome this spring with nutritious food for kids. Folks, who says you can't make sweet toddler food, healthier? Well, we say you can and you will, with the following healthy recipes for kids. We have something yellow to match the occasion and some ragi food for that extra calcium your growing little munchkin needs.
With the onset of spring and harvest after the cold and dreary winter months, here's something that we think would be great for you and the little one to relish. Loaded with all the essential nutrients much needed during this weather, so go on and learn how to make them under 6 steps!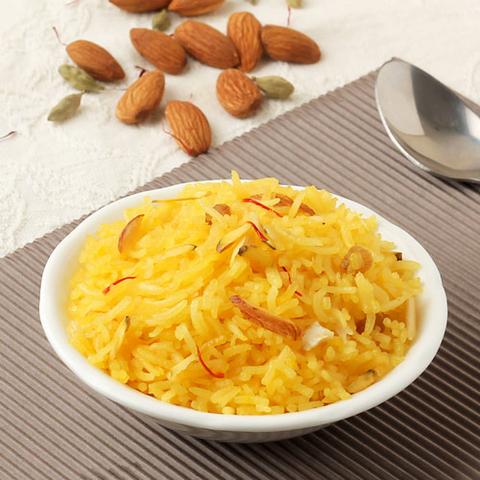 1. Meethe Chawal 
Ingredients:
1. ½ cup Basmati Rice (long-grained rice)
2. 2 Tbsp ghee
3. ½ cup Slurrp Farm Jaggery Powder
4. ½ Tsp cinnamon
5. One Cloves (lavang)
6. One Green cardamom
7. ¼ Cup Water
8. 2 Tbsp Slurrp Farm Nut Powder (dissolved in one tbsp of milk)

Method:
1. Rinse basmati rice and soak it in water for 20-minutes. Boil the rice with water in a pan over medium flame until almost cooked for approx. 8-10 minutes. Drain water completely and keep aside until required
2. Add ghee on a pan and heat it over low flame. Add cinnamon, cloves and green cardamom, sauté for 30-40 seconds
3. Add the jaggery powder with ¼ cup of water and stir around for a minute. Then add the nut powder mixture and stir for 2 minutes

4. When the mixture starts boiling, add cooked rice. Mix gently until each rice grain is coated
5. Reduce flame to low and cover it with a lid (or a plate). Cook until almost all moisture is evaporated, for approx. 5-6 minutes
6. Garnish with a pinch of nut powder and your sweet rice is ready!

2. Sprouted Ragi Ladoo
Ingredients:
1. One Cup Slurrp Farm Sprouted Ragi Powder
2. 3 Tbsp Ghee

3. ½ Cup Slurrp Farm Jaggery Powder

4. 2 Tbsp Slurrp Farm Nut Powder

5. One Tbsp Poppy Seeds

6. 2 Tbsp raisins

Method:
1. Heat 1 tbsp of ghee in a pan and roast the sprouted ragi powder. Cook on low flame for 5-7 mins

2. Grind the poppy seeds and raisins together and combine the nut powder and jaggery powder

3. In a bowl mix the roast ragi and the ground dry fruit mix. Add 2 tbsp of ghee to hold the mix together

4. Pinch out a small portion from the ladoo mixture, give a tiny bit to your little one and roll it into a batch of round balls. Add more ghee if too dry or crumbling

5. Your delicious ladoos are ready to be served as toddler food!

Trying this recipe? Show us how it comes out! Post the picture on Instagram and tag us @SlurrpFarm