"Where there is a perfect pancake flip, there is life."
Mommies love pancakes cause little munchkins are in absolute love with the flattened-cake. Everything else can wait but not those chocolaty, banana-chocolate-chip-py, Blueberry or apple-strawberry pancakes. There's something gorgeous going on there. To dip the warm chewy bite in a slightly sweet syrup, and then see it going and melting inside the mouth.
It's also a fact that sometimes moms want to kick it up a notch and make something special (read healthy and tasty). We've compiled some of the most popular recipes that use our millet-based Chocolate and Banana Choco-chip Pancake Mix for some deliciously simple creations.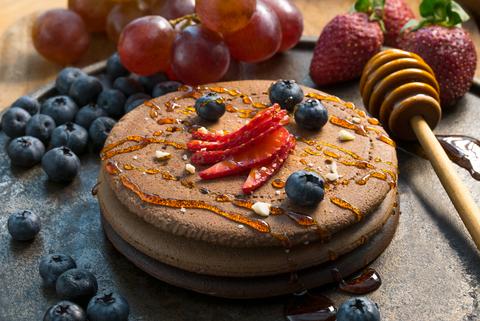 Take a look at super easy, healthy, yummy and filling evening snacks for kids. Try them out today!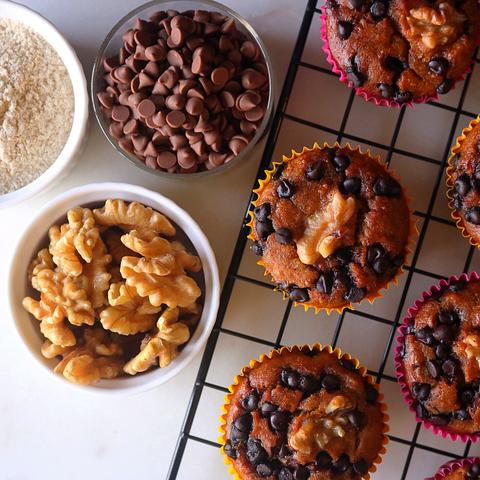 1. Chocolate Ragi Muffin
Ingredients:
1. ¾ Cup whole wheat flour
2. ¾ Sprouted ragi powder
3. ¾ Cup Slurrp Farm Jaggery Powder
4. ¼ Cup oil
5. Five tbsp Slurrp Farm Chocolate Millet Pancake
6. ¼ Raisins
7. One tsp baking powder
8. ¼ Tsp salt
9. One tsp orange zest
10. One tbsp lemon juice
11. ¾ Cup cold water
Method:
1. Preheat the oven at 180 degree Celsius for 5 minutes. Line the muffin tray with parchment paper
2. Sift the whole wheat flour, sprouted ragi powder & chocolate millet pancake powder, salt and baking powder together in a bowl
3. Add jaggery powder in another mixing bowl. Add water & lemon juice to it. Stir well until a smooth paste is made. Add oil & give a quick mix
4. Add all liquid ingredients to the bowl of dry ingredients. Blend well to form a lump-free batter. However, do not over mix
5. Lastly, add the orange zest and give a quick stir
6. Scoop the batter into the muffin liner, up to ¾ of its capacity
7. Tap the muffin tray 3-4 times in order to remove the trapped air bubbles. Transfer it to the preheated oven and bake for 25 minutes
8. Insert a toothpick in the center of the muffin to check if it comes out clean. If it is sticky, bake for another 2-3 minutes and repeat the toothpick process
9. Allow the muffins to cool down. Serve the muffins to your tiny tots and store the rest in an airtight container for 2-3 days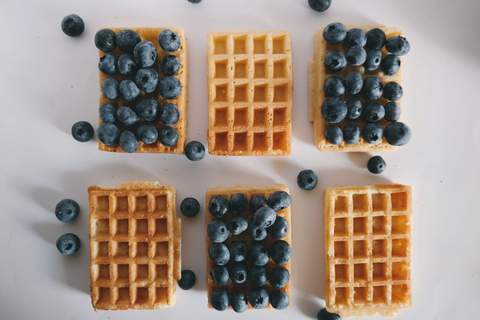 2. Waffles:
Ingredients:
1. Two cups Slurrp Farm chocolate pancake mix
2. Two eggs
3. One tsp vanilla extract
4. 1 ½ cups whole milk
5. Four tbsp melted butter
Method:
1. Take eggs, vanilla extract, whole milk & melted butter together in a bowl. Beat all these ingredients together using a whisk
2. Add the Slurrp Farm Chocolate Pancake Mix to the mixture, and continue to stir to form a lump-free batter
3. Allow the batter to rest for 5 minutes and let it thicken
4. Pour the batter in the preheated waffle maker and cook until the mixture turns light brown
5. Enjoy, the delicious waffles can be served with cream and berries!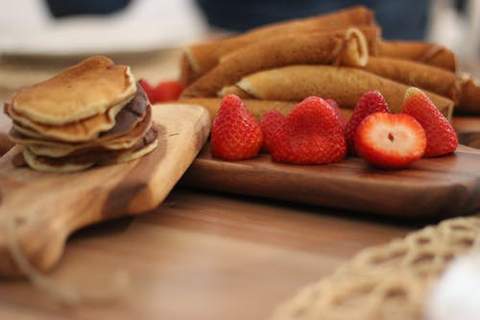 3. Crepes:
Ingredients:
1. One cup Slurrp Farm chocolate pancake  mix
2. ¼ Cup water
3. Two large eggs
4. Two tbsp butter, melted
5. Oil
6. Strawberries, honey/maple syrup, whipped cream to garnish
Method:
1. Take the Slurrp Farm Chocolate Pancake Mix in a bowl & add water, eggs, and butter to it. Whisk the mix with a hand blender to remove any lumps and to make the mixture thin and smooth
2. Cover & refrigerate the mixture for about 2 hours
3. Grease a non-stick pan over a medium flame. Stir the crepe batter to combine all the ingredients together
4. Pour 3-4 tbsp of batter into the center of pan & tilt it around to cover the pan evenly
5. Add a layer of honey/maple syrup on warm crepe while it is still wet on the pan and cook for about 90 seconds, until the bottom turns light brown in color
6. Loosen the edges & cook the other side for another 20 seconds
7. The delicious crepe is ready to be served to your kids with some strawberries and whipped cream
Stay tuned! We will soon be posting more recipes using pancake mix!