by Riti Kaunteya
'This birthday we must do something different.' I said with a high expectation that the children would jump with joy. No such luck. The chances of going with what we usually do, meaning fast food and juices seemed to be high until they had the 'Save Our Earth' campaign in their school. Not one to not strike the iron when hot, I raised the topic again. 'Let us make it an Earth-friendly party.' I said excitedly. 'We will not use disposables or paper napkins. We will use stainless steel tumblers for juice and water and likewise use our small plates for serving yummy, healthy snacks. If needed, we can buy some and keep them safely for the next party.'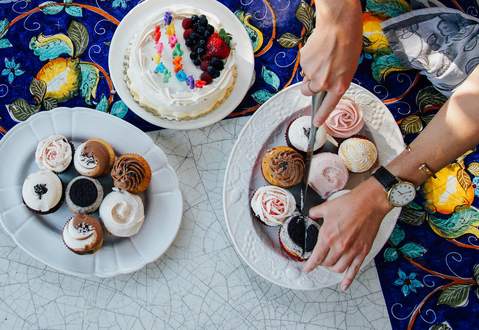 'And no napkins,' piped in my son, 'Let us use hand towels like the ones we take to school.'
'Oh and no plastic spoons and forks Mamma,' the second son advised sagely.
'Today Mam reminded us to not eat junk food but our party food is always junk food Mamma. Why can't junk food be healthy? Then no one will stop us from eating them.'
I sighed. There was a time when my children had come back from a party without eating a thing because they were all junk food. School lessons that year had worked their way into their minds but in due course, all was forgotten. I could see the influence of the teacher was beginning to work its magic on them yet again.
Perhaps, I must find a few easy party ideas that use healthy recipes to wean the children off junk food. And if I am lucky, perhaps the children would help me perfect the recipe as well.
I looked online and chanced upon the site of Slurrp Farm which sells healthy snack food, made of millets and other grains. Perhaps I could work on some recipes based on their products and that would be easy to make party snacks.
We spent a few happy afternoons perfecting them through multiple tasting sessions with the resident guinea pig- Dad until we were satisfied with the results.
Here are the 5 easy party food ideas for anyone to adapt: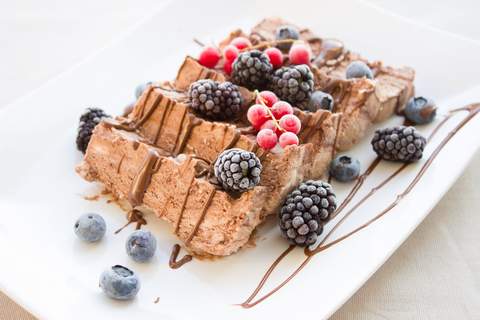 1. Fruit-Cake Bites (without egg)
Slurrp Farm has a millet pancake mix which comes in banana and chocolate flavors which can easily be made into waffles and muffins. The mix already contains baking powder hence you do not need to add anything else except for the garnish.
Ingredients: 
1. One cup of Slurrp Farm Millet Chocolate Pancake mix
2. ½ Cup of toned-milk
3. One cup of choco chips
4. One cup walnut kernels
5. One cup finely-chopped cashew nuts
6. One cup raisins
7. One cup cranberries
8. One cup blueberries
Method:
1. Take 1 cup of Slurrp Farm Millet Chocolate Pancake mix. Add all or any two of the ingredients mentioned above
2. Pour the batter in a greased mini-muffin tray for baking in the oven. Put it into the pre-heated 350 F. degrees (or 180C., Gas mark 4) oven. Bake for 45-50 minutes
3. Once the cakes cool, you may want to use the refrigerator to cool them further, take toothpicks and use them to make combinations of two fruits and a muffin and serve them on trays
4. You could use grapes, pineapple, watermelon, apples to pair with the muffins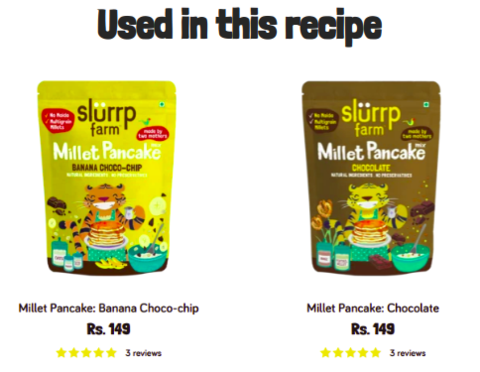 2. Millet Fish Cutlet
Ingredients:
1. One Kg fish (Salmon)
2. 5 tsp- coriander powder
3. One tsp- turmeric powder
4. 3 tsp- jeera powder (powdered cumin seeds)
5. One cup- coriander leaves
6. One cup grated onion/onion paste
7. Two eggs
8. Two finely-cut green chilies
9. Salt to taste
10 5-6 tsp – ginger-garlic paste
11. 2 Tsp- mustard oil
12. Slurrp Farm Beetroot Dosa Batter (Mix half pack of dosa with yogurt- half cup and water- half cup)
Instructions:
1. In a pan, boil 3 cups of water. Add the fish along with a pinch of turmeric and half tsp ginger paste. Let it simmer for 5 minutes or until the fish is cooked. Let it cool
2. Debone the fish carefully and mix the above ingredients and mash them together 
3. Divide them into balls and flatten each into a cutlet
4. Roll them over Slurrp Farm Beetroot Dosa batter spread on a plate
5. Heat the tawa (pan) and smear oil over it. Cook the cutlets on both sides and serve with mint-coriander chutney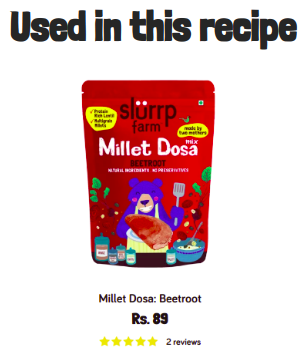 3. BeetRed Cutlets
Ingredients:
1. Slurrp Farm Beetroot Dosa Batter (Mix half pack of dosa with yogurt- half cup and water- half cup)
2. Two tbsp onion, finely chopped
3. ½ Tsp ginger, finely chopped
4. One tbsp coriander, finely chopped
5. ½ Cup poha/flattened rice
6. Salt to taste
Method:
1. Take the Slurrp Farm Dosa batter and mix poha in it. Keep the mixture aside for 10 minutes so that the poha gets soften in the batter
2. Add chopped vegetables along with the salt to the batter. Mix well
3. Make small balls and deep fry
4. Serve with homemade sauce or chutney
Expert Tips- Variations:
Slurrp Farm's Beetroot Dosa Batter is a versatile batter which can be made into cutlets
You can go creative with the mix adding boiled and mashed potatoes, crumbled homemade paneer, chicken keema, boiled and mashed peas, etc along with spice mix and salt
You can either fry them or cook them over

 

tawa (pan) smeared with oil

4. Fruit-y Cheesecake
Ingredients:
1. Two boxes of Slurrp Farm Oats, Honey & Banana Cookie
2. One cup sliced strawberries
3. One cup sliced mangoes
4. Grapes, green (handful), optional
5. One cup granulated brown sugar/jaggery powder
6. Two cups Creme Cheese
Method:
1. Crush the cookie and put it in a baking pan with parchment paper, make sure the cookie crumbs are pressed flat and keep n fridge for 10 mins
2. Mix the sugar, creme cheese, and assorted fruits and mix well
3. pour the mixture on the cookie crumb based and leave in the fridge for 30 minutes

5. Mini Sattu

 

ke

 

Paraathe
Ingredients:
1. One cup Sattu powder
2. One finely chopped onion
3. One green chilly
3. 5-6 coriander leaves
4. Two garlic cloves- a thick paste
5. Juice of one lemon
6. One tsp mustard oil and salt to taste
7. ½ Cup water 
8. Slurrp Farm Beetroot Dosa Batter (Mix half pack of dosa with yogurt- half cup and water- half cup)
Method:
1. In 1 cup Sattu powder, add finely chopped onion, green chilly, coriander leaves, and garlic cloves. Add the juice of a lemon, one teaspoon mustard oil and salt to taste. Mix together using half a cup of water (which will help in binding) or until the mix is crumbly but not like a paste
2. Make standard paratha dough using Slurrp Farm Beetroot Dosa mix and ghee
3. Divide the dough into balls. Take a dough ball, use a finger to make a depression such that it resembles a bowl. Fill it with the sattu mix and roll it carefully into a mini parantha
4. Bake the paratha on an iron tawa using ghee until it is crisp. Serve with homemade tomato chutney and/or baingan ka bharta (mashed brinjals/aubergines- Indian recipe) based on kid's liking
If you have tasty and healthy kids' birthday party food recipes, feel free to share with us: mail@slurrpfarm.in

and get a chance to be featured on our website!