This Ganesh Chaturthi, let's tweak our standard modak recipes with some healthy add-ons our kids are going to love much. Super-nutritious, yummy and made using real-butter cookies and ragi pancake mix…So, if you are looking to make chocolate-y modaks, then you must read on…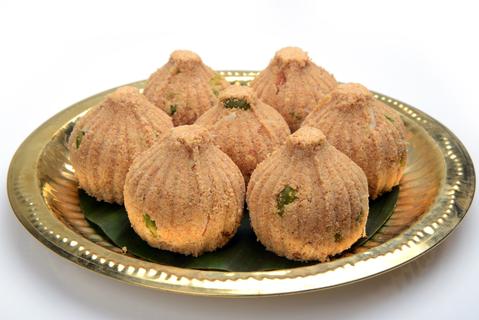 1. Oat-y Modak With Choco-chips
Ingredients:
1. One Pack of Slurrp Farm Oats, Honey, and Banana cookies
2. ⅓  Cup milk
3. ⅓ Cup sweetened condensed milk
4. ¾ Cup chocolate chips/chocolate
5. ¼ Cup chopped almonds/pistachios (optional)
Method:
1. In a pan, add milk, chocolate chips, and condensed milk. Turn the stove on a medium flame. Keep stirring continuously until the chocolate melts completely

2. Once the chocolate melts, the mixture will become smooth and shiny. Now, add the Slurrp Farm cookie crumbs to the mixture

3. Mix well and add chopped almonds halfway through. Stir continuously until it comes together as a sticky dough

4. Keep aside till it gets cool to touch. Now, grease your finger and modak moulds using ghee

5. Start shaping the modak using the mould. Continue shaping till all the mixture is us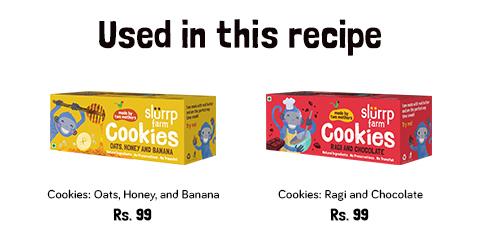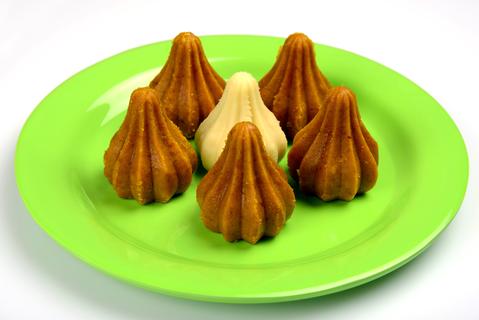 2. Chocolate Modak
Ingredients: 
1. ¾ Cup Slurrp Farm Chocolate Pancake Mix
2. A pinch of salt
3. Water as required
For Stuffing:
1. ½ Cup chopped nuts
2. 3 Tbsp grated coconut
3. 2 Tbsp brown sugar
Method:
1. In a pan, take the Slurrp Farm Chocolate Pancake Mix and start roasting it on a low flame for 5 minutes. Add a pinch of salt and keep it aside
2. Boil water in another pan. Now, add it little by little to the roasted pancake mix. Mix well using a ladle and add more water. Keep stirring till it comes together like a soft dough
3. In a mixer grinder, add nuts, brown sugar, and coconut. Grind it well and then, transfer the mixture to a bowl
4. Now, grease your finger and modak moulds using ghee. Take a small portion of the dough and put it into the modak mould. Make a hole in the center to add the nuts mixture as stuffing. Press it and seal it with little more dough
5. Gently open the mould and take it out. Continue the same till the dough is used up

6. Now, arrange all the modak in a steamer plate greased with oil/ghee. Boil water in a steamer and place the plate inside it. Steam cook for 12-15  minutes

7. The modak is ready to be served!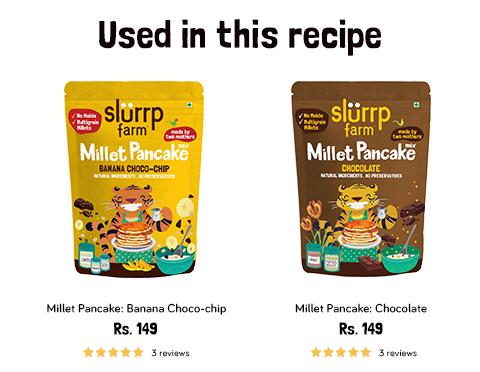 The ideal shape of a modak has always been an art practiced and aced by several generations, Mamas. Modaks are our absolute favorite and we can't help but devour into them during the 10-day celebrations of Ganesh Utsav, so here's wishing you and your little ones a very Happy Ganesh Chaturthi
Pro-tip:  Seek help of your kids. These 2 modak recipes can be easily prepared under 30 minutes because there is no need to prepare the outer covering and stuffing mixture separately. Chocolate modaks are shaped by using moulds. Your  LOs can have so much fun making these healthy-sweet dumplings!