Here is something you've been trying to get your kids to eat, it is something green, they go "Nope?!" and don't really care for it as much as we do. A couple of hints- it is a super 'superfood', a 'nutritional powerhouse'.
Well, most of you would have already guessed it by now. It's spinach! The leafy greens we all love and grew up watching as Popeye, The Sailor Man, squeezes the spinach-can and it magically makes him incredibly strong. But your kids have no idea who Popeye is or doesn't care for spinach. So, how do you get them to eat it without going "Ugh"?
Well, you are in luck, moms and dads! We've got a yummy recipe (made using Slurrp Farm dosa mix) for you. We call it spinach fritters- one of the best evening snacks for kids, and it is delicious! You can also check out how we make it on our Instagram highlighted story (click here).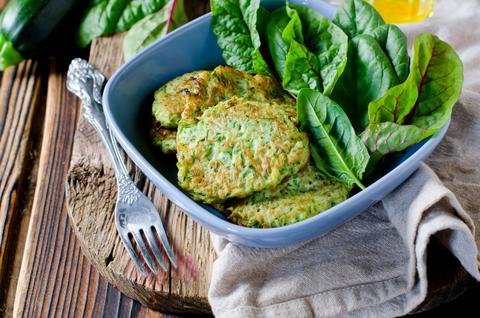 Spinach Fritters
Ingredients:
1. ¼ Cup Slurrp Farm Spinach Dosa mix 
2. 2 ½ Cups of chopped spinach
3. ¼ Cup gram flour
4. ½ Tsp+ chili powder (not recommended for kids)
5. ¼ Cup yogurt
6. ¼ Cup water
7. One Cup of chopped onions
8. One Tsp+ of carom seeds
9. ½ Tsp+ of garlic ginger paste
10. Salt
11. Olive oil
Method:
1. Add the Slurrp Farm Spinach Dosa mix, gram flour, chili powder, carom seed & mix together with yogurt & water in a bowl (adjust water to get the desired consistency)
2. Add the chopped spinach, onions, garlic – ginger paste tp the mixture & let it rest for 10 minutes. Mix the wet

3. Make sure the salt is just right for you
4. Heat the oil in a deep cooking pot or kadai. When it is hot enough drop small quantities of the mixture
5. Fry until golden and keep them on kitchen tissue to drain the oil
6. That's it, serve them while they are hot!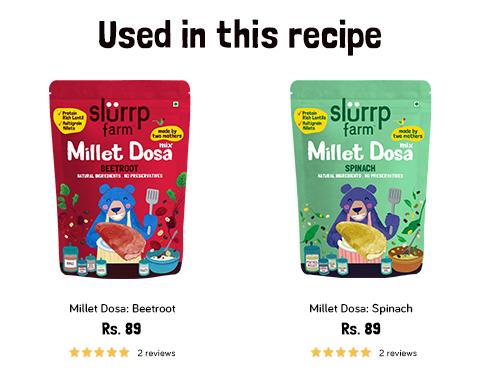 Tell us if you tried it, liked it or planning to tweak it a little, if yes, share your own version. Send us at

mail@slurrpfarm.com