by Rhituparna
Play is hard work for children. Yes, we know. But the aftermath of play? It is clearly hard work for parents or other adults around, isn't it? Who will pack up the toys? Who will clean the mess? 
And you think children are too young to help you clean up the mess!? Not really, they could actually – if you can break it down into smaller tasks and buy their will! And we admit, the 'getting them to do it' is the hardest part.
Here are a few cleaning games that might excite your kids about tidying up!

1. The race among siblings or, friends
Evoking the competitive spirit among kids is a good idea to get such tasks done. Not only does it get done easier, but faster too! You could announce a contest for the 'Fastest Clean Up Drive' – among siblings or friends if they have been playing together.
2. If-Then-Else Game
Who doesn't like a perk or two after jobs that we don't usually like to do! If your kid has a favorite toy, pack of healthy puffs or munchies, book, or so, you could promise him/her that experience after the clean-up drive is over. This is a tricky one though as the kid might expect something every time they clean up. So, keep the reward simple – it could even be his favorite sticker as a tattoo or, the permission to wear her favorite frock or, you and the child playing together for some time.
3. Dress Up and Clean
The cleaning up task can be converted into a pretend play activity. Children love their make-believe world (at least up to 7 years of age). Turning into a fairy with a magic broom or, arresting all toys as a police officer and putting them behind bars (Read – on the shelf or inside the cupboard) could double their excitement! Occasionally, you can offer to click a photo or a video as you are surely going to miss these moments when they grow up!
4. Musical Statue
If your child is an energetic one and loves music, here's an easy cleaning game for him/her. Play his/her favorite track and pause intermittently while they are cleaning up. They have to freeze when you pause the music and continue cleaning when the music is on!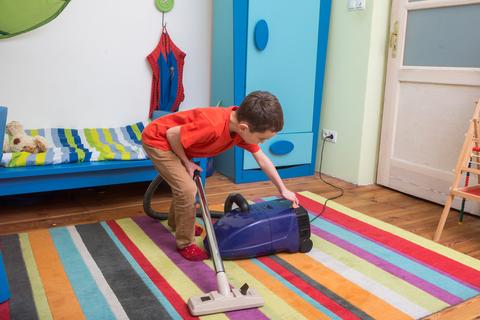 5. Treasure Hunt 
This is an adaptation of a matching and sorting activity. You could label different toy boxes or shelves with colored shapes/ tapes and explain that each one is for a certain type of toy. Maybe dolls go in the box marked with a red heart, and the toy cars go in the one with a black circle. Be mindful to not make it very difficult or go overboard in making it a learning experience. It may dissuade them instead.
6. I Spy Game 
This one can be a good cleaning game if you want to use their energy in running around and pick up things strewn all over the house. You can be at one place, asking for different objects through this game and the child/ren could source it for you! Usher them in one corner and place yourself suitably, wherever you want the things arranged. Then go "I Spy the yellow duckling" or, "I Spy the blue pant".
7. A Song to Remember
Children love music and movement, they love rhythm. Any activity which can be presented in a musical form with a certain rhythm and done in a particular sequence or at a particular time of the day is always relatable for kids. 
The important thing to remember here is that it will work only if you sing with the child. Playing the video isn't cool. Just remember to pick up a song with really simple lyrics. Over time, you will see your child/ren humming the tune and enjoying the act!

Choose cleaning games appropriate to your child's age and interests! We hope that you will soon have a delightful company in all cleaning up the chores of the house!