Isn't it nice when your food is 'wrapped' around a yummy and healthy blanket?
All neat and cute! It's a bundle of joy.
Well, we have this crazy idea- to make easy snack wraps out of our Millet Dosa! So, go ahead and follow our recipe to make your own healthy and yummy dosa wraps.
Dosa Wraps
Ingredients:
1. One cup Slurrp Farm Dosa batter (spinach or beetroot)
2. One boiled and mashed potato or 100 grams grated cottage cheese
3. One finely chopped onion
4. One finely chopped tomato
5. Salt (if required)
6. Oil/Ghee (clarified butter)/Butter (as required)
7. Chopped coriander leaves (optional)
8. Homemade tomato sauce (optional)
 5 Yummy And Healthy Food Tiffin Ideas For Kids Using Dosa Batter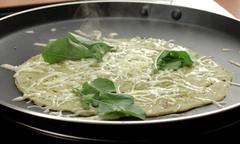 Method:
1. Take Slurrp Farm Dosa batter** and mix the chopped onions and tomatoes to it. Add salt, if required
2. Add chopped coriander leaves to the mixture. Heat the tawa (non-stick pan) and grease it with oil, ghee or butter
3. When the tawa becomes hot, pour one ladleful of batter and spread it in a circular motion
4. Drizzle oil around the edges and at the centre. Cover and cook on a medium flame for a few seconds
5. Flip the dosa to the other side and cook in medium flame for another 2 minutes
6. Apply a gracious spread of homemade tomato sauce. Follow it up with a layer of mashed potato or grated cheese evenly on one side of cooked dosa. Sprinkle some salt and ground pepper (as per taste)
7. Now make into a wrap and relish!
 **Mix ½ packet of dosa mix with ½ cup of yoghurt and ½ cup of water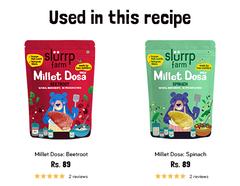 Do let us know your favourite recipe. In case if you have your own recipes to share, send across as mail@slurrpfarm.com