How can your kid resist a chocolate cake? Bet, even you can't either but you want your child to be snacking on something way healthier than that rich cocoa delicacy, right? How? 
Now that's a question we can answer, you don't have to deprive your child of the amazing chocolate cake. Here is what you need to do- make a healthy and yummy chocolate Finger Millets (aka Ragi) cake! Exciting, right? 
Introducing our Chocolate Finger Millet Cake recipe, our very own recipe for this amazing yummy and healthy cake top with more ragi treats. Scroll on and check out the recipe, you won't be disappointed.
 Chocolate Finger Millet Cake
Ingredients:
1. One Pack of Slurrp Farm Chocolate Pancake
2. 2 Tbsp cocoa powder
3. One Tsp baking powder
4. ¾ Cup milk
5. ⅓ Cup yoghurt
6. ⅓ Cup olive oil
7. ¼ Cup brown sugar (optional)
For topping:
1. A Pack of Slurrp Farm Choco Ragi Puffs
2. A Pack of Slurrp Farm Ragi & Chocolate Cookies
Method:
1. In a bowl, empty 1 Packet of Slurrp Farm Chocolate Pancake. Add natural cocoa powder & baking powder to it. Mix well
2. In another bowl, take milk & curd. Add olive oil and blend it together. Add brown sugar to the mixture to improve the sweetness (optional)
3. Pour the wet ingredients into the dry mix of chocolate pancakes and shift the batter into a baking tray. Tap the tray 3-4 times in order to remove the trapped air bubbles
4. Bake at 190 degrees for 40 minutes.
5. Insert a toothpick in the centre of the cake to check if it comes out clean. If it is sticky, bake for another 2-3 minutes and repeat the toothpick process
6. Allow the cake to cool down. You can use the Slurrp Farm Choco-Ragi puffs & cookies for the perfect toppings
7. The healthy yet yummy cake is ready to be served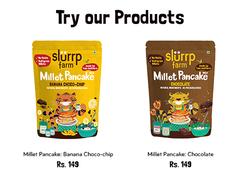 Do let us know your favourite recipe. In case if you have your own recipes to share, send across as mail@slurrpfarm.com