Slurrp Farm is more than just a food brand, it's a parent's dream and a kid's 'healthy' companion. It was created by two mothers for not just providing nutritious snacks to kids but also an experience, parents, and children would explore happily.
In today's day and age, most people are eating way too much junk or unhealthy food, which is leading to childhood obesity and diseases like cancer and diabetes. Everyone makes choices that are correct for their situation. The unfortunate reality in today's times, however, is that there are various other choices that are simply out of our hands. 
So, the brand went about and figured out how to make an absolutely yummy organic fruit and vegetable purée product for children. They did all the recipes, branding, packaging and legwork and it was all ready to hit the shelves in literally record time. Except as they did more market research and tried samples – they realized there was very little demand for it. It would be something they could not scale beyond the affluent Indian parent in the near future.
So, they went back to the drawing board and did extensive market research…a LOT of product research and development…A LOT of thinking and decided to follow their hearts. They realized the answers lay in their own grandmothers' kitchens. 
But they also found out that kids don't like to eat simple food offerings. They want an extra punch. They want their food to reflect their likes and preferences. No kid today is happily eating simple ragi porridge or oatmeal without raising hell. We understood…and…
…Slurrp Farm's range of offerings went out with quite a few fascinating stories to tell. The products were now being best described through cute animals, colors, and shapes, which would make kids feel more connected to the local-nutritious-yummy treats. 
Slurrp Farm was launched in October 2016, with a mission to provide healthy snack and mealtime options for young children and their parents. And in just over two years, what started as an experiment in their own home kitchens has now turned into a loved kids' food brand. 
Did you know: According to the WHO, globally, in 2016 the number of overweight children under the age of five, is estimated to be over 41 million. Malnourishment occurs at both ends of the spectrum and is not only due to poverty but also due to a diet with too much sugar, salt and fried junk food with preservatives, artificial flavors, and colors.

Emphasis on childhood nutrition, therefore, is of utmost importance. Schools and educational institutes play a large role in creating awareness around childhood nutrition.
One other way to change the way the kids are eating today is…
Schools should always encourage good nutritional habits by not just designing and developing a whole school food policy, but also by involving children and parents in fun ways. Offering healthy foods in school canteens should be made mandatory.
As a part of Slurp Farm's endeavor to educate and change the way children are eating, they have launched a school initiative, 'Early Start to Eating Smart' started in Bangalore, Mumbai, and Delhi as well as UAE. The program also aims at explaining the concept of healthy eating, grain diversity, benefits of millets, etc. 
Slurrp Farm's cookies and munchies/puffs are available in tuck shops and canteens of some of the most prestigious schools in both the UAE and India; accredited by schools such as British School and Sanskriti School, India, GEMS schools Dubai amongst others. If you'd like your own/kids' school to be a part of our 'Early Start to Eating Smart' program, please write into us at mail@slurrpfarm.com
Below are some products of ours to show how much value and heart goes into making a Slurrp Farm product:
Not only our products but also our communication on social media promotes and encourages parents to share their ideas with regards to parenting that has led to the creation of an online community. Below are some of the stories shared by our lovely community of parents-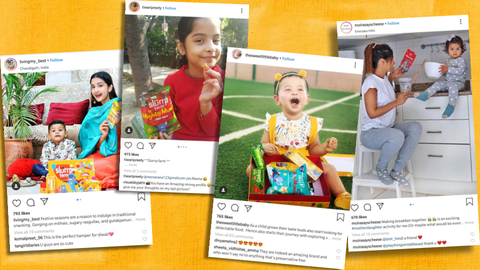 Slurrp Farm not only feeds food to kids but also feeds their imagination, likes, interests and makes them enjoy food differently with healthy ingredients like ragi, jowar, banana, apple, foxtail millet, oats and so much more! It signifies the bond between parents and kids and gives food more meaning and life.