Waking up in the morning to a yummy, nutritious breakfast is every child's dream! But, the busy working life and parent in us would want nothing but an absolute 'hassle-free' convenient cooking.
Mums and dads, rush to the kitchen and start the day with put on some gleeful jingles as we have the solution to your problem. Take a look at two healthy and delicious breakfast ideas you and your kids are going to gorge on!

1. Snowman Pancake
Ingredients:
1. A pack of Slurrp Farm Millet Chocolate Pancake
2. One Tbsp of Slurrp Farm Banana Real Fruit Powder
3. One egg or 2 Tbsp melted butter (optional)
4. 1 ½ cup milk
5.  Unsalted butter
6. One Tsp of Vanilla
7. Blueberries
8. Pretzel Sticks
9. Strawberry
Method:
1. Whisk egg or melted butter with milk and vanilla in a bowl. Combine the wet batter to the Slurrp Farm Millet Chocolate Pancake. Remember to start small while combining wet and dry until you find the right consistency
2. Butter up your pan lightly and set over medium. Scoop ¼ cup batter into pan. Pancake will be about a 4-in. wide circle. Add more pancakes if it fits in the pan
3. Cook until bubbles form on the top of each pancake and edges begin to brown, 2 to 4 min. Flip and continue cooking until bottoms of pancakes become golden, 1 to 2 more min. Don't press down
4. Once you have made 6 pancakes switch to 2 tbsp butter. Each pancake will be about a 2-1/2-in. wide circle. Make 6 small pancakes. You should have 12 pancakes in total
5. Lay a small pancake above a large one on each plate. Dust withSlurrp Farm Banana Real Fruit Powder as icing
6. Cut a small rectangle of the pancakes for the scarf. Use blueberries for eyes and buttons, and a strawberry segment slice for the nose. Use pretzel sticks for the arms
7. Cut strawberry to fit snowman' heads for hats and your snowman pancake is done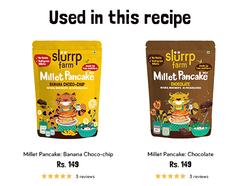 2. Warm Chia Pudding
 Ingredient:
1. Slurrp Farm Organic Chia Seeds
2. ¼  Cup Cocoa powder
3. 2 Tbsp of honey
4. ½ Tsp of Vanilla
5. One cup of warm milk
6. ½ a cup of Chocolate chips
7. Grated coconut
Method:
1. Soak the chia seeds in a bowl overnight.
2. the cocoa powder in a bowl. Add the honey and vanilla and whisk till it becomes a paste
3. Add the warm milk and whisk then throw in the chia seed and whisk the mixture
4. Add the chocolate chips in the mixture and mix well
5. Sprinkle some coconut and drizzle a lil' honey, you're all set for a healthy and yummy breakfast!
If you try these recipe and find it successful, please post your recipe pictures on Instagram and tag/hashtag us @SlurrpFarm #SlurrpFarm