Nothing beats a warm kitchen, the glow of Christmas lights and the smell of beautifully decorated cookies.
Cookie decoration is one such activity that instantly gets me (and my kids) in the holiday spirit. It's the perfect way to kick off the season and the most festive way to spend the evening with kids. Having hosted several get-togethers in the last few years, what I've learned is that kids love decorating their cookies and attacking them afterwards with a joyous fervour.
Being my favourite holiday tradition, cookie decoration party is a great activity for kids but can be just as amusing for the grown-ups. It transports you into the world of edible art where cookies are your canvas and the possibilities are endless (especially with kids giving you a hand). It's amazing how creative, enjoyable and therapeutic your evenings can be, with icing and sprinkles. The best part? Everyone leaving with a variety of cookie stash or if you are someone like me, you'd probably end up depleting it with your kids. 
Making everything from scratch can be time-consuming and tiring equal parts. How to make it easy, you may ask? Pre-made cookies! Being a health freak momma that I am, I ensure that my kids stick to healthier options (Yes, even during Christmas!); preferably the ones that kill two birds – nutrition and taste – with a single stone. Oats, honey, and banana cookies or Ragi cookies perfectly fit the bill.
As an experienced mom, I am here to tell you that hosting such parties are doable, easy and sane. Here are my secrets to being a rock star cookie decorating party hostess. Trust me, all the kids would be calling you Mrs Claus in no time…
1. Pick a Theme
This makes it easy to select cookie cutters, edible decorations, and sprinklers. I love the winter wonderland Christmas theme. Think cute snowmen, snowflake cookie cutters, and pretty sprinklers in pastel and white shades. Candy canes, trees, Santa cookie cutters are all classics, but there are more ideas to get creative with your cookie art.
What about your favourite holiday movies as inspiration? Build a cast of characters from Rudolph The Red-nosed Reindeer, Elf, A Christmas Carol or The Grinch. Excuse me, if you find them too creative to eat later on.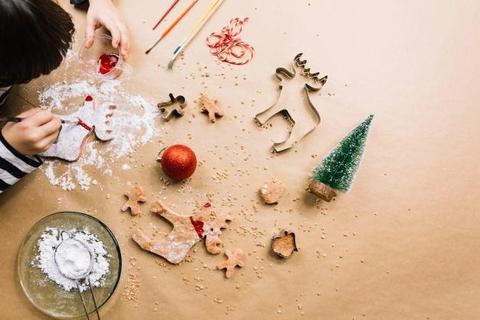 2. Seating Chart and Workspace
Cliquey as they are, I always make sure to do a seating chart for my kids. It makes your life so much easier and ensures lesser squabbles. Set up a special cookie-decoration area with all the supplies such as cookie cutters, sprinklers, hand sanitizers, edible icing decorations, Santa caps, etc. Line each setting with a parchment paper for your guests to work over. Pour sprinkles into small prep bowls to make it easy for tiny hands to grab, share, and sprinkle. Have the decorated cookies laid out on a separate table to avoid an elbow accidentally hitting the created masterpieces. Be sure to include lots of paper towels. 
3. More Christmas Ho Ho Ho
Cookie decorating parties are all about having fun and leaving with scrumptious memories. Let's be honest: when decorating with kids, it can also be cry-inducing, hair-pulling, mommy-needs-water kinda mess. But things are pretty darn cool as long as I get to watch my little ones bond over something sweet (literally). Let your guests have a ball decorating their cookies and don't mind if they have a little icing on their nose. After all, that's what Christmas is all about.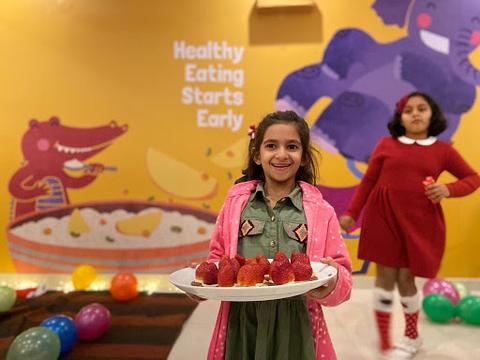 4. Make it A Game and Don't Forget the Appetizers
Raise the stakes of what can be called a casual cookie decorating party by turning it into a contest. Select winners for categories such as most creative, most original, most weird, etc. Give out cute prizes such as Christmas-themed mugs, toys, books or puzzle games towards the end.

It's natural for your guests to crave some snacks once the activities are over. Set out some healthy snacks for kids and adults that can counterbalance all the sugar they'll probably be eating during the party. Also, add a festive winter drink to the menu. Cookies and cocoa pair quite well!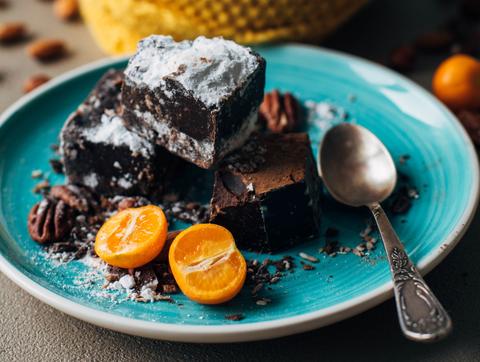 Chocolate Ragi Fruit Cake
Ingredients:
1. A pack of Slurrp Farm Chocolate Pancake
2. 2 Tbsp cocoa powder
3. One Tsp baking powder
4. ¾ Cup milk
5. ⅓ Cup yoghurt
6. ⅓ Cup olive oil
7. ¼ Cup brown sugar (optional)
8. 1 cup chopped dried pineapple
9. One cup golden raisins
10. One ½ cups chopped dried apricots

11. One ½ cups chopped dried dates

12. One ½ cups dried cranberries
For topping:
1. A pack of Slurrp Farm Natural Banana Powder
Method:
1. Place dried pineapple, raisins, apricots, dates, cranberries and water in a large microwave-safe bowl and stir to combine. Microwave for 1 minute, stir, then microwave for another minute. Set aside to cool.
2. In a bowl, empty 1 Packet of Slurrp Farm Chocolate Pancake. Add natural cocoa powder & baking powder to it. Mix well
3. In another bowl, take milk & curd. Add olive oil and blend it together. Add brown sugar to the mixture to improve the sweetness (optional)
4. Pour the wet ingredients into the dry mix of chocolate pancakes and shift the batter into a baking tray. Drain the water from the dry fruits and add to the batter
5. Tap the tray 3-4 times in order to remove the trapped air bubbles. Bake at 190 degrees for 40 minutes
6. Insert a toothpick in the centre of the cake to check if it comes out clean. If it is sticky, bake for another 2-3 minutes and repeat the toothpick process
7. Allow the cake to cool down. You can use the Slurrp Farm Natural Banana Powder as icing powder for the perfect topping
8. The healthy yet yummy cake is ready to be served
Well, what's a Christmas party without a Christmas fruit cake? So, here is a surprise recipe for you and the kids. Trust me, the kids will love it and you won't regret it at all. 
Let 'em enjoy the fruits of their labour with this yummy Christmas treat. Give yourself a pat on the back for being a Santa Claus mommy and making every sweet tooth's dream come true.
Merry Christmas!