When your munchkin turns one, they would be very busy moving around by now, developing skills and exploring everything around them. Next thing you know, they are mumbling words and gestures to communicate with you. So adorable! 
So, while you're expecting your little one's first word, you are now in a better position to understand their likes and dislikes. Good eating habits are inculcated from this age, and they can last a lifetime! So check out food for baby 13 months old with weekly food charts.
If your cutie just turned the big "ONE", check out our previous 12 months baby food chart.
WEEK 1

First Day

Breakfast: Green Pea Poha

Mid-Morning Snack: Beetroot Sticks

Lunch: Lentils and Rice

Evening Snack: Potato Wedges

Dinner: Spinach Pongal

Second Day 

Breakfast: Moong Dal Cheela with Green Chutney

Mid-Morning Snack: Banana Fritters

Lunch: Beetroot Rice

Evening Snack: Banana Mango Smoothie

Dinner: Cheese Paratha

 

Third day

Breakfast: Banana Pancake

Mid-Morning Snack: Vegetable Soup with Cream

Lunch: Tomato Onion Khichri with Pumpkin Raita

Evening Snack: Chikoo Milkshake

Dinner: Brown Rice Cereal

 

Fourth Day

Breakfast: Suji Dates Kheer

Mid-Morning Snack: Flavoured Yogurt

Lunch: Vegetable Khichri with Curd

Evening Snack: Sweet Potato Fingers 

Dinner: Vegetable Upma 

Fifth Day

Breakfast: Vegetable Idli with Coconut Chutney

Mid-Morning Snack: Roasted Apple/Pear 

Lunch: Carrot Onion Khichri with Bottle Gourd Raita 

Evening Snack: Ragi Halwa

Dinner: Wheat Almond Porridge 

 

Sixth Day

Breakfast:  Ragi Porridge

Mid-Morning Snack: Mixed Fruit Yogurt

Lunch: Moong Dal and Rice

Evening Snack: Coconut Water 

Dinner: Green Gram Dal and Rice

 

Seventh Day

Breakfast: Rava Upma

Mid-Morning Snack: Mix Fruit Smoothie

Lunch: Masala Vegetable Pongal 

Evening Snack: Phool Makhana Kheer

Dinner: Paneer Rice with Pumpkin Soup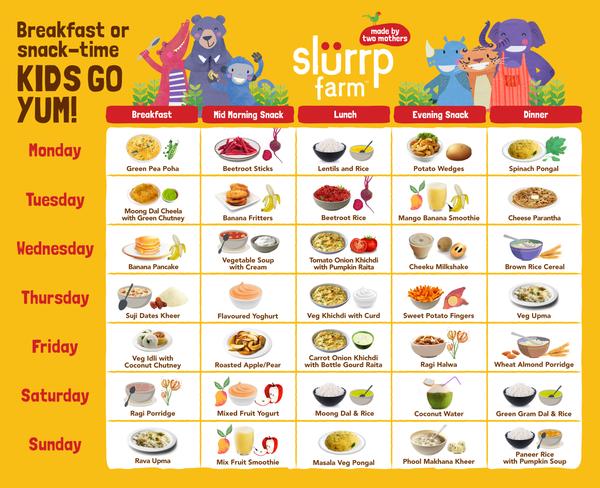 WEEK 2

First Day

Breakfast: Boiled Egg/Paneer 

Mid-Morning Snack: Rated Apple Chips

Lunch: Rated Apple Chips

Evening Snack: Fruit Smoothie 

Dinner: Paneer Paratha

 

Second Day 

Breakfast: Multi-Grain Cheela

Mid-Morning Snack: Coconut Water 

Lunch: Kadhi and Rice 

Evening Snack: Paneer Cubes 

Dinner: Khichri with Curd 

 

Third day

Breakfast: Vegetable Upma

Mid-Morning Snack: Banana Slices

Lunch: Bottle Gourd Khichri with Curd 

Evening Snack: Mango Banana Smoothie 

Dinner: Ragi Porridge 

 

Fourth Day

Breakfast: Oats Banana Pancake

Mid-Morning Snack: Coconut Water

Lunch: Sweet Rice

Evening Snack: Mixed Vegetable Pancake

Dinner: Stuffed Tandoori Aloo with Chapati 

Fifth Day

Breakfast: Moong Dal Cheela 

Mid-Morning Snack: Mango and Banana Smoothie

Lunch: Vermicelli Rice 

Evening Snack: Beetroot Cutlets 

Dinner: Spinach Khichri with Curd 

 

Sixth Day

Breakfast: Aloo Paratha with Butter 

Mid-Morning Snack: Banana Fritters

Lunch: Spinach Khichri with Pumpkin Raita 

Evening Snack: Sandesh

Dinner: Ragi Dosa 

 

Seventh Day

Breakfast: Vegetable Sandwich with Paneer 

Mid-Morning Snack: Vegetable Soup with Cream 

Lunch: Ghee Rice with Dal

Evening Snack: Potato Patty

Dinner: Steamed Ragi Dosa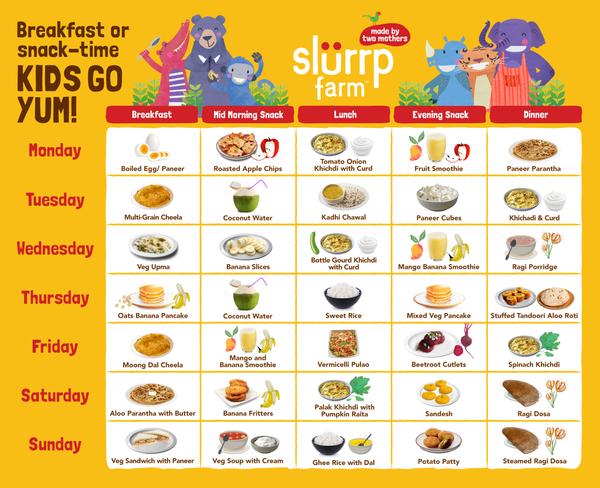 WEEK 3

First Day

Breakfast: Upma

Mid-Morning Snack: Papaya Chunks

Lunch: Green Gram Dal and Rice

Evening Snack: Arbi Fingers

Dinner: Ragi Pancake

 

Second Day 

Breakfast: Steamed Ragi Dosa

Mid-Morning Snack: Blueberry Yogurt 

Lunch: Aloo with Chapati 

Evening Snack:  Ragi Sheera 

Dinner: Yellow Moong Dal and Rice

 

Third day

Breakfast: Oats Banana Pancake 

Mid-Morning Snack: Coconut Water

Lunch: Vegetable Khichri with Pumpkin Raita 

Evening Snack: Corn and Pea Patty 

Dinner: Bottle Gourd Vegetable with Chapati 

 

Fourth Day

Breakfast: Vegetable Poha 

Mid-Morning Snack: Kiwi

Lunch: Kadhi and Rice 

Evening Snack: Baked Beetroot Sticks

Dinner: Spinach Khichri

Fifth Day

Breakfast: Besan Cheela

Mid-Morning Snack: Mango Milkshake

Lunch: Paneer Bhurji with Chapati

Evening Snack: Banana Fritters

Dinner: Tomato Onion Uttapam

 

Sixth Day

Breakfast: Onion and Paneer Paratha

Mid-Morning Snack: Coconut Water

Lunch: Vegetable Khichri with Curd

Evening Snack: Beetroot potato cutlets


Dinner: Vermicelli

 

Seventh Day

Breakfast: Idli with Chutney

Mid-Morning Snack: Baked Potato Wedges

Lunch: Vegetable Pulao

Evening Snack: Soybean Potato Cutlets

Dinner: Aloo Paratha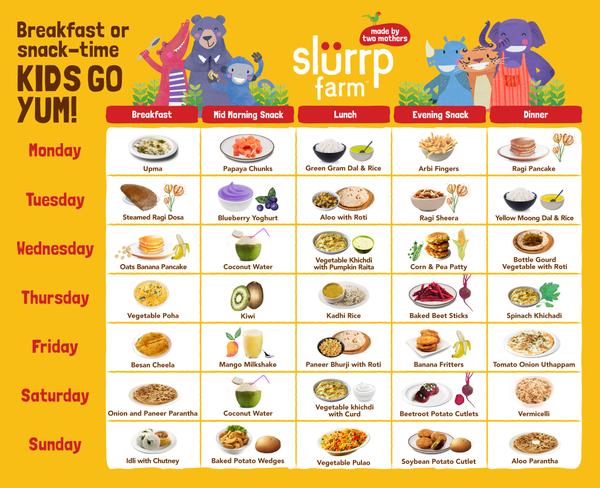 WEEK 4

First Day

Breakfast: Multi-Grain Cheela

Mid-Morning Snack: Baked Fruits

Lunch: Kadhi and Rice

Evening Snack: Cheese Breadsticks

Dinner: Paneer Paratha

Second Day 

Breakfast: Aloo Paratha

Mid-Morning Snack: Vegetable Soup/Coconut Water

Lunch: Moong Dal Khichri with Pumpkin Raita

Evening Snack: Ragi Cake

Dinner: Wheat Almond Porridge

 

Third day

Breakfast: Sambhar Vada

Mid-Morning Snack: Baked Beetroot Sticks

Lunch: Curd Rice

Evening Snack: Carrot Potato Balls

Dinner: Sabudhana Khichri

 

Fourth Day

Breakfast: Vegetable Poha

Mid-Morning Snack: Fruits Milkshake

Lunch: Spinach Khichri with Bottle Gourd Raita

Evening Snack: Vegetable Manchurian

Dinner: Ragi Sheera

Fifth Day

Breakfast: Oats Idli

Mid-Morning Snack: Strawberry and Plums Smoothie

Lunch: Sweet Rice

Evening Snack: Cheese Rolls

Dinner: Paneer Bhurji and Chapati

 

Sixth Day

Breakfast: Wheat Banana Pancake

Mid-Morning Snack: Coconut water

Lunch: Bottle Gourd Khichri

Evening Snack: Beetroot Halwa

Dinner: Appam with Coconut Chutney

 

Seventh Day

Breakfast: Moong Dal Cheela

Mid-Morning Snack: Papaya Shake

Lunch: Carrot Khichri

Evening Snack: Ragi Paneer Cutlets

Dinner: Vegetable idli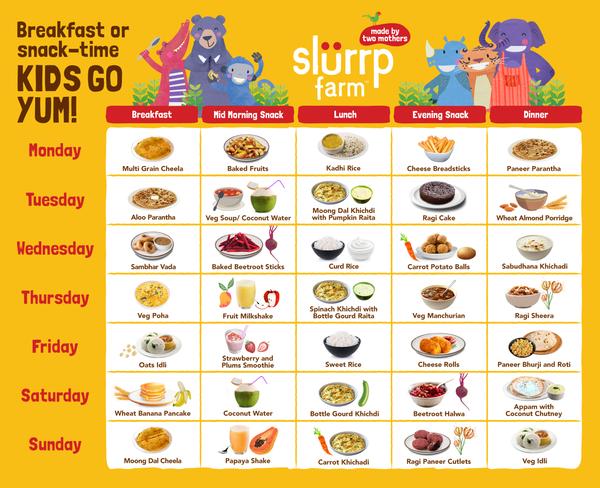 Disclaimer:
1. Make sure to follow the 3-day rule. Note down the new ingredients introduced in the baby's diet to look out for any allergic reactions
2. It is common for babies to reject unfamiliar foods, as they wean. Be patient and keep offering a variety of foods. Do not worry, this is perfectly normal

3. Please remember that some foods can irritate your baby's digestive system. Avoid highly spicy or greasy foods. Also, avoid foods that could easily cause choking

4. If your baby as several episodes of vomiting after trying new food, has diarrhea, develops a rash, or swelling of the lips or eyes, he or she may be having an allergic reaction. Stop the feeding and call your pediatrician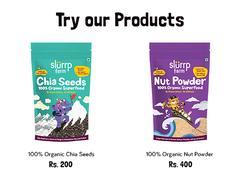 This post is co-authored by Ms Aditi Mehrotra, a two-time gold medalist- health educator, DIETED & Co-founder, Arney's  Fitkids-  School Nutrition Program. Her diet dictate is: "Diet is not a deprivation but a slight deviation from the normal. Love yourself! Make yourself a priority. Nourish your body and soul!"