When, for the third day in a row, my son brought back his tiffin home – food untouched — I was frustrated! I wanted to crack this daily tiffin conundrum, sat him down to understand the issue. Pleasing kids can be a tough ask, especially when it comes to food. While the kids get bored with the routine food easily, we mothers try to maintain a balance between a healthy yet fun diet for the kids. It is almost a challenge that we have to face head-on! 
I spent days trying to come up with a new and interesting combination of food to ensure that my son's tiffin does not come home untouched. While he did not want parathas, idlis or sandwiches, I did not want to make it a habit of giving him cupcakes or chips every day. So, I got myself working on this herculean task of coming up with kids snack ideas that were nutritious yet appealing enough to get my son to finish the food. 
You cannot force food items on the kid. You need to understand your child's preferences and tastes as well. I make it a point to involve my son in choosing his meals. This also gives me a chance to bond with him over food and provide him with the knowledge of grains, proteins, and nutrients that are vital for a healthy life. 
Listed below are a few innovative and delicious recipes that I came up with to ensure the satisfaction of looking at an empty tiffin every time my kid comes back from school. 
1. Moong Dal Chila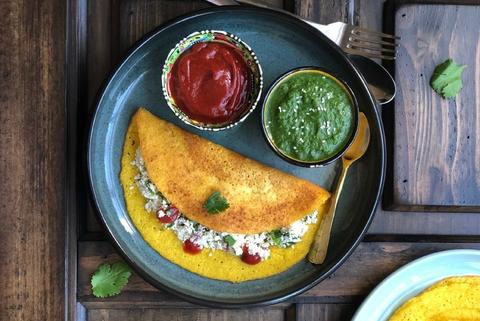 Moong dal chila is a great way to sneak proteins in your child's meal. It is loaded with lentils and packed with healthy nutrients. You can top it with or make varied fillings including mushrooms, paneer, or other variants that your child likes.
Ingredients:
1. One Cup Moong Dal (soaked for 3 hours)
2. One Chilli
3. One inch Ginger
4. One Tsp Jeera
5. ¼ Tsp Turmeric
6. 2 Tbsp Coriander
7. ½ Pinch Hing
8. 3 Tbsp Water
9. ½ Tsp Salt
10. Oil for roasting
Method:
1. Pour the soaked moong dal in the grinder. Add ginger, chili, and jeera and blend into a smooth paste. Add water, if and when required.
Transfer the batter into a bowl and add turmeric, hing, coriander, and salt
2. Mix well and add water forming a thick flowing batter
3. Spread the batter on a heated pan and cook in olive oil
4. Cook from both sides while pressing gently
5. You can fill it up with stuffing or just serve with chutney or sauce. 
2. Egg Fried Rice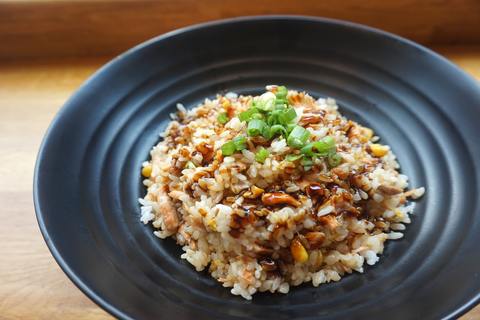 This is the ultimate go-to food for days when you are pressed for time. A delicious Chinese recipe with stir-fried eggs and sautéed vegetables, this dish is sure to make your kid want to finish everything in the box. 
Ingredients:
1. 4 Eggs
2. 2 Tbsp Olive Oil
3. One cup diced Red Onion
4. ⅓ Cup mixed vegetables, chopped
5. 4 Cups cooked brown rice
6. 2 Tbsp soy sauce
Methods:
1. Crack 3 eggs in a bowl and beat them together. Beat the last egg separately
2. Heat a large pan and add oil to it. Pour the 3 beaten eggs and scramble them for a minute. Transfer the eggs to another dish
3. Add oil to the pan and cook onions until golden in color. Add the vegetable and cook for another minute
4. Once the vegetables are done, add rice to the pan, and mix it well with the other ingredients
5. Pour the single beaten egg over the rice and mix well. Cook for another minute
3. Millet Dosa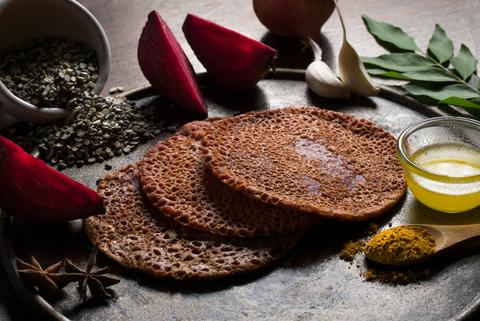 This is a healthy twist on one of the most common school snacks for kids. The Slurrp Farm Millet Dosa mix contains gluten-free and protein-packed grains like foxtail millet, moong dal, toor dal, urad dal, and spinach. It is a convenient cook with instant mixed batter. 
Ingredients:
1. One Cup Yogurt
2. Slurrp Farm Millet Dosa mix
3. Water
4. Ghee
Method:
1. Pour the dosa mix, yoghurt and water in a bowl and mix
2. Blend well to create a good consistency of the batter
3. Add ghee to a heated pan
4. Spread the batter into whatever shape you prefer
5. Cook well on both sides
6. You can serve the dosa with chutney, cooked vegetables, or cheese
Do not hesitate to involve your kid in the process and experiment with new flavours. This will keep him or her excited about the food and ensure that they are not bored with their tiffin.