Be it a bowl full of salad or rice, summer-light lunches are preferred by adults and kids. Two such recipes that top the charts are khichri/vegetable porridge and foxtail millet-based dishes. From lemony notes to seasonal fruits and veggies, plus speedy cooking, just round out the meal with a glass of fresh juice, buttermilk or lime-lovely lemonade.
In case if you are seriously thinking of preparing a gut-friendly summer lunch recipe using foxtail millets, and don't have foxtail millet at home, try using Organic Millet and Oats Porridge.
The aim is to ensure our mealtimes are healthy, nutritious, and wholesome (also easy on our gut). This foxtail millet recipe uses raw mangoes and other ingredients make it versatile as well. It can also be had for lunch, dinner, or even served as a healthy breakfast option. 
Health Benefits of Foxtail Millet:
1. Good for kids: It is a rich source of Vitamin B12 which is essential for maintaining a healthy heart, smooth functioning of the nervous system, and in general good for skin and hair growth.
2. Good for adults: A diet including Foxtail Millet may improve glycemic control and reduce insulin, cholesterol, and fasting glucose in Type-2 diabetes patients.
3. Also good for our grandparents: Foxtail Millet is rich in natural iron which helps reduce muscle spasms and eases out restless syndrome.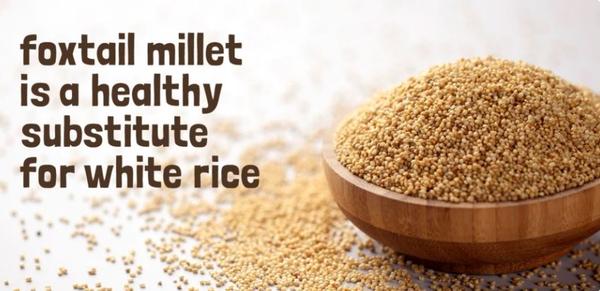 Ingredients:
1. One cup foxtail millet or Organic Millet and Oats Porridge powder
2. 2 Cups water
3. One raw mango, grated
4. 2 Tsp groundnuts
5. Seasoning – curry leaves
6. One chili
7. Pinch of mustard seeds, black gram dal, turmeric, asafoetida, oil, salt to taste
Method:
Foxtail Millet Coconut Rice Preparation Method:
1. Cook the millet (or Organic Millet and Oats Porridge) in water and let it cool before mixing the rest of the ingredients.
2. Fry groundnuts in oil, keep aside.
3. Prepare the seasoning.
4. Add grated mango and saute for a minute.
5. Add the cooked millet and mix
6. Tangy mango rice is ready, serve hot.
This recipe has been extracted from IIMR Recipe Book. It is a part of the initiative "Millet Recipes – A Healthy Choice" put together by ICAR- Indian Institue of Millets Research. The main force behind this program includes: B Dayakar Rao, Vishala AD, GD Arlene Christina, and VA Tonapi