Got a kid who hates fruit? You've tried everything and nothing's working to get some fruits into your stubborn little one. Well, we've got just what you need – a colorful and delicious recipe made with multiple fruits – fruit custard! This fruit custard can be given to babies after one year. Not this just, we have substituted sugar with Slurrp Farm Jaggery and Banana Powder.
My mom used to make fruit custard during summers with fresh and locally available fruits or whenever there were some guests invited for lunch/dinner. You may use any fruits of your choice, except for citrus fruits like orange which may turn the custard sour. Also, you need to chop the fruits to prevent choking to small babies. The recipe is perfect for toddlers and kids and makes for a wholesome, nutritious, and tasty mid-morning snack. Besides, the nutrients of mixed fruits offer antioxidants, fiber, and many hidden benefits along with calcium of milk, best suited to help children to develop a strong immunity system. The banana powder is a superfood for kids and a rich source of potassium and magnesium. It's perfect for healthy weight gain and the jaggery powder is an excellent source of iron and boost digestion.
Also, this banana powder recipe of custard is lump free and keep stirring the custard while it's cooling to prevent a skin forming on the surface. Custard is more flavourful once you let the fruits sit in the custard for some time. I generally make the custard earlier in the day for an evening snack or dessert as it becomes more flavourful and thicker after refrigeration.
No harmful corn flour, no artificial sugar, no preservatives, no colors. 100% healthy, yummy banana powder recipe.
Try this summer special banana powder custard recipe and relish its sweet flavors.
1. Banana Fruit Custard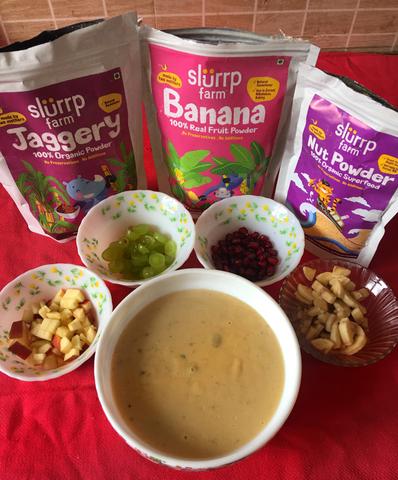 Ingredients:
1. 2 Scoops of Slurrp Farm 100% Natural Banana Powder
2. One tsp cardamom Powder
3. One scoop of Slurrp Farm Organic Nut Powder
4. 4 Cups of milk
5. 1 Cup finely chopped fruits, apple, banana and grapes
6. 1/4 Cup pomegranate seeds
7. 3 Scoops of Slurrp Farm Organic Jaggery Powder
Method:
1. Put 4 cups of milk in a pan over a low flame and when it starts boiling add cardamom powder.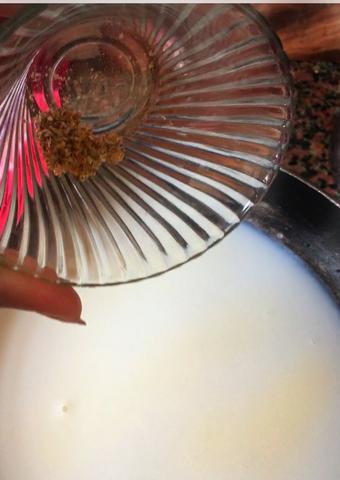 2. When the milk turns aromatic, add jaggery powder and let the mixture cook for 20 minutes.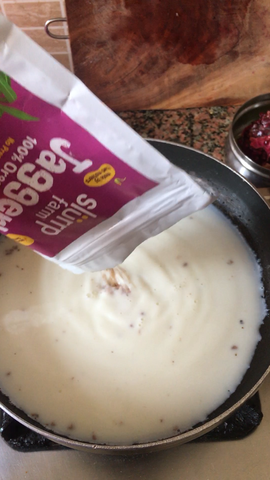 3. When the mixture is thick and creamy, add banana powder and mix properly.
4. Now add nut powder and allow the mixture to cook for another 5 minutes.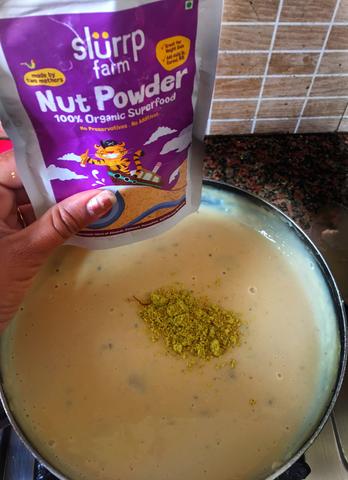 5. Switch off the gas and let the mixture cool.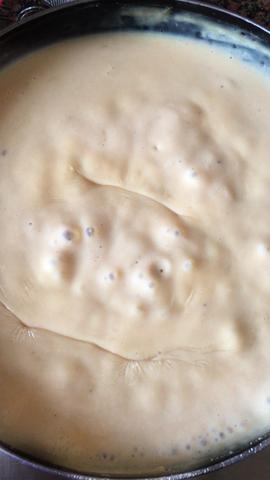 6. Transfer the custard to a big bowl.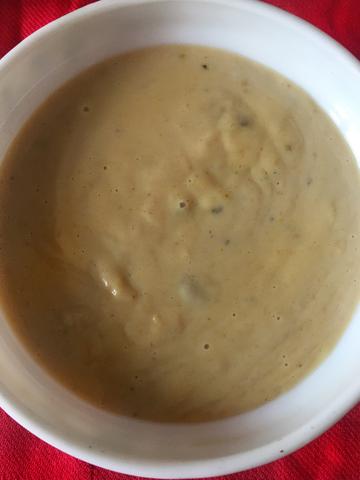 7. Add finely chopped fruits- apple, banana, apple, and grapes.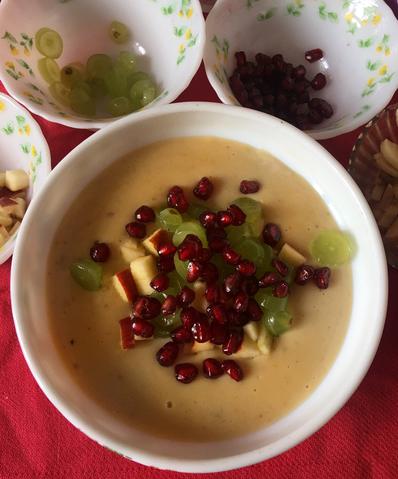 Yes, that's all! The yummy custard is all set to savor by the little tummy.
By Alka Priyaank Vishnoi
Please let me know how the recipe turned out for you! Share with us at mail@slurrpfarm.com