by a mom of two who is rolling out innovative, and engaging activities every minute to keep her kids busy
Last night, we took a break from the outbreaks. This week we stayed indoors and enjoyed ourselves. We've been up to plenty of other things as well, but I asked friends what they're doing with their kids, and their answers were fun and varied.
So, this mum and her two daughters have been busy making memories. Last night, we gobbled up a yummy, healthy cake made from ragi flour in under a minute. 
Just to give you some background, I love to bake but have limited my baking experiments now as my girls are not so fond of baked goodies due to the calories it's loaded with so I am left with just one option to try small sizes of cakes and cupcakes to bake.
So, want to know how those little hands (with very little help from their mom) made 1 min mug cake (using a microwave)?  
Before I proceed any further, let me share responses to two very common questions you may be asking regarding microwave cooking?
Question 1: Microwave in my house is used just for heating purposes. I have never cooked anything in it (even though I have read quite a few microwave recipes). Is it even possible? 
Answer 1: Yes!
Question 2:  I've read many microwave recipes, but never tried any as in my opinion anything cooked, baked or steamed will turn a bit dry and rubbery as compared to normal stovetop cooking or oven baking. So, not sure if your recipe makes sense…
Answer 2: I would think the same. But, trust me, our 1 min mug cake turned out so moist and good that our little and not-so-little tummies loved it!
Let's get started. One Minute Chocolate Mug Cake, the best snack idea for kids.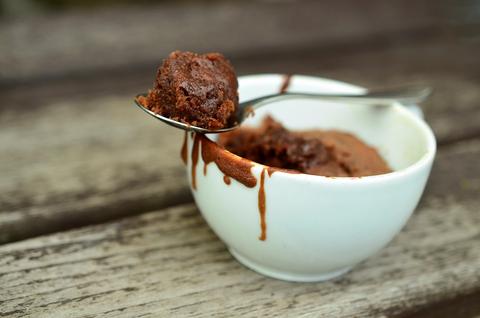 Ingredients:
1. 2 Tbsp Slurrp Farm Chocolate Pancake Mix
2. 2 Tsp jaggery powder (optional)
3. 1/4 Tsp Baking Powder
4. 2 Tbsp Milk
5. Tbsp Cooking Oil/ butter
6. Choco chips, walnut – crushed Or Slurrp Farm Nut Powder
Method:
1. Take a microwave-safe mug
2. Add Pancake mix, jaggery powder, and baking powder.
3. Mix well and add crushed choco chips and walnuts and mix or add ½ tsp nut powder, instead
4. Now add milk and oil
5. Stir to mix properly
6. Now keep the mug in the microwave
7. Cook on micro high for 1 minute 10 seconds
8. Wait for 2 minutes
9. Now remove from microwave and ENJOY
Additional Notes:
You can add fresh marmalade, powdered nuts, choco chips if your kids love them.
Cooking time may differ slightly depending on your microwave.
It tastes great with homemade ice cream too!
Make sure to try it out with your children!