In the past few years, there has been a dramatic change in the food choices of people. More and more people are increasingly opting for nutrient-rich foods like cereals, grains, seeds, and superfoods over everything else. Millets have stood the test of time and have long been favored for their many health benefits. One of the greatest myths of our generation is that healthy foods are boring. There is so much innovation around us that all we need is to take our traditional foods and add a creative twist to them.
The easiest way to cook millets is to take your regular day recipe, and just substitute millet for rice and other grains. This means you can use millet to make upma, rotis, use it instead of rice, couscous or quinoa, add it to salads, main dishes and desserts. The possibilities are endless.
Reviving grandmother's recipes and presenting them with a creative twist is like stepping back and being nostalgic. We have come to realize not everyone is fond of the taste of millets, hence we have infused this extremely beneficial grain in various food items that you and your little one would not hesitate to try. In this way, we create a win-win situation for them wherein they get the benefits of the grains and also enjoy the mouth-watering.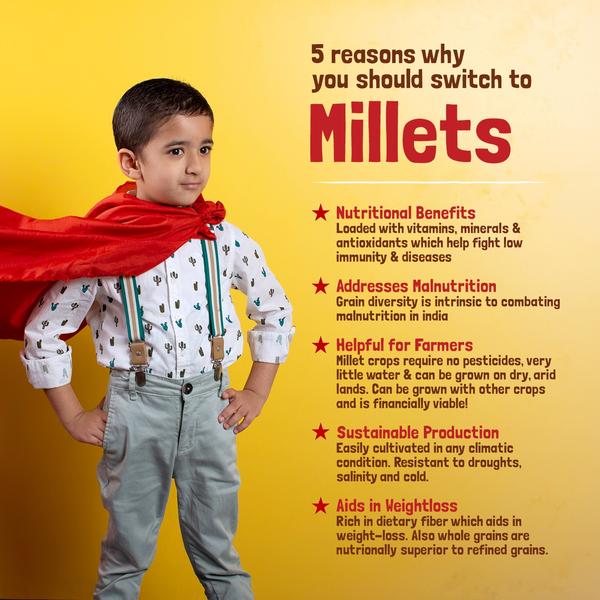 Millet based recipes to give a nutritious twist to your daily foods:
1.
Barnyard Millet Payasam
Did you know?
Barnyard millet is called samvat ke chawal, meaning rice for fasting, though it is well-acknowledged that it is always millet (not rice) that is used for such preparations.
Ingredients:
1. Barnyard millet – 1 cup
2. Sugar – ½ cup. Instead, use Slurrp Farm Jaggery Powder
3. Milk – 1 cup
4. Saffron – 4-5 strands
5. Dry fruits (cashew, almond and pistachios) – ½ cup
6. Ghee – 2 tbsp
Method:
1. Cook barnyard millet in milk and saffron on low heat until the millet becomes mushy.
2. Add sugar and stir gently to cook the payasam.
3. Heat ghee in a pan and roast all dry fruits in it until they are golden.
4. Add the roasted dry fruits to the payasam.
5. Serve the payasam warm or cool, as per your taste.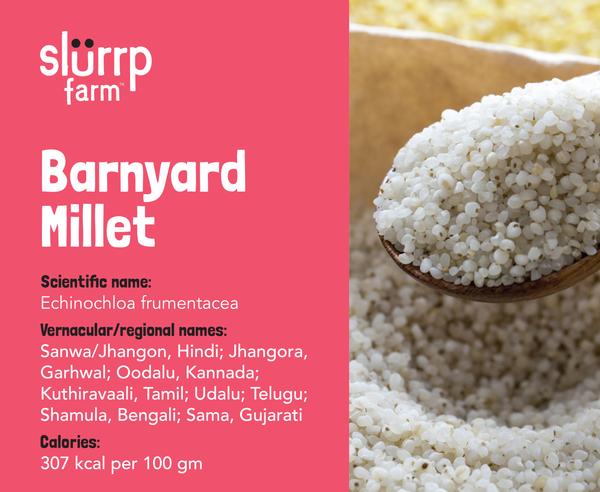 2. Finger Millet Laddoo
Did you know?
Ragi is known as mandwa in Odisha, possibly named after the Mandya region of Karnataka from where the cereals would arrive. 
Ingredients:
1. Finger millet (ragi) flour- 1 cup
2. Sugar, powdered- 1/2 cup. Instead, use Slurrp Farm Jaggery Powder
3. Ghee – 3 tsp
4. Milk – 1/4 cup
5. Cardamom powder-1 tsp
6. Coconut, grated – 2 tbsp
7. Dry fruits, finely chopped – 2 tbsp
Method:
1. Dry roast finger millet flour until it is aromatic.
2. Add ghee in a pan and roast grated coconut and dry fruits.
3. Heat milk and melt the jaggery in it.
4. Now, add all the ingredients together and mix well.
5. Shape into lemon-sized balls.
6. Cool the laddoos before serving.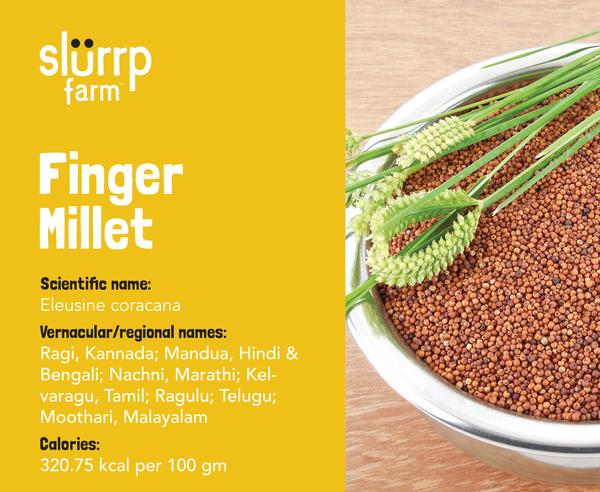 3. Foxtail Biryani

Did you know?
Foxtail millet in Telugu is known as Korralu. Unlike wheat, millets are gluten-free and great options for those suffering from Celiac disease or gluten-intolerances.
Ingredients:
1. Foxtail Millet – 1½ cup
2. Onion sliced – 2,
3. Carrots, chopped – 2
4. French beans – 15
5. Green peas, shelled – 1 cup
6. Salt – as per taste
7. Green cardamoms – 8
8. Black cardamom – 1
9. Cloves – 15
10. Cinnamon stick – 1 inch
11. Bay leaf – 1
12.Caraway seeds (shahi jeera) – ½ tsp
13.Ginger-garlic paste – 1½ tsp
14. Turmeric powder – 1 tsp
15. Red chilli powder – 1 tsp
16. Coriander powder – 1 tsp
17. Tomatoes – 1 cup
18. Garam masala powder – 1 tsp
19. Lemon juice – 1 tsp
20.Coriander leaves, chopped – 2 tsp
21. Mint leaves chopped – 2 tsp
Method:
1. Boil Foxtail millet in 4 cups boiling water with salt, 1-2 green cardamom, 1-2 cloves and ½ inch cinnamon, until the millet is three-fourth way cooked. Drain excess water and set aside.
2. Chop all the vegetables into ½ inch pieces. Blanch them and keep aside.
3. Roast the remaining green cardamoms, cloves, black cardamom and cinnamon along with bay leaf and caraway seeds in a thick-bottomed pan.
4. Add tomatoes, ginger-garlic paste, deep-fried onions, carrot, French beans, and boiled green peas.
5. Sprinkle salt, cover and cook on medium heat for 2 minutes.
6. Add turmeric powder, red chilli powder, coriander powder, garam masala and mix.
7. Simmer for 2 minutes.
8. Arrange a layer of millet at the top over that arrange half the cooked vegetables.
9. Sprinkle fried onions, lemon juice, coriander leaves and mint leaves.
10. Cover with a lid and cook. Let it stand for 5 minutes. Serve hot.
Tip: Substitute the vegetables with chicken or prawns for a non-vegetarian version.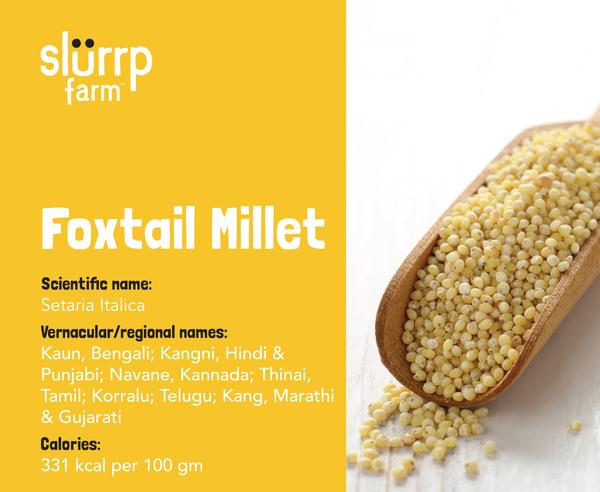 4. Kodo Millet Upma
Did you know?
Not just kodo millet, all varieties of millets offer antioxidant protection to the human body.
Ingredients:
1. Foxtail Millet – 1½ cup
2. Kodo millet grain – 1 cup
3. Onions, chopped
4. Green chillies, chopped – 2
5. Carrot, chopped – 1
6. Beans, chopped, 1
7. Potato, chopped – 1
8.Ginger, grated – 1 inch
9. Mustard seeds – 1 tsp
10. Black gram dal – 1 tbsp
11. Bengal gram da – 1 tbsp
12. Curry leaves – 5
13. Water – as required
14. Oil – as required
Method:
1. Wash kodo millet 2-3 times, then drain the water and keep it aside.
2. Heat oil in a pressure cooker. Add mustard seeds and let it splutter.
3. Now, add black gram dal, chana dal, curry leaves, and green chilies.
4. Once the dal turns golden brown add onions, ginger, turmeric. Sauté till onions turns golden brown.
5. Add carrots, beans, and potatoes. Sauté for 2 to 3 minutes.
6. Add kodo millet and sauté for a minute, till all the ingredients.
7. Pour water and add salt. Bring to boil and close. Cook in moderate flame for 3 whistles.
8.  Once the pressure subsides, open the lid and transfer the upma on to a serving plate.
9. Serve hot with any type of chutney or sambar.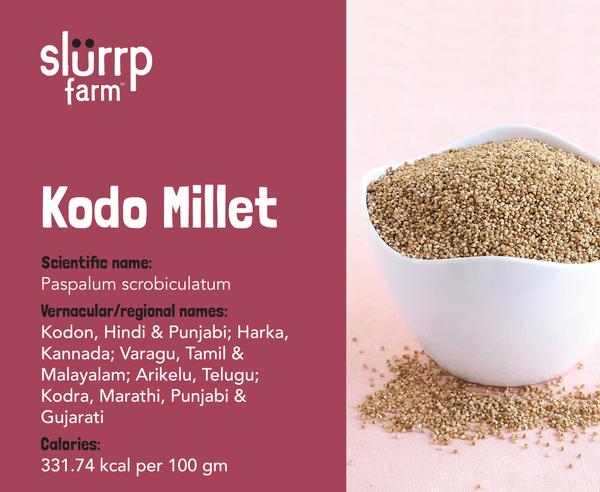 5.  Little Millet Soup
Did you know?
India has proposed to the UN that 2018 be declared as 'International Year of Millets'
Ingredients:
1. Little millet – 2-3 tbsp
2. Water – 4 cups
3. Vegetable stock cubes -2
4. Carrot – 1 (small)
5. Celery – 1
6. Mixed herbs – 1 tsp
7.Rock salt – As per taste
8. Chives, fresh, dried or frozen – ½ tsp
Method: 
1. Rinse the millet briefly under hot water.  
2. Dissolve vegetable stock cubes in hot water and place it with millet, mixed herbs and a pinch of salt.
3. Cook the millet at medium high-heat for about 5 minutes. Once it comes to boil, reduce the heat.
4. Grate the carrot and the celery finely and add it to the soup.
5. Leave the soup to simmer for another 10 minutes before you take it off the heat.
6. Season the soup and sprinkle with chives. Serve with freshly toasted bread on the side.
Tip: For a heartier soup, add vegetables of your choice – onions, mushrooms, bell peppers etc.
6. Pearl Millet Dosa

Did you know?
India is the largest producer of pearl millet in the world.
Ingredients:
1. Pearl millet – 180 gm
2. Black gram (without skin) – 180 g
3. Rice – 150 gm
4. Boiled rice – 40 gm
5. Fenugreek seeds – 1 tsp
6. Salt – to taste
7. Oil for drizzling
8. Water as required
Method: 
1. Rinse the pearl millet and soak it for 4 to 5 hours.
2. Soak black gram, rice, boiled rice and fenugreek seeds, all separately, for 2 hours.
4. Grind all of them together to make a smooth batter, adding water as required.
5. Transfer the batter into a container with a lid and allow it to ferment in a warm place for 5-6 hours.
6. If the fermented batter is too thick, add water to bring it to spreading consistency.
7. Heat a griddle. Pour a ladleful of batter on it and keep spreading outwards in a circular motion.
8. Drizzle oil around the dosa. When one side is crisp and brown, flip it and cook the other side for 30 seconds. Flip over and fold it.
9. Serve with your choice of chutney.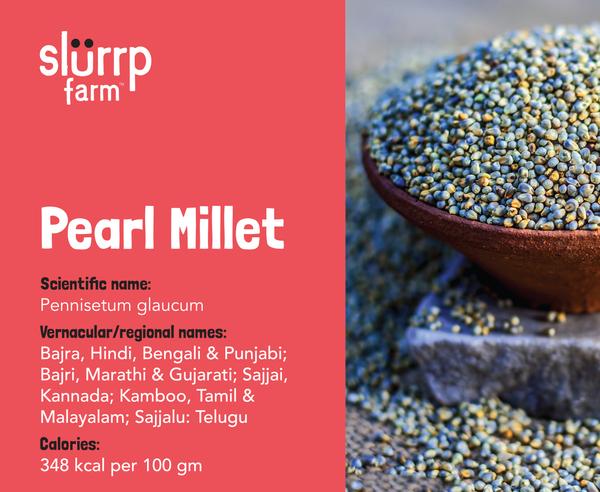 7. Proso millet samosas

Did you know?
Due to their low glycemic content, millets can help prevent and control diabetes which is becoming a serious health crisis in India.
Ingredients:
1. Proso millet flour – 1 cup
2. Ragi Flour –  1 cup
3. Water – 5 tbsp
4. Potatoes – 1 cup,
5. Boiled peas- ½ cup
6. Onions – ¼ cup
7. Green chilies – 2
8. Curry leaves – 10
9. Salt – To taste
10.Oil – 3 tbsp
11. Water
Method:
1. Mix proso millet flour and o maida and add water to knead into dough.
2. Make chapatti-sized balls of the dough and use a rolling pin to spread them out.
3. Use a knife to cut the chappatis into halves.
4. For the stuffing, boil the potatoes and let them cool.
5. Mash the potatoes and add chopped onions, green chilies, curry leaves, and salt to taste.
6. Fill the above mixture in each half chapatti and fold in a triangular shape.
7. Heat oil in a kadhai and deep fry the samosas.
8. Serve hot with ketchup or chutney of your choice.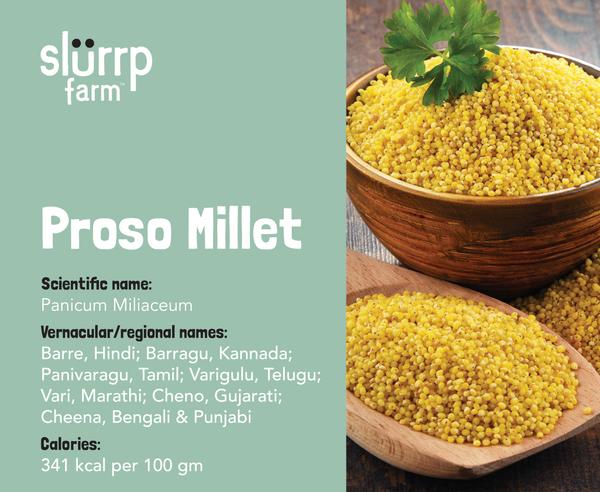 8. Sorghum Muffins

Did you know?
One of the most popularly used millets the world over, sorghum is especially preferred for baking.
Ingredients:
1. Sorghum flour – 1 cup
2. Ragi flour – 1 cup
3. Baking powder – 2 tsp
4. Baking soda – ¼ tsp
5. Cocoa powder – 1 tbsp
6. Vanilla essence – 1 tsp
7. Condensed milk – 400 ml
9. Milk – 1 cup
10. Melted butter – 3-4 tbsp
Method: 
1. Sift sorghum flour, all-purpose flour, baking powder, cocoa and baking soda in a bowl.
2. In another bowl, mix condensed milk with milk, vanilla essence and melted butter. Mix thoroughly.
3. Add the wet ingredients to the flour mixture and mix only until the ingredients are well-combined.
4.Grease muffin cups with a little oil and spoon the batter till three-fourths full.
5. Place in a preheated oven and bake at 180°Celsius (360°F) for 30-40 minutes or till a toothpick inserted comes out clean.
Was this blog helpful in breaking your myth that millets are not a  monotype grain? Try these recipes and do write back to us if we were able to convince you even a little.