As a part of our collaboration with The Goya Journal, in our previous blog, we shared the recipe of barnyard millets or foxtail millets payasam. Hope you enjoyed it. We all know how millets are climate-smart, delicious, versatile and nutritious. In fact, this grain is also one of the key ingredients of any healthy food kids (as well as babies). For most of us, however, cooking with these supergrains is still a bit of a challenge. This recipe is part of a series we took all the guesswork out of cooking with millets and helped you make easy, creative dishes that will become a staple in your home. We have also mentioned it in our recipe cards which were shared earlier this month.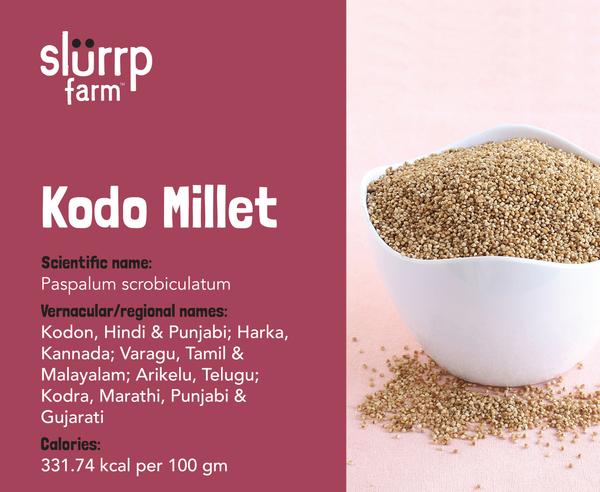 Kodo Millet Or Sprouted Ragi Powder Upma – Healthy food for kids and adults:
Ingredients:
1. One Cup kodo millet (or Organic Sprouted Ragi Powder)
2. One Onion, chopped
3. One Carrot, chopped
4. 15 Green beans, chopped
5. One Potato, peeled and chopped
6. One Inch ginger, grated
7. One Tsp mustard seeds
8. One Tbsp black gram dal
9. One Tbsp chana dal
10. 5 Curry leaves
11. 2 Green chilies, chopped
12. Water, as required
13. Oil, as required
Method:
1. Wash Kodo millet 2-3 times, then drain the water and keep it aside.
OR use homemade sprouted ragi powder or better still, opt for Slurrp Farm Sprouted Ragi Powder.
2. Heat oil in a pressure cooker. Add mustard seeds and let it splutter.
3. Now, add black gram dal, chana dal, curry leaves, and green chilies.
4. Once the dal turns golden brown, add onions, ginger, and turmeric.
5. Saute till onions turn golden-brown.
6. Add carrots, beans, and potatoes. Saute for 2-3 minutes.
7. Add Kodo millet or sprouted ragi powder and saute for a minute, till all the ingredients are combined.
8. Pour water and add salt. Bring to boil and close the lid.
9. Cook in moderate flame for 3 whistles.
10. Once the pressure subsides, take off the lid and transfer the upma onto a serving plate.
11. Serve hot with any type of chutney or sambar.
Originally posted on Goya Journal which is a food media production company and a web publication focussed on food journalism, and healthy recipes.