Millets are delicious and nutritious! And it's no brainer that healthy snack for kids can be made from traditional grains such as ragi, jowar, and bajra. Therefore, as a part of our collaboration with The Goya Journal, in our previous blog, we shared the recipe of kodo millets or sprouted ragi powder upma. Hope you enjoyed it. We all know how millets are climate-smart, sustainable food with more calcium than what's present in wheat and rice.
For most of us, however, cooking with these super grains is still a bit of a challenge. This recipe is part of a series we took all the guesswork out of cooking with millets and helped you make easy, creative dishes that will become a staple in your home. We have also mentioned it in our recipe cards which were shared earlier this month.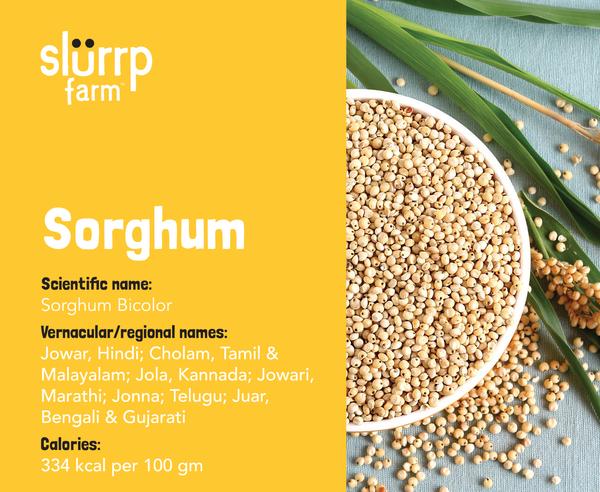 Sorghum muffins using products with millets, sorghum, and oats:
Ingredients:
1. One cup sorghum flour or Millet Pancake (Banana Choco-chip) powder
2. One cup Slurrp Farm Organic Oats Powder + one tbsp wholewheat
3. 2 Tsp baking powder
4. ¼ Tsp baking soda
5. One tbsp cocoa powder
6. One Tsp vanilla essence
7. 400 ml Condensed milk
8. One cup of milk
9. 3-4 Tbsp melted butter
Method:
1. Sift sorghum flour or millet pancake powder  (Slurrp Farm Banana Choco-chip) powder (it has jowar in it), one cup Slurrp Farm Organic Oats Powder + one tbsp whole-wheat, baking powder, cocoa and baking soda in a bowl.
2. In another bowl, mix condensed milk with milk, vanilla essence and melted butter. Mix thoroughly.
3. Add the wet ingredients to the flour mixture and mix only until the ingredients are well-combined.
4. Grease muffin cups with a little oil and spoon the batter till three-fourths full.
5. Place in a preheated oven and bake at 180 Celsius for 30-40 minutes or till a toothpick inserted comes out clean.
Originally posted on Goya Journal which is a food media production company and a web publication focussed on food journalism, and healthy recipes.