By Savita Mordani
During this quarantine period, we are all busy creating healthy, yummy recipes. Our Instagram feeds and stories have become a mandatory collection of an array of cakes, muffins, effortless baking of gluten-free cookies, and some parents are also making healthy millet pancakes. To avoid FOMO, I thought to get my hands dirty too! Even though I am not the biggest pancake fan, having said which, I love millets (finger millets, foxtail millets and other members of the family).
Made from the goodness of foxtail millets, amaranth, oats, and Sorghum (aka Jowar) Slurrp Farm pancakes are very good for little tummies. What's more? This millet pancake is gluten-free and also toddler-friendly. You see, when pan-fried, millet gets crunchy-munchy too.
A nice and tasty gluten-free millet pancake batter really sizzles when it hits the pan. Millet is an ancient grain with a similar structure as wheat, however, millet is completely gluten-free and contains lots of plant-based protein. Another great characteristic of millet is that it contains the amino acid tryptophan, which aids in weight control by keeping us satisfied for longer.
Here's your perfect millet pancakes muffins recipe:
Ingredients:
1. 3/4 Pack of Slurrp Farm banana choco-chip pancake mix
2. 1 Egg
3. 1/2 Cup milk 
Method:
1. First, take the Slurrp Farm pancake mix and add 1 egg and 1/2 cup milk.
2. Mix well in one direction, check the consistency and adjust it with milk, not very thin batter.
3. Grease the moulds with butter and pour the batter in moulds till 1/2 as give it space to rise.
4. Finally, bake in a preheated oven at 180 degrees Celcius in convection mode for 12 minutes and muffins are ready.
5. Decorate with your choice and serve.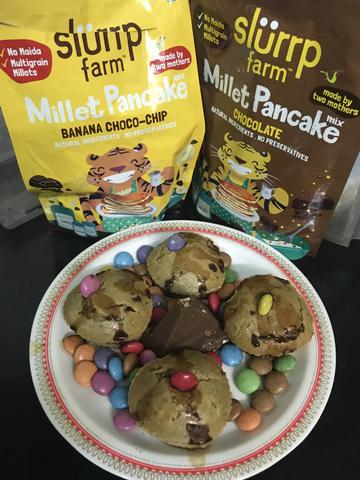 Don't those pancakes look crunchy? Post your pancake recipe and tag us @SlurrpFarm