Recipe and picture courtesy: Aditya Ghosh
It's pie season. But, if I can be honest, pies can be a lot of work. So much rolling, cutting, arranging, getting just right… there must be an easier way, right?
Yes, there is. And it's called an apple galette. They are free form and rustic in design. Apple Galette gives you all the comfort and flavor of an apple pie without a lot of the hassle of making an apple pie. You don't need any special tools or pans to make a galette and it truly is one of those desserts that anyone can make. I made this recipe sugar free and instead used Slurrp Farm Natural Banana Powder.  Banana is a superfood for kids and a rich source of potassium and magnesium. It's perfect for healthy weight gain. Slurrp Farm Natural Banana Powder has no added sugar, and an excellent substitute for processed sugar.
Once you discover how easy a galette is to make, you might want to try it again and again.
The first thing is that you need to decide on what apples you want to use and deciding that maybe the toughest part about the Apple Galette recipe. You could use honey crisp apples since they provide the sweet-tart flavor or a golden delicious or jazz apple. And not just apple, the galette can be made with any seasonal fruits.
This rustic looking Apple Galette has all the delicious elements of an apple pie – a buttery, flaky crust and sweet and tender baked fruit. A galette is a wonderful alternative to pie, it's a rustic, free form tart that is cooked on a baking sheet and is incredibly delicious!
Ingredients for dough:
Two tricks to making the perfect pie crust.
Keep your ingredients cold
Work the dough as little as possible
1. 1 1/4 Cup wholegrain flour 
2. 1/4 Tsp unrefined salt
3. 1/2 Cup butter (1 stick) or ghee, cold and chopped into small chunks
4. Ice water
Ingredients for filling:
1. 3 Apples, peeled, cred, and sliced into 1/8 inch slices
2. 1 Tbsp Slurrp Farm Banana Powder
3. 1/2 Tsp cinnamon
4. Peanut butter
Garnish:
1. 1 Tbsp butter or ghee, chopped into small pieces
3. 1 Tbsp honey
Method:
1. To make the crust : 
Pulse together flour and salt.
Add 1/2 cup butter/ghee and pulse until mixture resembles very coarse flour.
Add ice-cold water, 1 teaspoon at a time, and pulse until dough begins to stick together. (I use 2-3 teaspoons)
Place in between 2 pieces of parchment paper. Place in the fridge to chill for at least 2 hours.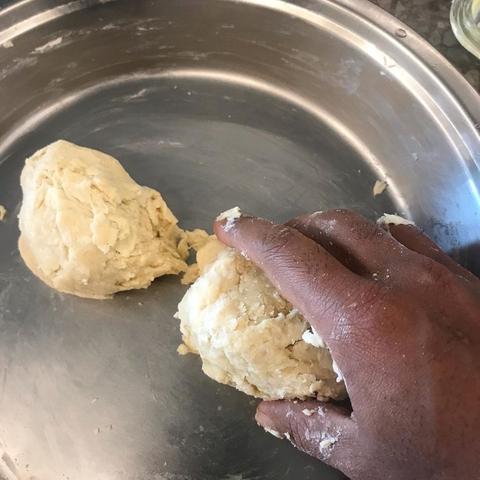 2. Preheat oven to 350'F.
3. For filling:
Once the crust is chill, prepare the filling by combining sliced apples, banana powder, and cinnamon in a mixing bowl. Toss to combine.
4. To roll out the dough:
Remove dough from the fridge and gently roll out between the 2 pieces of parchment paper into a 10 inch round disc. Place crust onto a large baking sheet.
6. Add peanut butter as a spread to the dough.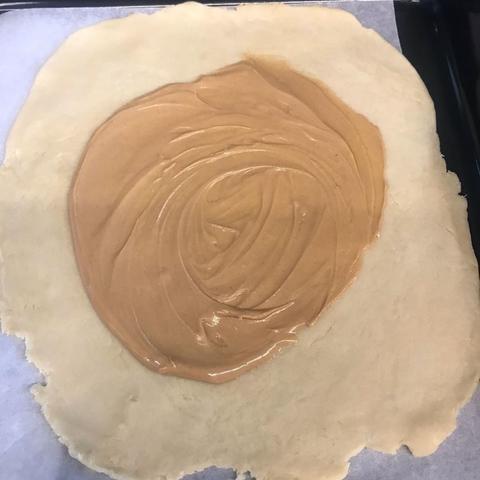 7. Arrange apple slices in the center of the dough, leaving about an inch and half of the crust on the outside. I like to make an overlapping spiral but feel free to arrange in any way that makes you happy. Sprinkle on just a bit of honey to make the crust pretty.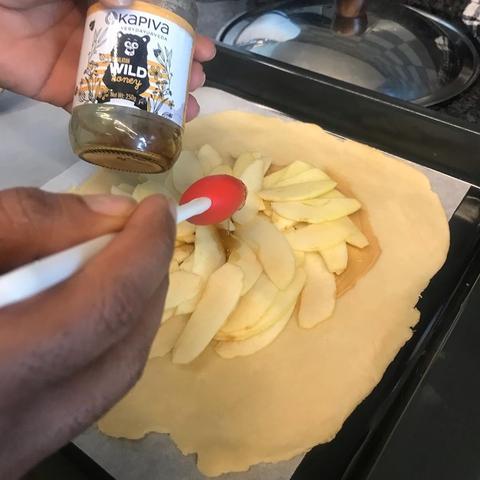 8. Gently fold over the dough over the apples, lifting the parchment paper along with the dough as your guide. Pleat the dough nicely over the apples as you go. Then lightly brush the crust with egg yolk.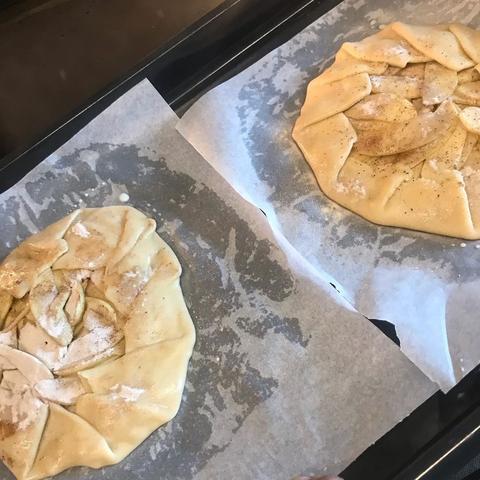 8. For garnish:
Sprinkle the remaining chopped tablespoon of butter/ghee over the apples and drizzle with one tablespoon of honey.
9. Bake for 40-45 minutes, until crust is golden and apples are tender. Remove from oven, and using parchment paper, transfer to a cooling rack to cool. Serve slightly warm or room temperature. Cut into small wedges and enjoy!
Make it with seasonal fruit of your choice and let us know how it comes along. Tag us @SlurrpFarm