by Vaishali Sudan
Are we aware of what we are and what we eat? The lure of convenience in addition to good taste gets people to junk food addiction. Both Meghana Narayan and Shauravi Malik, co-founders, Slurrp Farm can't stress enough on the need for 'early start to eat smart.' Why? Well, because childhood years are the formative years and the only window for steady growth. Around this time, good nutrition should be of utmost priority. Unfortunately, around this time, the metamorphosis of food habits often leads to the replacement of nutritious food by things that are tasty, convenient, in vogue-junk food. 
But, how can we ignore India's diverse grains? 
To include a variety of grains in our diet is what our grandmother has been effectively implementing and recommending to us. But, are we listening to her? If yes, then, what's stopping us from doing so? Is it because we feel that ragi (finger millet) roti is too dry? Or that Jowar (Sorghum) Ragi can be flavorless?
Let me help you dump all your preconceived notions down the drain. One can actually make delightfully yummy and healthy recipes using finger millet, foxtail millet, and other varieties from the millet family. Minor tweaks here and there can help to achieve the same. A great way of adding ragi in your diet with a few condiments on the side can be equally helpful.
Before we proceed any further, I wanted to share a bit about the benefits of finger millet.
What is Ragi good for you and your little one?
Including millets in your child's daily meals can do wonders. It's good for their health and nutrition-dense too. We are highlighting the benefits and sharing a curated weekly ragi plan to save parents the hassle of thinking of ways to make the meals healthy and tasty. 
I can't stress enough on the following facts:
Ragi contains more calcium than any other cereal (even more than milk!) and can help boost the bone-strengthening material in the human body.

Ragi abounds in phosphorus that aids bone and dental health, digestion, and balances the pH levels in our body.

Ragi's high-fiber content helps keep people fuller for longer (bye-bye unwanted cravings)- so if your little ones are super active and running around all day, don't worry, we've got their energy levels covered!

Ragi is an excellent source of natural iron and is, therefore, a great addition to the diets of children and adults with low hemoglobin levels.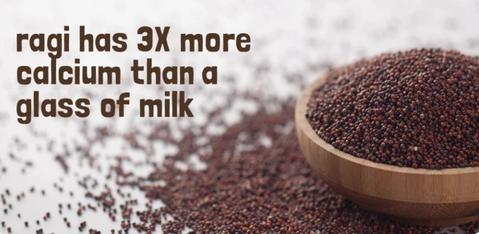 The finger millet recipe we are trying out today is Ragi-Onion-Chappati. It turns out so soft and tastes really heavenly. I hope you will give this a try and let me know how it turns out for you (and your little one).
Also, if the onion is not a preferred choice, then feel free to top for tomato, potato, reddish, carrot, egg, cabbage, rajma (kidney beans), red /green pepper, cottage cheese or a mix of all the above ingredients!
Ingredients:
1. One cup Finger millet flour or Slurrp Farm Sprouted Ragi Powder
2. Chopped onion (half), salt (to taste), green chili
3. 1/2 Cup curd (or as required)
4. 1/4 Cup water (or as required) to knead
5. Coriander and oil (as required)
Finger Millet Onion Chapati Preparation Method:
1. Add all the ingredients and knead it to a soft dough.
2. Heat a pan.
3. Grease it with oil.
4. Now make equal size balls of the dough and make small roti with hand by applying little oil to your palms.
5. Transfer it to the pan and cook it on a low flame. Once done flip it over the other side.
6. The prepared roti can be enjoyed with curd, pickle, or curry.
This recipe has been extracted from the IIMR Recipe Book. It is a part of the initiative "Millet Recipes – A Healthy Choice" put together by ICAR- Indian Institue of Millets Research. The main force behind this program includes B Dayakar Rao, Vishala AD, GD Arlene Christina, and VA Tonapi.