Meet Utsav Baijal
Utsav Baijal is a partner with Apollo's India office and its India dedicated fund, AION Capital.  Utsav joined Apollo in its New York office in 2008 and has worked actively on private equity, mezzanine, and credit investments across the US and Asian markets. In 2012, he helped Apollo establish a joint venture with ICICI Bank and helped raise one of the largest India dedicated funds, AION.
Prior to Apollo, Utsav was with the private equity team at Bain Capital in Boston. Utsav spent five years as a consultant with McKinsey & Company across the New Delhi and Hong Kong offices and was one of the founding members of the firm's corporate finance practice in India. 
Utsav resides in Mumbai with his wife, Mitali Tewari, and two young daughters, Myra and Misha. He is a Fellow of the sixth class of the Kamalnayan Bajaj Fellowship and a member of the Aspen Global Leadership Network.
Get to know him:
1. Words I live by…
It's not enough to be good, things must be done well.
2. Why I like to eat healthy (or why eating healthy is important for our family)?
I don't like to eat healthy, but have realized that I must.  Bad health sets you back in a way one can't comprehend.  Even in my field, one needs to think about being a corporate athlete, prepared to compete and fight – and for that health is paramount.
3. A dream I'm turning into reality is?
Difficult question. I have several dreams but haven't taken the steps needed to convert them into reality.  Dream of writing a book; dream of launching own sports show; dream of being a teacher … no real progress.
4. What's that one fun thing you always do with your children?
Play games (board games, video games, chess, cards, anything).  I become a child again. 
5. If your life would be a reality show, what would it be called?
Keeping Up with the Baijals?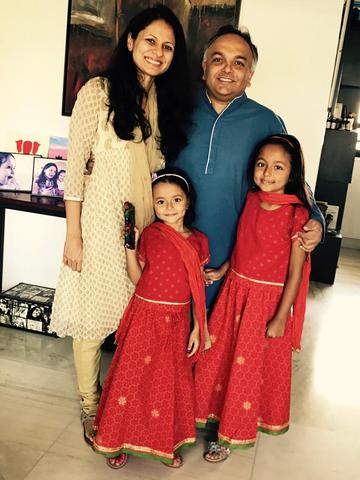 6.  What is the easiest and happiest part of being a parent?
When the brats are asleep, and you can smile and look at their innocent faces.