Millets are now recognized as the go-to grains for anybody who wants to make a switch to a healthier lifestyle. But these wonder grains have been around for a long time. Our grandparents' generation swore by whole-grain-rich diets; in fact, they incorporated a different millet for every day of the week – such as jowar upmas, bajra khichdi's, and pongal, and ragi dosas and rotis and so on!
Have you ever considered switching your roti flour from wheat to Ragi? This humble super millet is power-packed with calcium and fiber and is a great substitute to wheat in recipes like rotis.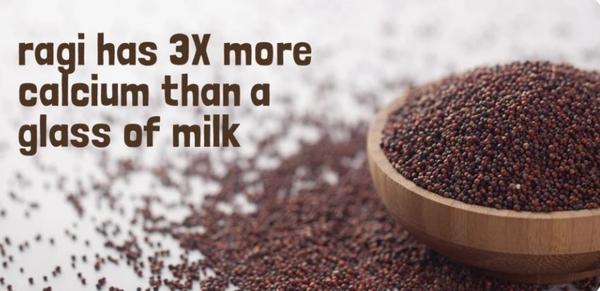 To make ragi rotis, the first step would be to make the flour. This flour is going to be extremely useful not just in the roti recipe but it's also a great replacement for rice in recipes like idlis, dosas, porridge, pancakes, etc. The flour is prepared by either crushing dried grains or sprouting, drying, and then grinding them. The sprouted ragi grain flour is easier to digest and is preferred by most people. You can do this at home or if you are pressed for time and prefer a hassle-free version, you can just buy readymade organic sprouted Ragi powder.
Here is a simple recipe to make Ragi or Nachna Rotis:
Method:
1. Mix Ragi flour with some finely chopped onions, green chilies, coriander leaves, and salt. You could just use plain ragi flour with salt too or add some jeera, curry leaves, and even grated coconut to it. The dough mix can be completely customized to your palate!
2. Once the dry ingredients are thoroughly mixed, start pouring in hot water into the mixture. Make sure to pour the water in slowly and keep kneading it till you get a soft, pliable dough. Tip – Keep sprinkling water little by little with your hands as you knead the dough. Your dough is ready when it's softer than wheat roti dough.
3. Once the dough is ready, cover it with a lid and let it rest for 15 minutes.
4. Divide your dough into equal-sized balls.
5. Now comes the fun part! Ragi roti dough requires patting the dough ball into a thin layer as opposed to rolling it with a pin. This gives the ragi roti a very unique texture. 
You can also put your dough balls on an aluminum sheet as it helps the dough not stick to the surface as you flatten it. Keep greasing your hands with a little water as you pat out the dough to help pat it out to a thickness slightly more than traditional roti
1. On a hot tava, place your ragi roti. You can punch a few small holes in it to help it crisp up.
2. Let the roti turn a dark brown shade on either side as you cook it.
3. Serve hot!
Ragi Roti can be made in a number of ways. You can make a fuss-free, plain ragi roti like the one mentioned above. However if the taste does not appeal to you or your kids, you can always stuff your roti with paneer or any other vegetable you prefer.
Starting your day off with Ragi roti for breakfast or even lunch will give you the energy you require for the rest of the day, keep away your hunger pangs and prevent you from snacking between meals. Studies have shown that the health benefits of Ragi far supersede that of wheat.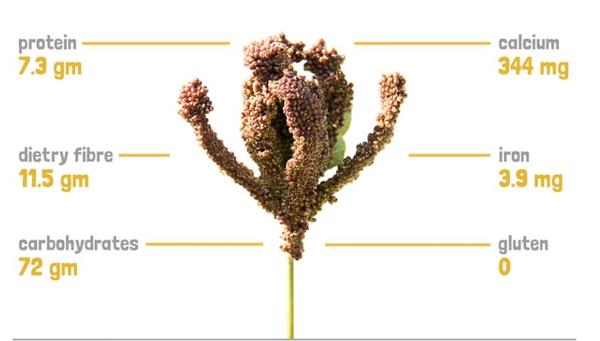 It's gluten-free, promotes heart health, the fiber content helps in improving the digestive system and it's a great substitute for aiding in weight-loss as well. So what are you waiting for? Give this recipe a shot, and there will be no turning back!
Picture Credits: The Diet Xperts