Meet Kaushik Mukherjee
Kaushik runs SUGAR cosmetics – India's fastest-growing color cosmetics brand that his better half (Vineeta) and he launched in 2015. For the first 25 years of his life, he pretty much followed the tried-and-tested path of engineering, followed by the business school. He says that it was fun – but beyond a point, he started missing the joy of building something from scratch. That led him to opt-out of campus placements and work on multiple startups that unfortunately ran into roadblocks. Till he started building SUGAR Cosmetics… and never stopped.
Apart from work, he has been an amateur triathlete and completed the IRONMAN triathlon (3.8km swim + 180km bike + 42.2km run) in under 17 hours back in 2017. He lives in Mumbai with his life/business partner and two rambunctious kids.
Get to know him:
1. Words I live by…
"Always believe that something wonderful is about to happen!"
2. Why I like to eat healthy (or why eating healthy is important for our family)?
Just imagine if there was a way to stay healthy without making time and gathering the motivation to get up, go to the gym and work out. Well, there is! We just need to watch what we eat! I know this is easier said than done but in today's hectic lifestyle – eating healthy is not an option anymore. It's about whether you want to begin in your teens, 20s, 30s, or later, and from my experience – the sooner you begin, the better it is!
3. A dream I'm turning into reality is?
Making work as fun as play. At SUGAR Cosmetics, I'm fortunate to work with a set of colleagues who are creative, driven and fearless – these are qualities I would expect of myself and my kids as a parent – so to be able to work with a room full of such individuals is everything I could ask for. We're all focused on the dream of building the SUGAR brand to be one of the largest color cosmetics brands in the country.
4. What's that one fun thing you always do with your children?
Tiger and the Goat! I don't exactly remember how and when this game came about but it involves me pretending to be a tiger trying to scare the two of them – who instead of playing their part of being scared… end up roaring and climbing all over me. I don't think they understand how a tiger/goat interaction is supposed to work. Apart from this, bedtime stories are an all-time favorite!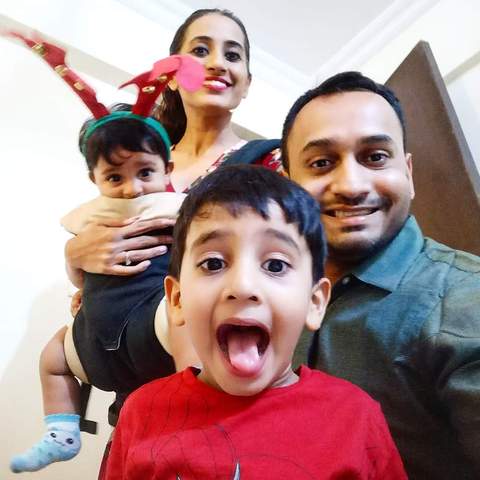 5. If your life would be a reality show, what would it be called?
So you think you can parent?
6. What is the easiest and happiest part of being a parent?
I don't think there's an easy part of parenting – at least, I don't think it easy – at all. Maybe I still need a few years to kick in! But the happiest are the hugs. It's something else to feel tiny arms wrapped around you and it could be for things as simple as helping them finish a jigsaw puzzle!