By Ayesha Nallaseth
The quote "But First Tea" truly applies for me, and to all the chai lovers as the first thing I need to start my day is a cup of kadak chai and along with that a super crunchy, buttery and delicious cake rusk to dip in my tea. Rusks in India are a favorite tea time snack. Dipping the crispy cake rusk in tea is something many of us would have done when we were kids and still continue to do so. Beware, it is so addictive that you may lose track of how many you have eaten. I use to buy rusk cake biscuits from the stores until I happened to see the ingredients. I wasn't too pleased to see what went into it. So, I decided to make them at home and it was an instant hit. They were so good that it got wiped out within 2 days.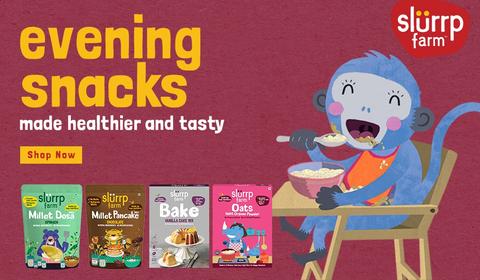 While we're talking about tea-time don't forget to check out our recipes on evening snacks.
For my readers who are unfamiliar with concept of a 'rusk', well it is a common sight in most of the Indian bakeries and most homes that have a tea time ritual of dipping a rectangular piece of rusk into their hot cuppa. Rusk is simply dehydrated or re-baked pieces of bread. Some baker in the past definitely had a good idea of repurposing leftover bread. Cake rusk is taking the same idea forward and re purposing leftover sponge cake. You could call it the Indian take on the Italian biscotti! Same concept, different technique, simpler taste. 
While rusks made from bread are crunchy and light, crispy cake rusks are a bit more  soft  and sweet. There is no need  to refrigerate or freeze leftovers , just store in an airtight container and these will stay fresh for a week or so.  
Make these crispy rusks at home, for they taste so wonderful that you will never ever buy them from the store again!
To make this rusk cake biscuits, pick your favorite eggless cake mix, mine being Vanilla Cake mix from Slurrp Farm, cut it into slices and bake them until crisp and golden.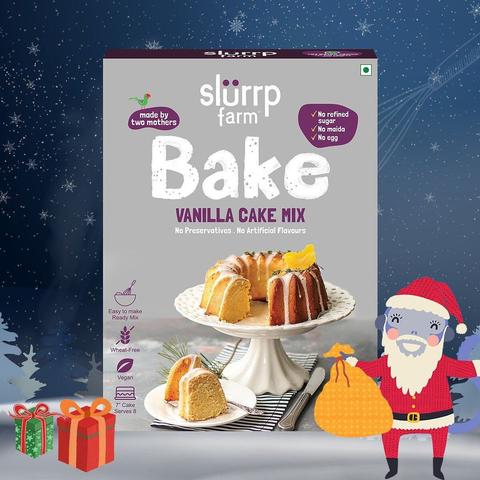 How to make dry cake rusks:
Ingredients for the cake mix:
1. One box Slurrp Farm Vanilla Cake Mix
2. 100 Ml warm water
3. 30 Gms butter
4. 60 Gms Yogurt
Ingredients for the fruit and spice mix:

1. 10 Gms orange peel
2. 10 Gms dates
3. 10 Gms apricots
4. 10 Gms black raisins
5. 10 Gms cranberries
6. 60 Ml apple juice
7. 1 tbsp Christmas spice mix
Learn how to make cake rusk:
Method for the cake:
1. Preheat the oven to 180 Degrees Celcius. Line your preferred cake mould.
2. Wisk the warm water, yogurt and butter together.
3. Then add the raw unrefined sugar and Slurrp Farm Vanilla Cake Mix (this will be part of the Slurrp Farm Vanilla Mix box) to the above liquids.
4. Whisk the batter well ensuring no lumps.
Method for the fruits:
1. Finely chop all the fruits and soak them in apple juice for 1 hour or over night.
2. The squeeze the excess apple juice out of the fruits and add it to the batter.
3. Sprinkle the Christmas spice mix (equal quantities of ginger powder, nutmeg and cinnamon powder).
4. Mix well and pour the batter in the prepared cake mould.
5. Bake for 30-35 Allow the cake to completely cool and then de-mould.
6. Serve the cake at room temperature.
Method for cake rusk: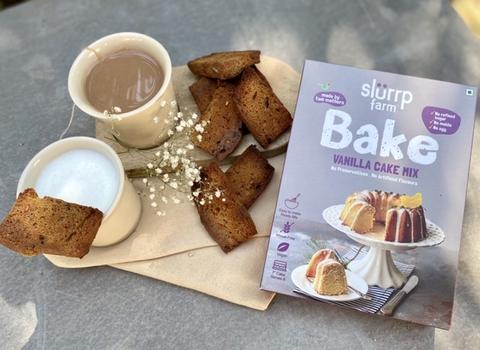 1. Slice the cake in to ½ inch thick squares
2. Preheat the oven to 160 degrees Celsius.
3. Bake the cake slices for 20 minutes on each side or till brown and crispy.
4. Store in an air tight container and serve with tea or hot milk.