By Dipandita Dutta
Chia seeds and their enormous health benefits are the buzz words these days in the food world. Although the world is waking up to the benefits of these seeds in recent times these seeds are loaded with fiber, protein, minerals, vitamins, and antioxidants, certainly good for people who derive all their nutrition from food and stay away from supplements. Add to this, they are naturally gluten-free and are not genetically modified. Grown without the use of any chemicals, these miraculous seeds have proven to be good for the heart, bone health, and also for diabetes.
While we have experimented a lot with Chia seeds we have come to the conclusion that it can be eaten raw, used in puddings, porridges, and juices and also incorporated into baked goodies. Check out some of the amazing chia seed recipes that you can make.
This creamy coconut chia pudding is the treat-your-self way to begin your day. This chia seed recipe is good for you, yet its rich texture gives it the indulgent "dessert for breakfast" vibe. Made with chia seeds, coconut milk, and naturally sweetened with honey, this healthy breakfast recipe is a mini escape. 
You can enjoy this coconut chia pudding for breakfast or dessert, though I love it most for breakfast. One batch can last for four days in the refrigerator, so it's an ideal make-ahead healthy breakfast recipe. Try it both ways, then pick your favorite!
Chia pudding recipe: 
Ingredients:
1. 20 Gm of Slurrp Farm Chia Seeds
2. 30 Gm of Slurrp Farm Banana Powder
3. 300 Ml + 5 tbsp of coconut milk
4. 2 and ½ tbsp of honey 
5. One cup of fresh strawberry
6. One cup of banana
7. ½ Cup of pomegranate
8. 2 Tsp of walnuts
Method:
1. Chia seed-coconut milk mix- In a bowl, whisk together chia seeds, coconut milk, and honey. Whisk two to three times after every one hour and refrigerate overnight.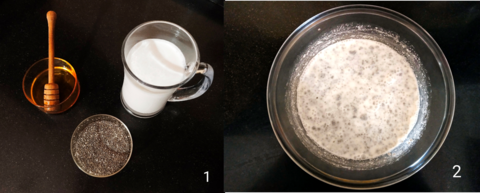 2. Now, we have chia seed- coconut milk mix, chopped bananas, pomegranate, chopped strawberries, banana powder, and some chopped walnuts.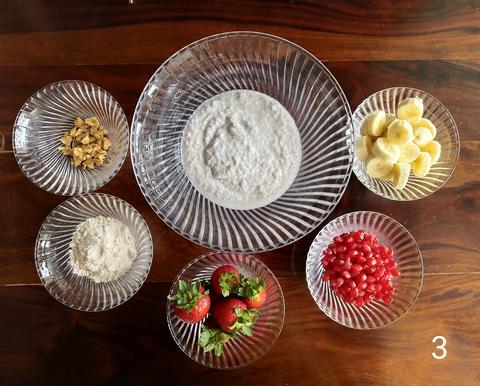 3. Churn half of the strawberries in a blender with few tablespoons of coconut milk and banana powder. Mix this strawberry pulp with half of the chia seed coconut milk mix.

4. Finally, layer the chia-coconut milk mix, the strawberry mix, and the fruits in glasses or bowls.    Take two glasses and layer first with strawberry-chia- coconut milk mix. Then add some chopped bananas and pomegranate and then chia seed-coconut milk mix. Top with strawberries, some more pudding layer, and walnuts. Super healthy and deliciously easy to go pudding is ready.

 Let us know how you eat your chia seeds. Tag us on Instagram @slurrpfarm