Pancake lovers, ahoy! Slurrp Farm unveils two new yummy flavors – Classic and blueberry, with no maida, and no preservatives!
Slurrp Farm, leading Indian food brand that is changing the way young children are eating for the better, launches the new lineup of tasty, immunity-boosting, protein pancake mixes in two exciting flavors. These flavor bombs made lovingly with power-packed ingredients will transport you and your little ones to breakfast heaven.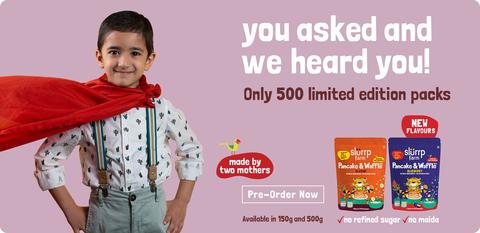 Having successfully launched 8 SKUs earlier this year (2 Natural sweeteners: Banana and Organic Jaggery Powder; 2 Daily superfoods: Nuts Powder and Chia Seeds; and 4 Cereals: Sprouted Ragi Flour, Brown Rice, Oats, and Millets & Oats Dalia), with the launch of two new pancake flavors, Slurrp Farm now has 22 organic food products (made using traditional super grains) to offer.
The new pancakes feature a combination of innovative and nostalgic ingredients, including real vanilla, blueberries, millets, and oats. Sweetened by the goodness of jaggery, unloaded with maida, no refined sugar, and free of preservatives, Slurrp Farm reinstates its stronghold in the organic kids' food space.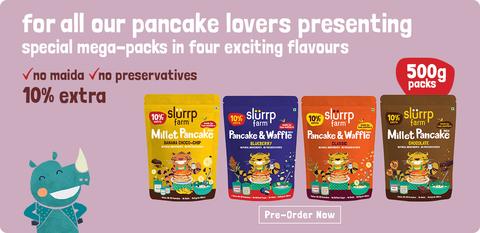 In 2020, the brand is also taking things a step further by creating a wholesome digital experience that aims to onboard reluctant little tummies and fussy eaters in a special way.
The brand has been known to convey the story of millets through authentic narrative and mission-focused statement around the sustainability and nutritional value of this ancient super-grain that has the incredible property of being suitable for all age groups.
Besides the strong digital content backed by immense love and support of over 5 lac customers in India and the UAE, Slurrp Farm is also offering free and live recipes as articles and recipe books through its robust D2C website to encourage gourmet-style home-cooking during the lockdown.
"If there's a universally favorite breakfast food, it's pancakes. Delicious, crumbly goodness…Smear it with fruit compote, maple syrup or honey, or go healthy with nut butters, fresh fruits or dry fruits. Or just eat it as is— scrumptious! With No maida, No refined sugar and No preservatives, these are perfect to fuel your body without compromising on taste or nutrition," said Shauravi Malik, Co-founder, Slurrp Farm.
"We also thought to beat the blues with our fruity blueberry flavored pancake. Kids or adults won't be missing out on the best-quality treats even during the pandemic," said Meghana Narayan, co-founder, further adding, "We try to stay in our lane as much and far as possible. We are mission-focused and believe in sticking to the core. Slurrp Farm is actually a response to solving issues related to junk-eating amongst kids not just in India, but around the globe. The brand is an initiative towards reviving ancient 'Supergrains' (ragi, jowar, foxtail millets) and facilitating its' return to the center of our plates."
Slurrp Farm has been working in collaboration with a team of food scientists, nutritionists, and pediatricians, to make its food offerings healthy and tasty!
1. Classic pancakes: 100% natural, no maida, no refined sugar, and free of preservatives. A rich source for vitamin B12 and dietary fiber. Made with fine grains of Jowar, oats, and foxtail millets. This pack contains 150 grams of pancakes and waffle mix! Priced at 149 (for 150 grams)
2. Blueberry pancakes: 100% natural, no maida, no refined sugar, and free of preservatives. With sliced blueberries rich in antioxidants, and vitamins provided by millets and oats. Sweetened by the goodness of jaggery to boost immunity. This pack contains 150 grams of pancakes and waffle mix! Priced at 199 (for 150 grams)