By Monalisa Mehrotra
Khichdi is the first and last word in Indian comfort foods. A popular one-pot meal that's cooked in just about every Indian home. Whether it is a busy day or a dull day, serving this organic brown rice khichdi is sure to put you on the right track.  I am making this khichdi with organic brown rice and not white rice which is why it is healthier, has more fiber, and is more filling and nutritious.
The hull and bran in brown rice provide "natural wholeness" to the grain and are rich in proteins, thiamine, calcium, magnesium, fiber, and potassium. Mung dal provides additional fiber and protein, making this a healthy snack or entrée.
Today, we'll take this recipe back to its roots but we're going to do so with flair. A khichdi, at its most basic, is a pot of rice and lentils cooked together and it can be starkly plain (lentils, rice, salt, period). But the version I have for you today has, as the name suggests, a melange of flavorful spices and it's enriched by the goodness of a ton of fresh vegetables. With asafetida to aid digestion and the antibacterial properties of turmeric, this recipe is a sure win-win. Even better, I make it with brown rice.
You should definitely include Organic Brown Rice Khichdi in your little one's diet.  Khichdi is very easy to digest, which makes it a wonderful food for any cleansing regimen. It allows the digestive system to rest, allocating extra energy to the body's natural detoxification processes. Khichdi was my comfort food since the beginning. 
Brown Rice Khichdi
Ingredients: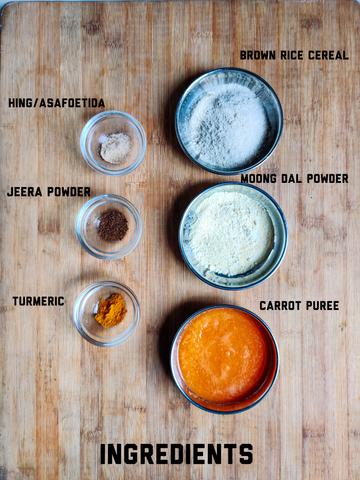 1. 2 Tbsp brown rice powder (you can also use Slurrp Farm Brown Rice Powder and follow packet instructions on how to make it)
2. ½ Tbsp moong dal powder (if you don't have this, add cooked and mashed moong dal)
3. A pinch of asafoetida/hing
4. A pinch of cumin/jeera powder
5. A pinch of turmeric powder
6. Carrot puree (or any other vegetable puree of your choice)
7. Salt – Optional (add salt only if your little one has been introduced to salt)
8. Water to adjust consistency
Method:
1. Take a dash of ghee in a saucepan, add asafetida, then add brown rice and moong dal powder, and roast on a low flame till the raw smell goes away.
2. Add jeera powder, turmeric powder, and carrot puree and mix everything together
3. Add 1 and ½ cup water and cook on a low flame till the rice and dal mixture is cooked through.
4. Keep stirring and adjust the consistency of the khichdi as per your choice.
5. Serve lukewarm for babies.
Variations:
You can choose the vegetable of your choice for your child – lauki, pumpkin, and spinach are other variants that you can add in the khichdi.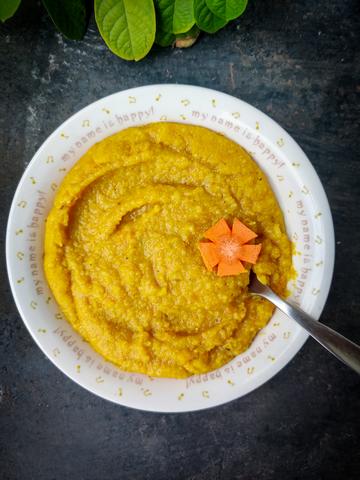 Here are several reasons why you might want to give khichdi a try:
1. You feel a cold coming on.
2. You've been eating terribly lately and are in need of a detox.
3. You have an upset stomach/tummy ache.
4. You want to eat something easily digestible (great postpartum dish)
Customize the khichdi as per your flavour and taste and share with us on our Instagram @slurrpfarm