By Vertika Tyagi
As a Mom, you're most likely aware of the benefits of ragi. But not all kids show interest in this nutritious ingredient. However, we've got a recipe which will help in adding interest to this oft-ignored grain – ragi biscuit crackers. This is a healthy snacking option for babies, kids and adults alike. These crackers are studded with sesame seeds and flavored with black pepper.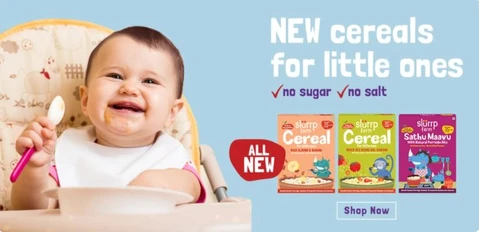 Wondering how to get Ragi Powder? Do not fret! We'll send it you. We prepare it and will deliver it at your doorstep. Place your order here!
For a long time, ragi has been a popular choice among Indian mothers when it comes to their baby's first foods. Ragi or finger millet that has the health benefits of several other common grains put together. Ragi is chock full of nutrients, including iron. Breastfeeding alone may not ensure sufficient iron in the child's body, so ragi is a good way to restore depleted iron levels.
Sprouted ragi powder for babies can be made at home? Here's the recipe for homemade sprouted ragi powder for babies.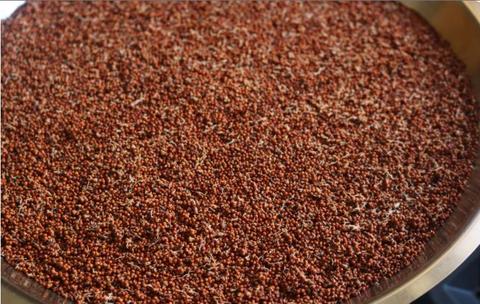 Easy to make, scrumptious and is the best homemade ragi biscuit crackers recipe. You gotta start make these easy crackers at home.  It came out too good, when I made it for the first time. So I am sharing that recipe with you guys.
Ragi biscuit crackers recipe:
Ingredients: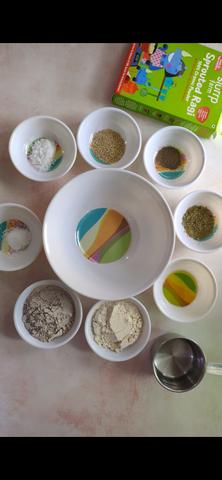 1. 1/2 Cup Slurrp Farm Organic Sprouted Ragi Powder
2. 1/2 Cup whole wheat flour
3. 3/4 Tsp baking powder
4. One Tbsp sesame seeds
5. 1/2 Tsp black pepper
6. 3/4 Tsp oregano or mixed herbs
7. Salt to taste
8. 2 Tsp ghee
9. Water as required
Watch the video:
Method:
1. Into a bowl, mix ragi flour, whole wheat flour, baking powder, sesame seeds, black pepper, oregano and salt to taste. Now add ghee and mix it in the dry ingredients.
3. Gradually add water into the bowl and knead the dough. Use hands to knead dough like chapati dough.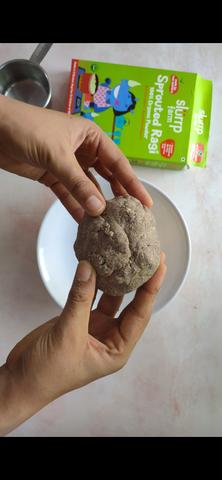 4. Set the dough aside for 10 mins.
5. Pinch out some dough to make small balls and roll into thin Chapati without using any flour for rolling. Make as thin as possible to get crispy crackers
6. Once rolled out, poke all over using fork to avoid crackers from puffing.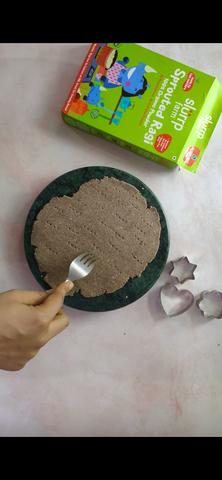 7. Now cut it into desired shape using knife, pizza cutter or cookie cutter like I did.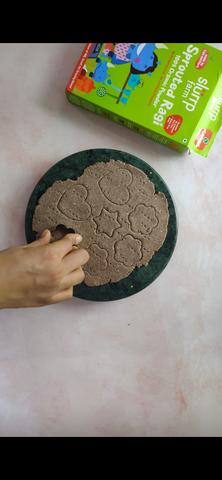 8. Preheat oven at 180 °C and line cookie tray with parchment paper.
9. Transfer the cut outs on the tray and let it bake for 20-20 mins. Baking time depends on thickness of the crackers. So keep and eye on them while baking the first batch.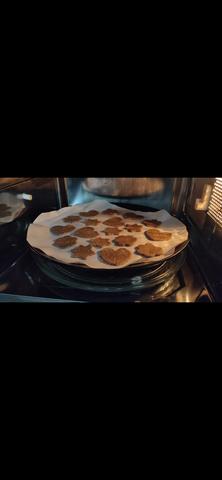 10. Allow them to cool completely and serve with cucumber dip or store in air tight container for longer use. 
Buy Slurrp Farm Sprouted Ragi Powder, now!