This year marked Gulfood's 25th edition anniversary and the theme was 'Rethinking Food'. They transported the show to the future to see what the industry looked like in the next 25 years. 
And so, February was an action-packed month for us at Slurrp Farm. Yes! We were at Gulfood Exhibitions 2020 Innovation Summit. We've also been "Rethinking Food" towards a sustainable and prosperous future. 
As a healthy kids' food brand, it is our mission to change how the world is eating as a society.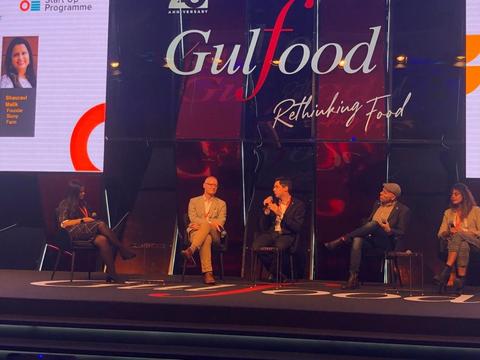 According to Meghana Narayan, co-founder, Slurrp Farm, "We started from the space of wanting to make things better. We are not food scientists, marketers or salespeople.
We just wondered why good food and good quality ingredients, superfoods and supergrains like Millets, Oats, Lentils instead of Refined flour, Transfat, Artificial Colours, and Preservatives are not on retail shelves (whole grains like Millets pack a nutritional punch, as they contain far more essential nutrients than refined flours, are good for the farmer who grows them and is sustainable for the planet)." 
Therefore, by utilizing a diverse range of heirloom supergrains in their recipes and making these healthy foods available at retail and online, Slurrp Farm is trying to bring about the change in the eating habits.
At the Gulfood this year, the first panel was moderated by Paul Newnham, Director, Sustainable Development Goal (SDG) 2 Advocacy Hub, focused on the role of taste and flavor in changing eating behavior with 3 Michelin Star Chef Massimo Bottura, TV Chefs Manal Al Alem and Lorna Maseko, as well as with London-based Chef Arthur Potts Dawson.
The Chefs highlighted the importance of education, cultural and geographical differences in perceptions of taste, and of storytelling around ingredients in order to promote healthy, nutritious food that is good for people and the planet.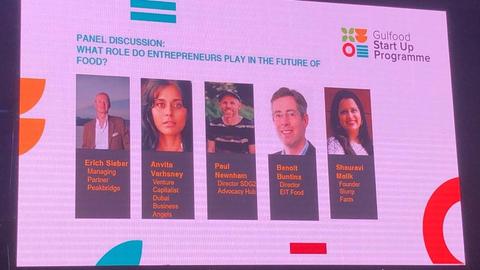 Gulfood brought to the table a stellar line-up of industry experts, senior policymakers, visionaries, and Michelin star chefs. 
On the second panel, one of our co-founders, Shauravi Malik was in conversation with Paul Newnham, and Alyson Greenhalgh-Ball, Senior Director of Global Health and Wellness at Kellogg Company about "Blueprints for a Healthier Tomorrow".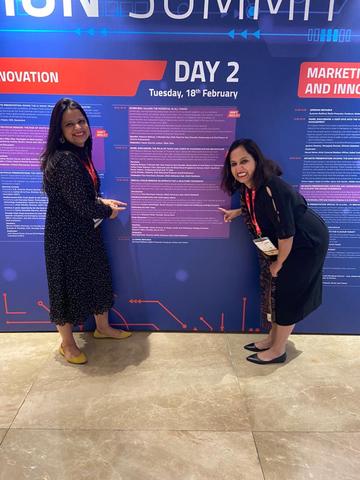 Alyson highlighted how it will take partnerships to achieve Global Goals. She also pointed to the fact that we eat just about 150 crops and ONLY 3 crops contribute to 60% of all the calories we consume. While Shauravi couldn't stress enough on the need for a diversity of stakeholders: both big and small brands need to take responsibility and drive positive change in our food system. 
So, how are you planning to cook and eat sustainably?
To learn more, visit Gulfood