Picture Credits: Zomato
They say that childhood is the most impressionable phase of someone's life. This is the time when things leave a permanent mark and hone a person for life. This is also a time, unfortunately, when children get into the habit of indulging in junk food that is marketed in attractive packaging, a habit that never really leaves even when they grow up.
They also say that prevention is better than cure, that instead of becoming adults with prolonged unhealthy habits, addressing this issue during childhood will make them habitual to leading a healthy lifestyle.
Therefore, two young mothers, Shauravi Malik and Meghana Narayan got together and started the Slurrp Farm in October 2016 – a young Indian food brand attempting to change the way children eat. Their mission is to provide tasty and natural alternatives to junk food that surrounds children today.
Their products do not include any preservatives, additives, or synthetic flavors and they focus on ingredients that would be easily found in someone's kitchen. Additionally, they are attempting to revive healthy traditional ingredients like millet and ragi, that were commonly used by previous generations. Currently, they retail three variants of cookies that are natural and made with real butter.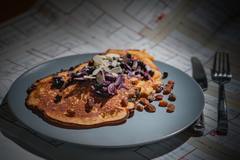 Read More: Slurrp Farm at Annamaya, Hotel Andaz