Can you guess a food ingredient which is cholesterol-free, has over a dozen minerals and vitamins, including copper, potassium, magnesium, zinc and a number of B vitamins such as folate? Good for moms and their lil ones…
Yes! Mushy-mushy Mushroom, it is!
They are versatile and can be made into quick and yummy snacks. However, can you imagine a better combination of mushrooms and ragi? Both the ingredients are super healthy and have loads of advantages. Click here to know all the possible benefits of finger millets (aka ragi). 
Here are 3 tasty and kid-friendly mushroom recipes using ragi. Pack it in their tiffins, serve it on playdates or enjoy it at family get-togethers!
Mushroom Ragi Samosa
Ingredients:
For dough
1. 220 Grams ragi flour
2. 120 ml of water
3. ½ Tsp carom seeds
4. Salt to taste
For filling
1. 2 Tbsp oil
2. 300 grams chopped mushrooms
3. One chopped onion
4. 2 Chopped green chilies (optional)
5. One tsp ginger paste
6. ½ Tsp garam masala
7. ½ Tsp cumin seeds
8. 2 Tbsp chopped coriander
9. 2 Tbsp lemon juice
10. Oil for frying (as per your requirement)
11. Salt to taste
Method:
1. Take a large ceramic bowl and sift ragi flour in it. Add water and mix well. Ensure to have a consistency of the mixture like that of a pancake batter
2. Heat the batter in the microwave for 30-40 seconds. Remove and allow it to cool down
3. Now, knead the semi-hard dough by adding more ragi flour, carom seeds, and salt. Keep it aside
4. Heat oil in a pan and sauté onions. Add the rest of the filling ingredients and stir well. Cook until the mushrooms are soft. Now, add lemon juice and chopped coriander. Allow the mixture to cool down
5. Divide the ragi dough into small balls. Roll out into a circle, moistening the edges. Shape them into cones
6. Fill a teaspoon of the mushroom mixture and seal the cones. Fry the ragi samosa in hot oil until golden-brown in color
7. Serve hot with mint chutney or tomato sauce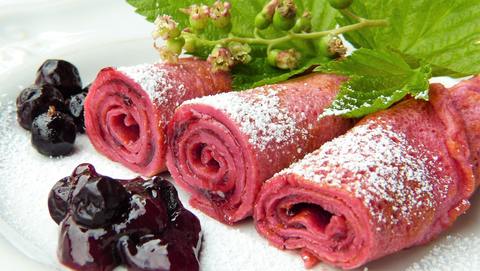 Mushroom Ragi Wraps
Ingredients:
For the wrap
1. One Cup ragi flour
2. 1 ½ Cups wheat flour
3. Water as required
4. Salt to taste
For filling
1. 10 – 12 Chopped mushrooms
2. One chopped onion
3. One tsp ginger garlic paste
4. A pinch of cumin seeds
5. 2 Tbsp tomato chutney/sauce
6. ¼ Cup cheddar/mozzarella cheese
7. One tsp olive oil
8. Salt and pepper as required
Method:
1. Take a bowl and mix all the ingredients together needed for the dough. Knead well using little water at a time to make a smooth dough. Keep aside for 5 minutes
2. Take a small portion of the dough and roll into chapatis. Cook on both the sides on a flat pan
3. Heat oil in a pan and add onion and garlic paste to it. Sauté until golden-brown in color. Now, add cumin seeds, salt, and pepper and sauté for another few seconds. Finely add chopped mushrooms. Sauté until the mushrooms turn soft
4. Now, take the ragi chapati and place it on a plate. Spread 1 tsp of tomato chutney/sauce all over it, then place 2 tbsp of mushroom mixture in the middle and sprinkle little cheese on the top
5. Wrap the chapati into a wrap and heat it on a low flame for 10 – 15 seconds. The simple and easy ragi mushroom wrap is ready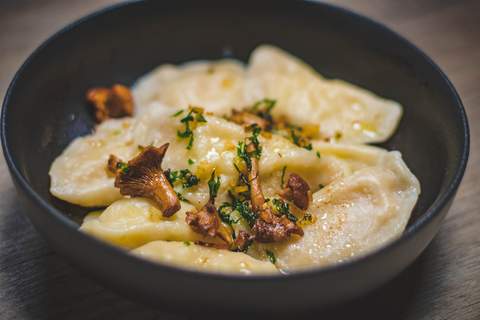 Mushroom Ragi Dumplings
Ingredients:
For dumpling skin
1. One cup ragi flour
2. One cup whole wheat flour
3. ¼ Tsp salt (adjust to taste)
For dumpling filling
1. 200 grams chopped button mushrooms
2. ½ Cup chopped cabbage
3. ½ Cup chopped carrot
4. One chopped spring onion
5. One chopped red bell pepper
6. Oil for frying
7. Salt and pepper to taste
Method:
For the dough
1. Take a large bowl and add ragi flour, whole wheat flour, and salt to it. Knead well adding a little water to make a smooth dough. Keep kneading for 5 to 6 minutes
2. To ensure that the ragi dumpling dough is not sticky, seal the dough in a zip lock bag. Make sure to press out all the air within the bag and let it rest for 15 to 20 minutes. The dumpling dough will steam up the bag and become soft
To make the filling
1. Heat oil in a pan and add the chopped red bell pepper and mushrooms. Stir fry until the moisture from mushrooms evaporates and they turn tender
2. Add in the remaining vegetables and stir fry until slightly tender. Add salt and pepper as needed. Turn off the heat and allow the filling to cool down
To make the dumplings
1. Divide the dough into small lemon size portions. Dust the dumpling dough in ragi flour and roll it into a circle
2. Place a tsp of filling in the center. Bring the edges of the dough together by slightly pinching and folding the dough from one side thus, bringing it to the pinched side
3. Repeat the same process with the remaining dough. Experiment with different shapes can be done. Place the ragi dumplings in a greased platter, covered by a damp cloth (to prevent drying out of the dumplings)
4. Meanwhile, keep a steamer with water boiling. Grease the steamer pan with oil (to prevent the dumplings from sticking)
5. Place the shaped dumplings on the greased steamer pan and steam on high for 5 to 7 minutes until the skin of dumplings is glazed up. There won't be much of shine in case of ragi dumplings, but the color would change
6. Now, serve the mushroom ragi dumplings with sauce of your little's ones' choice. 
Have a recipe with the same combination (mushroom and ragi)? Share with us at mail@slurrpfarm.com and get featured! So, what are you waiting for? Go on!