by Vaishali Sudan
I have a friend who would invite us over often and make the most incredibly delicious – yet – simple lunch recipes using nothing but paneer (cottage cheese). My son would say 'mum, aunty makes such yummy food. It blows my mind'. I tried several variations throughout the years in an attempt to recreate her 'blew my mind' lunch recipes. At last, I gave up after the only logical conclusion my brain could arrive at- 'it must be some secret ingredient that's possibly blowing 'my' mind too!'
But, know what? Much later I realized that it's nothing but the taste and texture of her homemade paneer which really did the trick!
…And one day I made my own paneer at home and I think I have landed on the perfect and easy tiffin inbox/lunch recipe! 
So, mommies, here's what I'd love to share with you all. My very own (and with much pride, I announce) yummy and healthy kadhai paneer recipe for your kid's lunch box.
Say 'no' to morning stress and hassles of preparing a wholesome, protein-packed meal.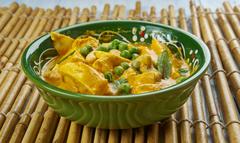 Kadhai Paneer
Ingredients:
For the dry spice mix:
1. 2 Tbsp coriander seeds
2. ½ Tsp fennel seeds
For kadhai paneer gravy:
1. 2 Sliced onions
2. 2 Chopped tomatoes
3. 8 Cashew nuts
4. One tsp ginger garlic paste
5. ½ Tsp garam masala
6. ¾ Tsp dried fenugreek leaves powder
7. ¼ Tsp salt (adjust to taste)
8. ½ Tsp ginger julienne
9. 2 Tbsp coriander leaves
10. 2 Tbsp oil
Other ingredients:
1. One Onion (cubed, layers separated)
2. ½ Cup capsicum (cubed)
3. 250 grams paneer
Method:
Preparation:
1. Take a blender and add fennel seeds, and coriander seeds. Blend well to coarse a fine powder
2. Now, heat 1 tbsp oil in a pan. Add chopped onions and cashew nuts together and fry them until the onions turn pink in colour
3. Add chopped tomatoes and sauté till the mixture is completely mushy. Keep aside and let the mixture cool down. Now, blend into a smooth puree and set aside
4. Heat 1 tsp oil and sauté the cubed onion and capsicum. Fry until half-done. Ensure that they are tender and yet crunchy. Add paneer and toss for 1 to 2 minutes. Keep aside
How to make kadhai paneer:
1. Take a pan and heat 1 tbsp oil in it. Sauté ginger garlic paste until the raw smell goes off. Transfer the ground kadhai paneer masala and sauté for a minute
2. Add the ground onion tomato paste and sauté for another 2 minutes. Now, add garam masala. Sauté for another minute until the mixture turns fragrant
3. Pour water and salt to the mixture and allow the mixture to thicken until the gravy traces off oil on top. Now, add fenugreek leaves powder and stir the mixture well
4. Add the sautéed paneer, capsicum and onion. Stir well and finally add ginger juliennes and coriander leaves
5. Cover the pan with a lid and let it rest for 2 minutes. Transfer to a serving bowl and let it rest for at least 15 minutes to allow it to absorb all the flavours
6. The yummy kadhai paneer is ready for your kid's lunchbox
Best way to savor: You can prepare the dish at night and use it as a filling by adding a layer of kadhai paneer in beetroot or spinach dosa (prepare fresh in the morning) and serve it as a roll to your little one! The entire family can actually enjoy this kadhai-paneer-ragi-dosa-wrap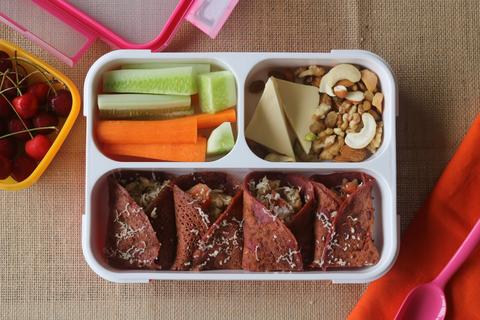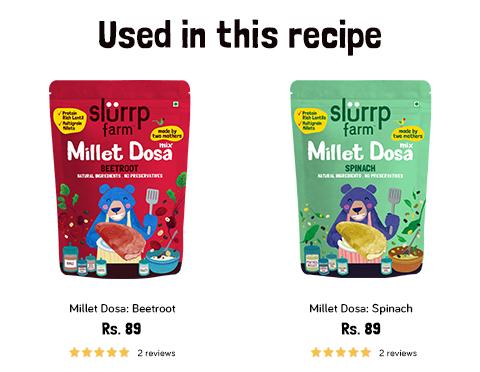 So, tell us if you liked my kadhai paneer recipe? You got another version? Send now at mail@slurrpfarm.com