Ragi, it's a word that has become more synonyms recently because of its rediscovery among the Indian masses. It is finally making a comeback not just in our Indian kitchen but is being recognized as a 'Supergrain' globally as well. More and more health-conscious consumers (and parents) are adapting themselves to healthy eating because of the repercussions of consuming junk food. Obesity, cancer, thyroid, etc are outcomes of junk food consumption that is also affecting our children. Realising the untapped potential of millets and other super grains, people have started including them in their diet. One such super grain is Ragi.
What is Ragi?
Ragi is referred to as finger millet in English. They are known as Ragulu in Telegu, Kepai in Tamil, Nachani in Marathi and Gujarati, and Mandika in Hindi. It is a powerhouse of nutrition and provides many health benefits, it is a staple for people of Karnataka and is included in their breakfast, lunch, and dinner. It is also easy to harvest as it requires minimum water and there's no risk of pests, therefore it is a farmer's favorite crop to grow in Karnataka.
Including millets in your child's daily meals can do wonders. It's good for their health and nutrition-dense too. We are highlighting the benefits and sharing a curated weekly ragi plan to save parents the hassle of thinking of ways to make the meals healthy and tasty. 
This plan consists of recipes that use ragi as a primary ingredient that is to be served throughout the week. It is to be noted that as ragi is high in carbohydrates, so it is to be consumed in moderation complemented with other elements in the meals.
Here is the weekly ragi plan for kids:
1. Monday – Ragi Idli
Start the week with something light for kids like ragi idli for breakfast. It is a very simple recipe that uses idli batter and ragi flour.
Steps
1. Mix water with ragi flour and mix it into a thick paste
2. Pour the fermented idli batter into the paste with salt and gently stir until its mixed
3. Set it aside for 15-20 minutes
4. Steam it and serve with chutney or sambar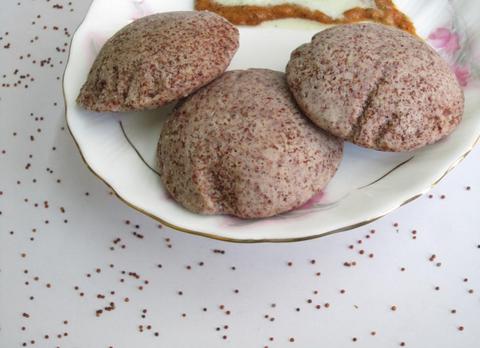 This proves to be an excellent choice of breakfast as idli is mostly liked by kids; it is also healthy and has the added benefits of ragi.
 2. Tuesday – Ragi Roti

As kids return home from school in the afternoon, they are very tired and drained out of energy. This calls for an energy-filled lunch that can provide the stamina to get through their daily schedule. What can be a better meal than a ragi roti served with some kosambari, a vegetable and lentil salad and potato bhaji.
Steps
1. Mix ragi flour, cumin, green chilies, onion, coriander, and salt. Add water gradually until a soft dough is made
2. Divide the dough into balls, dip them little into the flour and start shaping them with a rolling pin on a dry surface
3. Heat the tawa, add few drops of ghee or oil and place the roti on it
4. Cook the roti to perfection on both sides and continue this process with other rotis
3. Wednesday – Ragi Aloo Paratha
A great lunch box recipe for kids is ragi aloo paratha which combines the taste of an aloo paratha plus the nutrition of ragi. Be sure to serve extra as kids will swarm over your kid's tiffin!
Steps
1. Mix ragi flour, methi leaves, 1 mashed potato, wheat flour, 1 chopped green chilli, turmeric and salt into a soft dough using some oil
2. Divide the dough into balls, dip them in little flour and shape them using a rolling pin
3. Heat the tawa, add few drops of oil or ghee and place the paratha onto it
4. Cook it to perfection on both sides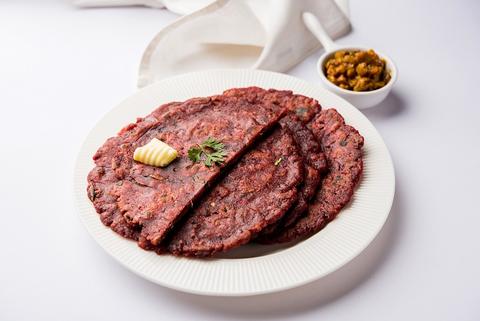 Check out these 3 Kid-Friendly Mushroom Recipes Using Ragi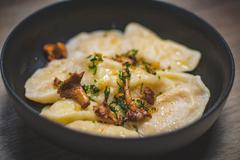 4. Thursday – Ragi Semiya Pulao
Dinner is something a child expects to be fulfilled after a day full of tuitions, playing and homework. To solve this need, a ragi semiya pulao is the perfect fix.
Steps
1. Stir 1 tbsp of oil into 5 cups of room temperature water. Pour the ragi semiya into and gently stir it 2 times with your hand, drain the water after 1 minute. Place the semiya in a colander
2 Heat oil on a non-stick pan and add all the spices. Fry them until you get an aroma and then add the garlic ginger paste, saute this until the raw smell goes off
3. Add onions, peas, and carrots and fry them for 1 minute after which tomatoes, turmeric and salt should be added. Fry till tomatoes turn mushy
4. Add semiya now (they should be moist and not wet) to the pan and mix well. Cover and cook it under a low flame with occasionally stirring it
5. After 7-8 minutes, it will be cooked and should be served with fresh yoghurt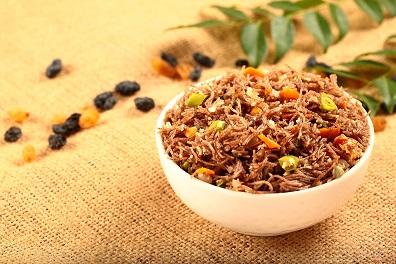 5. Friday – Ragi Upma
Upma remaining a staple of an Indian breakfast makes it very ideal for ragi to be used in it. So a ragi upma is all you need to keep kids going on for long hours.
Steps
1. Drain and soak ragi rava for 30 minutes after which water should be drained and soaked completely
2. Heat a pan with oil and add cumin and mustard seeds. Let them crackle after which add dals and peanuts until they are golden
3. Add onion, ginger, green chillies and curry leaves and cook till onions turn pink. After this, add the rava and sauté it for 3-4 mins until it's roasted
4. Heat 2.5 cups of water with salt and bring it to a rapid boil. Simmer the stove and add the water slowly to the rava, and stir it gently
5. Cover and let it cook on a medium flame while stirring it occasionally in between. When the water is completely absorbed, keep it covered and then after sometime serve it. Garnish with coconut shavings and coriander
6. Saturday – Ragi Chocolate Cake
When the weekend arrives, kids crave their favorites to be made and if not made, then they are ready to bring the pain to their parent's weekend. So what can indulge more in the kids than a chocolate cake? That's right, nothing but putting a ragi twist to it ensures that it has a healthy element to it.
Steps
1. Grease a 7-8 inch baking tray and line with parchment paper. Preheat oven for 15 minutes at 170 C
2. Sieve ragi flour, wheat flour, baking soda, baking powder, and cocoa together. Sieve it 3 times after which add jaggery or sugar to the same bowl
3. Pour vanilla, milk, whisked curd and butter into the same bowl and whisk it nicely. Afterwards, pour the mixture into the tray and flat out the surface of the mixture
4. Bake it for 25-30 minutes after which let it cool for 15 minutes in the oven
5. Prepare a chocolate sauce by pouring milk into pot or pan. Add cocoa and sugar to it and stir it well while boiling it
6. After the mixture thickens, add vanilla extract to and let it cool. Then pour it on the cake and let kids indulge in the beautiful ragi chocolate cake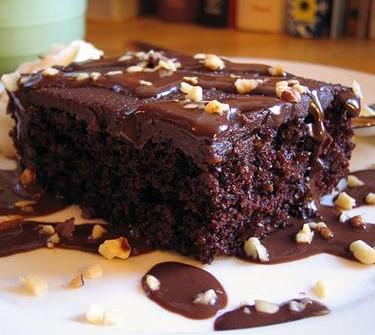 7. Sunday – Ragi Chocolate Pancakes

What better way to start Sundays than with pancakes from Slurrp Farm! You may think that this is pure product promotion from our side but wait till you hear about what's inside it. Pancakes are flat cakes that are round and thin, they are created with a batter made from eggs, milk, and butter. Whereas the Slurrp Farm pancakes are absolutely vegetarian and don't contain preservatives, artificial flavors, artificial colors or stabilizers. They are made with super grains like ragi, jowar, oats, amarnath, and ingredients like chocolate chips, banana and cocoa. There are two variants of our Slurrp Farm pancakes which are Chocolate Pancake and Banana Choco-Chip Pancake. The added benefit is that they are super easy to make.
Steps
1. Cut and pour the powder in a large bowl
2. Add milk to achieve the right consistency and then whip the batter
3. Heat a pan or tawa and pour the contents into it in the desired shape
4. Cook both sides to perfection and voila, your pancakes are done
After cooking the pancakes, you can different toppings to add some fun and colour to it. The best topping options from our side are as follows-
5. Slice banana pieces and place it on top of the pancakes, drizzle honey over it and sprinkle a mixture of nuts or choco chips on it
6. Slice strawberry pieces and place it on top of the pancakes, add some whipped cream to it and drizzle chocolate sauce on it
7. As the mango season is here, slice some mangoes and place it on top of the pancakes. Add some whipped cream to it and sprinkle choco chips on it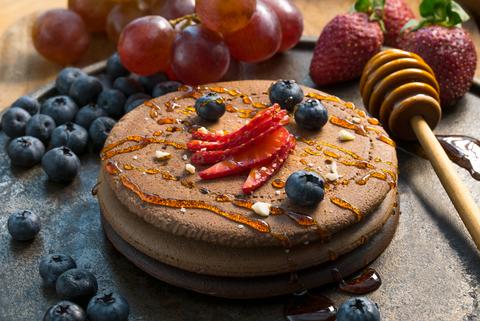 You can buy these pancakes by clicking here!
So what is the wait? Start with this weekly ragi plan and see the change yourself. It is time that ragi and other millets are included in the kid's daily meals. You can also switch up the order of the recipes in our plan for any day as per your convenience. 
You can write to us at mail@slurrpfarm.com if you would like to share your insights, new recipes or give feedback on our products. Don't forget to tag us if you have liked and created any one of these dishes using our dosa/pancake mixes: Facebook  & Instagram