There's no doubt that a proper diet is a cornerstone for healthy development and you must waste no time when implementing the best meal plan for your baby. When it came to introducing solid food to my babies, I was baffled, like most parents who take the plunge. However, it just took some flashbacks and a little bit of research to conclude what I actually needed to make. Tried, tested, completely safe, and great for babies- baby cereal was the first thing to strike my mind. 

Cereals along with breast milk, formula milk or water have always been the leading food that most parents rely on. Yes, it is quick to make and most importantly, rich in minerals and nutrients. Cereals are also easily digestible for babies and less likely to cause allergies. As a health-savvy parent, I always prefer organic food for my family. Although I have a lot of recipes to share, here are my top picks that are rich in wholesome and delicious ingredients that will actually taste like a real meal – no bland baby food here!
1. Rice Baby Cereal
When conversing with my fellow mommies, I got to know that most of them prefer rice cereal as their first baby food but no one seemed to know if it's actually healthy for the baby. So when I started feeding my first baby, I started searching out answers to a lot of whys behind the rice cereal. What I got to know is that brown rice is an unrefined, whole grain loaded with vitamin B, iron, fiber, and magnesium, making it a perfectly nutritious first food choice for babies. I am in love with the idea of giving whole foods that haven't been processed, modified, or altered. So, discovering homemade brown rice cereal was no less than a thrill for me and the babies loved it to the core. Here's how I made it: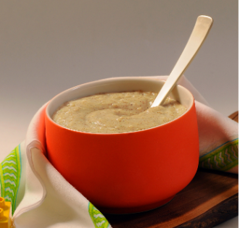 Ingredients:
1. ¼ Cup Rice: I recommend using organic brown rice. As opposed to white rice in which all the key nutrients have been stripped, brown rice has tons of nutrients and health benefits. Going organic ensures that the rice is pesticide-free and has less arsenic in it.
2. 1 Cup Water: You can also use sodium-free bone broth or sodium-free veggie for additional nutrients and flavor.
3. Liquid for Blending: You can use bone broth, water, veggie broth, breast milk or formula.  
Pro Tip – Soaking the Rice:
Brown rice (or any other grain for that matter) contains phytic acid (a hard-to-digest component of the grain), some of which can be easily removed by soaking it. In the absence of these acids, the rice becomes easier to digest and speeds up the cooking time. If thinking 8-12 hours ahead of time is holding you back from making your own cereal, then organic brown rice cereal by Slurrp Farm is your ideal rescue.
Instructions:
1. To remove the excess starch from the rice grains, place them in a fine mesh colander and rinse with cold water until the water runs clear.
2. Add the rice and water to a medium saucepan, cover the lid and bring it to a boil over high heat. 
3. Once at a boil, turn the flame down to a low setting and let it simmer for 35-45 minutes or until the rice is tender and all the water is gone
4. Let it sit for 10 minutes.
5. Transfer the cooked rice to a blender or food processor and blend for 1-2 minutes, adding more liquid to thin out the puree. 
2. Ragi Cereal 

I started giving ragi cereal to my baby when he was 6 months old. He liked it a lot and after one year was happily munching other ragi dishes that I made for him. Ragi is rich in iron and calcium and an excellent source of protein that makes it an ideal weaning food for babies. Easy to digest, it is also rich in fiber that makes it a filling food for babies.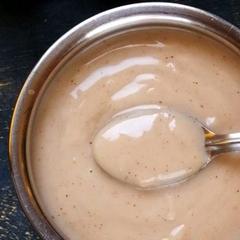 Ingredients:
1. ¼ Cup Ragi or Finger Millet: I recommend using sprouted ragi that have more nutritional value and are easily digestible for babies.
2.  3 Cups Water
Instructions:
1. Wash ragi well in running water.
2. Soak it for 12 hours.
3. Put the ragi in a white muslin cloth and tie it into a potli.
4. Keep the potli in a cool place. 
5. Leave it for 12 hours after which the sprouts begin to grow.
6. Transfer the sprouted ragi to a plate and dry it in the shade for 5-6 hours until it is completely dry.  
7. Dry roast the sprouted ragi in a deep bottomed pan.
8. Let it cool and grind it into a fine powder using a blender.
9. Sieve the ragi powder until you get a fine powder.
10. Mix 2 tablespoons of ragi powder in water, ensuring there are no lumps. Boil over a medium flame till you get a paste-like consistency. Fruit purees or organic jaggery powder by Slurrp Farm can be added for sweetness.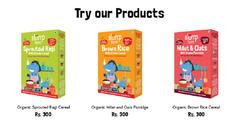 About Lavina Kapoor: A connoisseur of all things healthy, Lavina Kapoor is life-long health, nutrition, and fitness enthusiast. She ventured into the world of health and nutrition 6 years ago with an effort to touch like minds. Her writing focuses on offering useful tips and information on the importance of sticking to a healthy lifestyle.