Holi is a true festival of feasting. Gujiya, the traditional Holi sweet is loved by all. Kids and adults. But, a transfat-fried dumpling of maida might not really be the right way to savor this festive treat! 
We are making your Holi celebrations – yummy, healthy and loaded with jaggery-nutty happiness! Try this awesome and easy-to-make homemade Holi recipe that has the wholesome goodness of nuts and natural sweetener!
Read on to see how my Mona Lisa's recipe has turned out!
1. Gujiya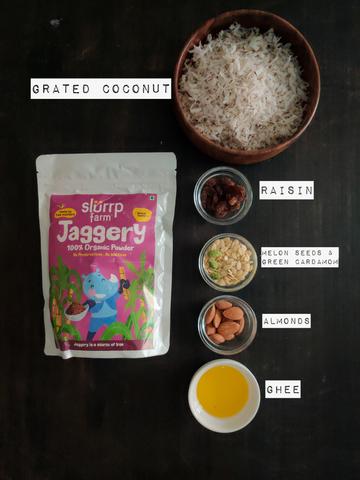 Ingredients:
For the Dough:
1. 1 ½ Cups Wheat Flour (Atta) 
2. ¼ Cup Sooji/Semolina
3. 3 Tablespoons of ghee
4. 1 Teaspoon Baking powder
5. ¼ Teaspoon Baking soda
6. ¼ Teaspoon salt
7. ½ Cup cold water
For the Filling:
1. 1 ½ Grated coconut
2. ½ Cup Slurrp Farm Organic Jaggery Powder
3. 1/3 Cup Mixed Nuts and dry fruits. I have used Raisins, Melon seeds, and Almonds. You could also use Slurrp Farm Organic Nut Powder
4. 1 Green Cardamom
5. 1 Tablespoon Ghee
Equipment Required:
1) Rolling Pin (belan)

2) Gujiya/ Dumpling Mould
3) Oven
Method: 
For the Dough:
1. In a large bowl, take wheat flour, semolina, baking powder, baking soda, and salt. Give everything a nice mix.
2. Now add Ghee to the flour mixture and incorporate the ghee into the flour by rubbing between your palms till it resembles a bread crumb like texture.
3. Make a well in the middle and slowly add water and knead a tight dough. Cover the dough and let it rest in the refrigerator for about half an hour.
4. Till then we can make the filling for the Gujiya.
For the Filling:
1. Dry roast all the nuts that you are using in this recipe and keep aside. Chop the raisins.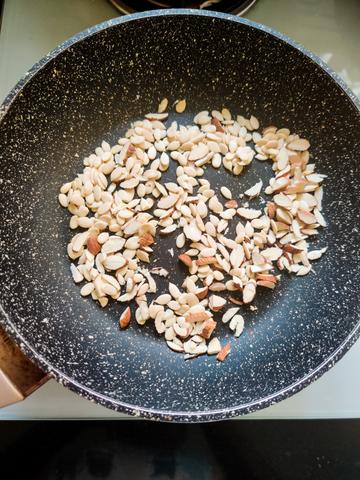 2. In a non-stick pan, heat 1 tablespoon of ghee, add the grated coconut and green cardamom and cook together on a medium flame.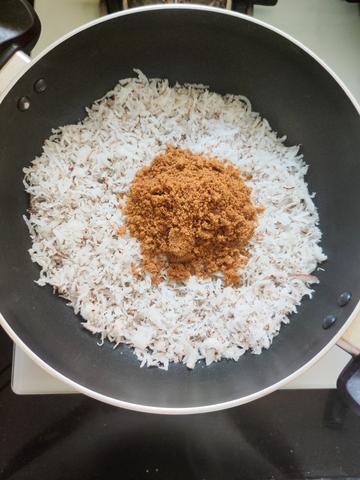 3. Once the jaggery melts and gets incorporated in the coconut, add in the nuts, seeds, and raisin and give everything a good mix.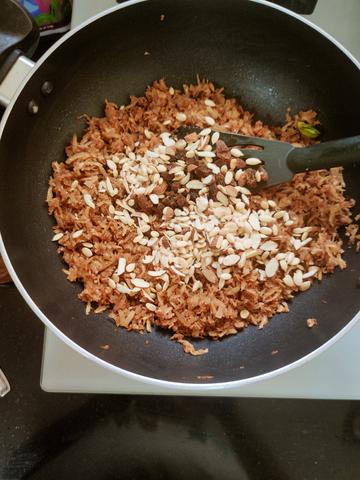 4. Take out the mixture in a plate and let it cool down.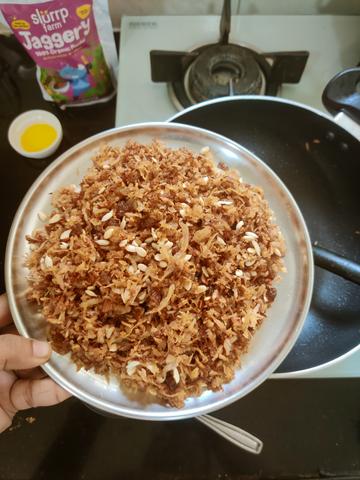 How to assemble?
1. Take the dough out to the refrigerator, knead it slightly till it is pliable and make equal sized balls of the dough. Keep them covered while you are working with one.
2. Roll the dough ball into a disc, place it in the Gujiya/dumpling mould.
3. Add the stuffing, brush with water on the edges to seal and close the mould.
4. Remove excess from the sides and take out the Gujiya from the mould and keep aside.
5. Repeat the process. This recipe should give you 12-15 medium-sized Gujiyas.
How to cook?
1. Preheat the oven to 170 degrees Celcius.
2. Brush ghee on the baking tray and line the Gujiyas. Lightly brush ghee on the Gujiyas too.
3. Bake at for 25-30 minutes till the Gujiyas turn brown.
Alternatively, you can deep fry these Gujiyas too if you want.
Ta..da..Here is how the Gujiya looked when they came out of the oven.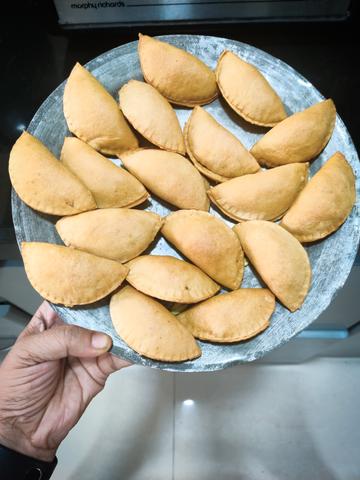 I hope you try this sugar-free, healthy Holi recipe because we're sure your kids will ask for more! Till then, wishing you and your family a fabulously colorful Holi.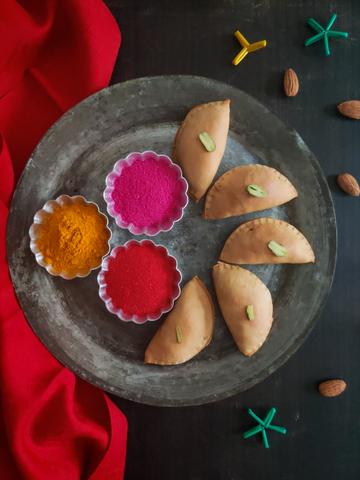 Try these simple Holi Recipe with love and make a place in the hearts of your loved ones !! If you also have a Holi Recipe to share, do send it to us @slurrpfarm.com and get featured!
Disclaimer:  If you are making this Holi Recipe for children, look out for any nut allergies, and feel free to omit the nuts from the recipe.

The post is authored by Monalisa Mehrotra, a food consultant based out of Pune. An avid food stylist, her brand bellydriven is replete with well-crafted recipes, styled pictures, engaging stories and kids focused food.