By Lavina Kapoor
Nothing pains a parent more than seeing their kid fall easy prey to seasonal changes and infections. Immunity is the number one concern for most of the moms who are not unwarranted, considering none wants their child to catch any illness that floats by. The search for immunity boosting recipes and foods is always on among parents and increases particularly during winter and the monsoon season.
One of my worst experiences I remember lasted for more than a month and a half. I won't get too much into the gory details. Suffice to say that it was a stomach flu/bug that hit everyone in the family and it was awful. It was during that time of alternating between rubbing the back of my 1-year-old as he woke up crying and trying to comfort him as he threw up that I realized there has to be a better way.
For sure, something needed to be done to build up my family's immune system which gave rise to my extensive research journey. What I found out is that although there are a number of ways by which kid's immunity can be boosted, the best way to do it is through healthy and nutritious food for kids.  While we do our best to take care of our child's nutritional requirements, what also needs to be ensured is the inclusion of power foods that contain essential nutrients to boost his/her immunity and fight illnesses like a warrior.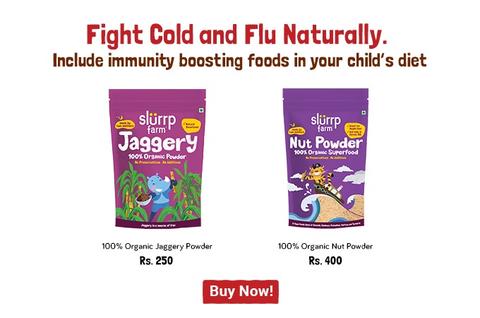 It turned me into a chef, expert at preparing yummy immunity-boosting dishes for my little one. Here are a few recipes that I am sure your kid will remember you for:
1. Bajre Ki Raab – An Immunity Boosting Drink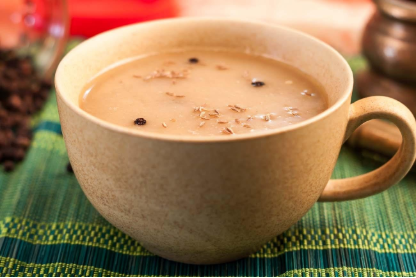 Courtesy of: Archanaskitchen.com
Also known as Raabdi, bajre ki raab is a warm, soothing, natural home remedy to build immunity. It is often found in Rajasthani and Gujarati households. Not only does it enhances one's immunity but it also cures loss of appetite and offers energy. It is also highly recommended for pregnant women. Being warm, sweet and having a nice texture, raab also relaxes the throat like nothing else.
Here's how it is made:
Ingredients:
1. One tbsp ghee
2. 4 Cups water
3. ¼ Cup bajra flour
4. ¼ Organic Jaggery Powder by Slurrp Farm
5. ½ Tsp dry ginger powder
6. ½ Tsp. carom seeds/ajwain
Method:
1. Heat ghee in a pan.
2. Add bajra flour to it and fry for 2-3 minutes. 
3. Add dry ginger powder, water, organic jaggery powder, carom seeds and cook for 8-10 minutes while continuously stirring the raab. Do this until the raab has thickened.
4. Serve hot.
2. Besan Ka Sheera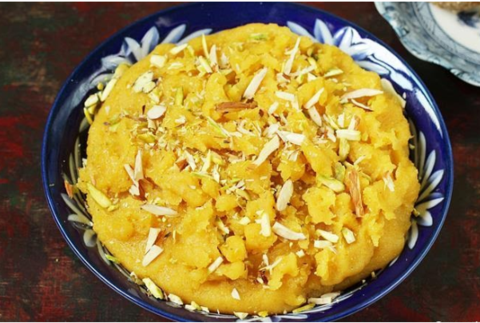 Courtesy of: Indianhealthyrecipes.com
One of the best remedies for common illnesses such as cold and cough, besan ka sheera is made using ingredients that are known to have effective medicinal properties. Dry fruits are powerhouses for building immunity. They also give the child the much-required energy and warmth required to keep infections at bay.
Ingredients: 
1. ½ Cup chickpea flour (besan)
2. ¼ Cup fresh cream (malai)
3. One serving spoon milk
4. ¼ Cup Banana Powder by Slurrp Farm
5. ½ Cup Nut Powder By Slurrp Farm
Method: 
1. Dry roast besan in a flat pan kept on a low flame. Keep stirring till it turns dark brown in color. 
2. Add fresh cream and keep stirring at a low flame. Allow the besan to roast until it begins releasing ghee. This should take about 5-7 minutes. 
3. Add milk and keep stirring the mixture for another 3 minutes until you achieve a sticky porridge-like consistency. 
4. Finally, add nut powder by Slurrp Farm to make the sheera richer. Serve hot.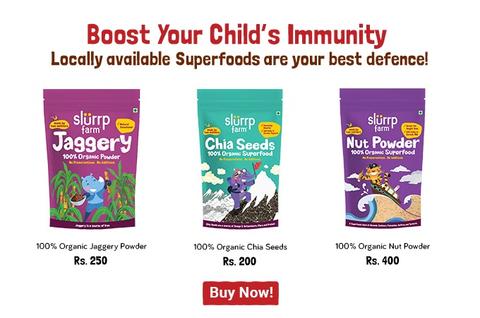 About Lavina Kapoor: A connoisseur of all things healthy, LavinaKapoor is life-long health, nutrition, and fitness enthusiast. She ventured into the world of health and nutrition 6 years ago with an effort to touch like minds. Her writing focuses on offering useful tips and information on the importance of sticking to a healthy lifestyle.