Turmeric is well known in Ayurveda for its health benefits. Turmeric or haldi as we call it in Hindi is an integral part of Indian cooking and is a great immune booster drink. It's one of those core spices without which you can't cook Indian food. It's added to pretty much everything in India. From lentils to veggies to pickles, rice – you name it!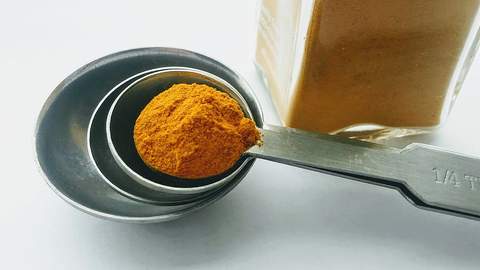 It is said that drinking turmeric milk aka haldi doodh aka golden milk before going to bed keeps all sickness at bay and gives a boost to your immune system. 
Curcumin, the active component in turmeric, has strong antioxidant properties. Studies also show that curcumin may increase levels of brain-derived neurotrophic factor (BDNF). Thereby improving memory and brain function. Turmeric helps in reducing inflammation in kids and joint pain in the elderly. 
How to make Turmeric Milk – Immune Booster Drink
Ingredients:
1. ¼ Tsp ground turmeric, or to taste
2. 3/4 Tsp jaggery powder, or to taste
3. One cup of milk.
4. ½ tsp spoon of Slurrp Farm Nut powder
5. ¼ Tsp ground cardamon
6. ¼ Tsp ground black pepper
7. A pinch dry ginger powder (optional)
8. A pinch ground cloves
Method:
1. Whisk turmeric, jaggery powder, nut powder cardamom, black pepper, ginger, cloves in a small bowl.
2. Heat milk in a small saucepan over medium heat until heated through, 3 to 4 minutes. Whisk 1 tsp turmeric mixture into milk mixture; reduce heat to medium-low and cook until flavors blend, 2 to 3 minutes.
3. Pour mixture through a strainer.
Just wrap a warm cup of it in your palms and inhale the steam wafting from it and then sip it slowly while you read your favorite book and I can assure all your woes will be gone.