So your little one just turned seven? Seven is a special and a lucky number, we bet that's how your little bundle of joy makes you feel! All this energy and naughtiness, however, comes from somewhere: food! At seven months, it is now time to take a revised look at the food your baby is eating. It started at six months with basic semi-solids and weaning foods, where do you go from there?
Have you checked out our 6-month baby food chart?
At 7 months, your little one's tummy is slowly growing, adapting and getting used to new flavors and textures. Kids tend to get bored with food very fast and with everything else going on with parenting, a fussy tantrum is something we all want to try and avoid! How then do we keep them interested, healthy and happy?
The key is to continue to introduce new items slowly and steadily. This has to be a balancing act. What works best is having a repertoire of food items and healthy recipes ready, but not using them all at once. Try each one slowly and for some time. Start by introducing in small quantities to your baby to see how they react to it; as fussy as they are, babies can sometimes take time to get used to new tastes and flavors. Once this food item or healthy recipe is past its shelf life and your child is bored of it, you can move on to the next thing on your list.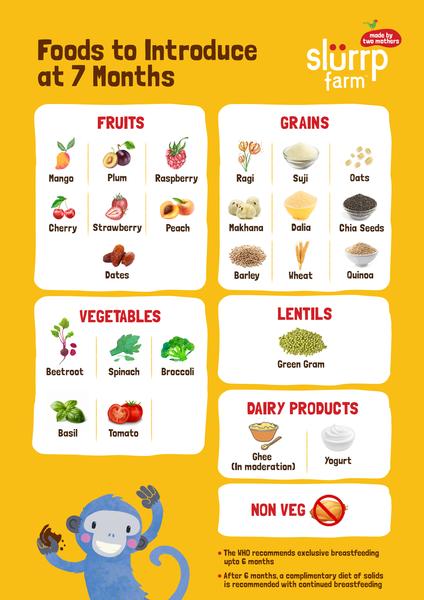 Click on the link to take the print
Does this sound complicated? It's not! Some amount of strategy and planning is however required to minimize the stress and confusion of wondering what to give your baby and when. A great way to start getting organized and preparing to make healthy recipes at home is a baby food chart. Check out our food chart for 7-month baby food chart here:
Week 1:
First day

Breakfast: Apple ragi porridge
Lunch: Mashed potato
Dinner: Pumpkin puree

Second day

Breakfast: Avocado/pumpkin puree
Lunch: Rice gruel cooked in vegetable stock
Dinner: Mashed sweet potato

Third day

Breakfast: Mixed fruit puree
Lunch: Suji porridge
Dinner: Vegetable khichri

Fourth day

Breakfast: Ragi porridge
Lunch: Cooked yellow moong dal
Dinner: Broccoli soup

Fifth day

Breakfast: Pumpkin kheer
Lunch: Potato beetroot mash
Dinner: Carrot khichri

Sixth day

Breakfast: Banana oats porridge
Lunch: Carrot kheer
Dinner: Ragi porridge

Seventh-day

Breakfast: Stewed pear
Lunch: Amaranth cereal
Dinner: Beetroot bottle gourd soup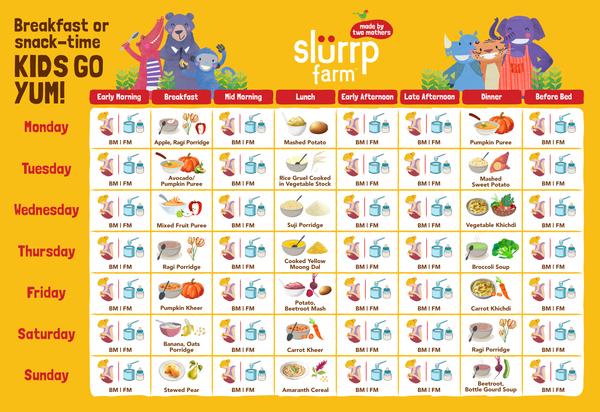 Click on the link to take the print
Week 2:
First day

Breakfast: Chikoo oats porridge
Lunch: Carrot puree
Dinner: Vegetable khichri

Second day

Breakfast: Apple pear cinnamon puree
Lunch: Oats porridge
Dinner: Green beans and carrot puree

 

Third day

Breakfast: Makhana porridge
Lunch: Bottle gourd soup
Dinner: Vegetable khichri

Fourth day

Breakfast: Mango puree
Lunch: Carrot soup
Dinner: Oats porridge

 

Fifth day

Breakfast: Banana and cinnamon puree
Lunch: Potato puree
Dinner: Carrot khichri

Sixth day

Breakfast: Banana and cinnamon puree
Lunch: Moong dal spinach khichri
Dinner: Mashed potato

Seventh-day

Breakfast: Ragi porridge
Lunch: Apple suji kheer
Dinner: Bottle gourd and carrot soup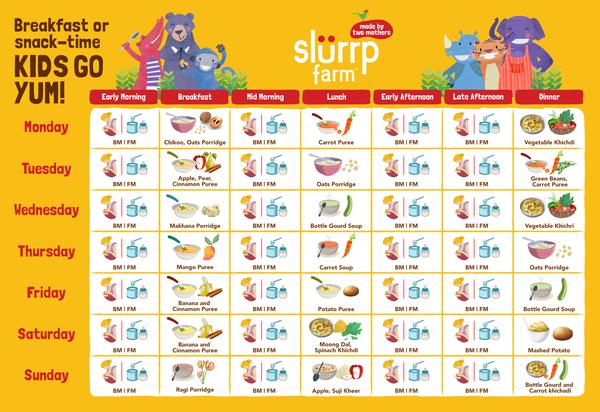 Week 3:
First day


Breakfast: Mango yoghurt
Lunch: Pongal
Late afternoon: Dal soup/dal ka pani
Dinner: Green beans with basil rice gruel


Second day

Breakfast: Ragi halwa
Lunch: Puffed rice porridge
Late afternoon: Mashed potato
Dinner: Moong dal soup

Third day

Breakfast: Apple pear puree
Lunch: Carrot khichri
Late afternoon: Dal soup


Fourth day


Breakfast: Bottle gourd halwa
Lunch: Pumpkin oatmeal puree
Dinner: Barley vegetable soup

 

Fifth day


Breakfast: Papaya puree
Lunch: Pongal
Late afternoon: Dal soup
Dinner: Bottle gourd khichri

Sixth day


Breakfast: Chikoo oats porridge
Lunch: Raspberry cherry banana cinnamon puree
Late afternoon: Ragi banana halwa
Dinner: Strawberry chia seeds oatmeal porridge

Seventh-day


Breakfast: Mashed plum
Lunch: Puffed rice porridge
Dinner: Apple khichri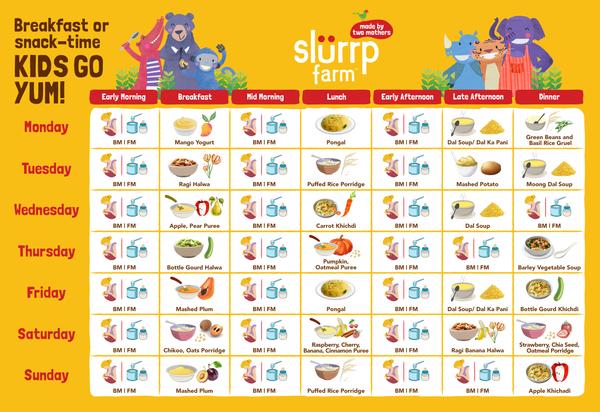 Click on the link to take the print
Week 4:
First day


Breakfast: Peach mango quinoa chunky puree
Lunch: Puffed rice
Late afternoon: Ragi teething biscuits
Dinner: Tomato rice

Second day

Breakfast: Sweet potato pear and red pepper puree
Lunch: Banana tofu pear puree
Late afternoon: Ragi banana halwa
Dinner: Apple green beans and broccoli puree

Third day


Breakfast: Steamed Ragi dosa
Lunch: Wheat dalia porridge
Late afternoon: Banana puree
Dinner: Pongal


Fourth day


Breakfast: Poha
Lunch: Wheat atta halwa
Late afternoon: Steamed dosa
Dinner: Oats porridge

 

Fifth day


Breakfast: Suji kheer
Lunch: French beans and carrot puree
Late afternoon: Vegetable khichri with mashed pumpkin raita
Dinner: Green gram and wheat porridge

Sixth day


Breakfast: Ragi banana apple and dates puree
Lunch: Wheat dalia porridge
Late afternoon: Vermicelli kheer
Dinner: Bottle gourd khichri

Seventh-day


Breakfast: Chikoo oats porridge
Lunch: Strawberry yogurt
Late afternoon: Vegetable khichri with yogurt
Dinner: Barley porridge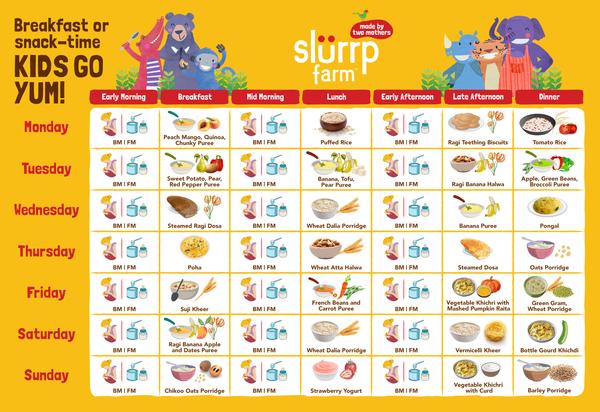 Click on the link to take the print
Disclaimer:
1. Make sure to follow the 3-day rule. Note down the new ingredients introduced in the baby's diet to look out for any allergic reactions
2. It is common for babies to reject unfamiliar foods, as they wean. Be patient and keep offering a variety of foods. Do not worry, this is perfectly normal
3. Please remember that some foods can irritate your baby's digestive system. Avoid highly spicy or greasy foods. Also, avoid foods that could easily cause choking
4. If your baby as several episodes of vomiting after trying new food, has diarrhea, develops a rash, or has swelling of the lips or eyes, he or she may be having an allergic reaction. Stop the feeding and call your pediatrician