By Lavina Kapoor
It's that time of the year again and to be honest hand sanitizers alone won't be enough. Cold and flu season is really tough for little ones- the reason why their noses become a little snot-faucet comes the flu season. And now that the Coronavirus Pandemic is upon us, the entire world is on a heightened alert. Of course, the best way to keep your kids healthy and prevent illnesses is to ensure they wash their hands, get annual flu shots, enough sleep, fluids, and a diet rich in vitamins and minerals. But hear me out!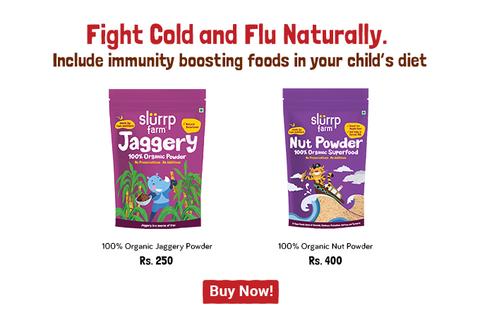 When it comes to your kid's health, it's important that they grow up with a substantial amount of natural immunity with them. The immune system is the body's network of tissues, organs, and cells that work together to keep the body healthy by fighting off harmful viruses, bacteria, parasites, and fungi. A compromised immune system can lead to frequent illnesses including common cold and flu. By including immune booster foods in your family's diet, a barrier can be created between your loved one's bodies and the things that can make them sick.
Here's a lowdown on foods which have always worked for my family and are proven to help you get through the flu season:
1. Dry Fruits, Nuts and Seeds
Kids can be fussy about veggies and fruits, but when it comes to dry fruits and nuts they might actually like chomping on the crunchy little things such as almonds, cashews, and walnuts, etc that are rich in vitamins, protein, good fats, and antioxidants.  However, they might get bored way too easily. So what do you do? Sneak Organic Nut Powder by Slurrp Farm into their food and drinks! Not only will it enhance the taste but will also boost their immunity to a large extent. Made from cashews, pistachios, almonds, saffron and turmeric( an excellent immunity booster again), it's great for weight gain too. Chia seeds by Slurrp Farm are yet another immunity booster to keep your family protected. 
2. Jaggery

I have always been fond of jaggery- particularly its smell and taste. The only thing I hated was the hard lump that was hard to bite. I remember how my mom used to beat it up into a powder. Thankfully, I don't have to go through the same struggle. Slurrp Farm's ready to use Organic Jaggery Powder is an excellent source of iron and boosts digestion. Being rich in vitamins, minerals , and antioxidants, this healthier alternative to sugar boosts immunity, digestion and helps treat cold and cough. It also helps prevent free-radical damage and boosts resistance against infections. Banana Powder by Slurrp Farm is also a great flavor enhancer and a natural sweetener with a host of benefits. 
3. Millets 
Millets are a rich source of a variety of micro-nutrients such as thiamin, calcium, and magnesium. The presence of these nutrients supports the immune system and prevents invisible deficiencies. Millets are also rich in soluble and insoluble fiber, both of which can help prevent acidity, reduce cholesterol and improve bowel-related health issues such as constipation. The best part is this magical ingredient can be included in your kid's diet in multiple ways. Slurrp Farm's Millet dosa, Millet pancakes and Millet cookies to name a few! These also serve as excellent school snacks for kids. 
Broccoli, whole-grain bread, apples, oranges, lemon, yogurt, turmeric, garlic, honey, etc. are some other immunity boosters to fight flu and the testing times introduced by a coronavirus.
Of course, the best way to fight the deadly virus is by practicing social distancing and staying at home as much as possible. You can protect your family from coughing, sniffles and poor immunity with the above-mentioned immunity-boosting food. Stay safe!
About Lavina Kapoor: A connoisseur of all things healthy, LavinaKapoor is life-long health, nutrition, and fitness enthusiast. She ventured into the world of health and nutrition 6 years ago with an effort to touch like minds. Her writing focuses on offering useful tips and information on the importance of sticking to a healthy lifestyle.