In a blink of an eye, yet another month passed! Isn't this the time when babies develop a few teeth and are able to chew and swallow? Along with their tummy and mouth, the rest of them becomes more active too with the extent of crawling rapidly increasing during this time.  
This is an exciting period for every mum as their child is growing and learning. However, this often includes learning to be fussy! A problem a lot of moms face around this time is dealing with a highly distracted child who has suddenly developed a massive disinterest in eating food. Eventually, this adversely affects the baby's appetite, something that can be concerning for every mother.
It's okay though! Parenting can be a rollercoaster ride and it's all about rolling with the punches and adapting on the go. One food item that lends itself very well to such dynamic needs is oats. Oats for babies are a great and versatile ingredient that is super healthy: they are rich sources of fibre, vitamins, and minerals and help fill your baby up while still being light on the tummy. What makes oats for babies special is the ease with which you can do fun and interesting stuff with them. This is key, keeping babies interested and engaged is what helps to keep them eating. Without this, boredom and fussiness kick in!
A great way to integrate oats into your child's diet is by making it part of the baby food chart. By planning for it, you can slowly introduce it in small quantities to let them get used to it while ensuring that they don't get bored of this as well! Check out how we go about organizing this in our 10-month baby food chart.
Week 1
First day

Breakfast: Wheat pancake (Ragi-optional)

Mid-Morning Snack: Cheese slices

Lunch: Curd rice

Evening Snack: Pumpkin suji finger

Dinner: Steamed dosa

 

Second day

Breakfast: Besan cheela with tomato chutney

Mid-Morning Snack: Coconut water

Lunch: Mix vegetable pongal

Evening Snack: Apple kheer

Dinner: Mashed ghee chapati with ½ Tsp ghee and yellow dal

 

Third day

Breakfast: Moong dal cheela

Mid-Morning Snack: Stewed apple

Lunch: Spinach and tomato khichri

Evening Snack: Mashed pear and banana

Dinner: Wheat almond porridge

 

Fourth day

Breakfast: Pureed carrot and peas rava idli

Mid-Morning Snack: Vegetable soup with homemade cream

Lunch: Mix vegetable cutlets

Evening Snack: Mashed fruits

Dinner: Vegetable khichri

Fifth day

Breakfast: Vegetable uthappam

Mid-Morning Snack: Banana fritters

Lunch: Grated carrot brown rice

Evening Snack: Banana mango puree

Dinner: Suji kheer

 

Sixth day

Breakfast: Scrambled egg/paneer

Mid-Morning Snack: Ragi cake

Lunch: Steamed beetroot dosa

Evening Snack: Potato wedges

Dinner: Rice and dal

 

Seventh day

Breakfast: Steamed dosa with paneer

Mid-Morning Snack: Baked sweet potato

Lunch: Bottle gourd pumpkin khichri

Evening Snack: Strawberry and prunes smoothie

Dinner: Mashed ghee chapati with ½ Tsp ghee and bottle gourd vegetable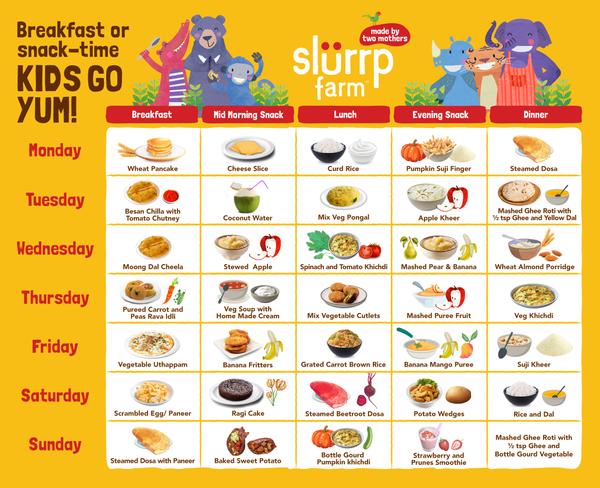 Click on the link to take the print
Week 2
First day

Breakfast: Rava Upma

Mid-Morning Snack: Vegetable soup with homemade cream

Lunch: Carrot khichri

Evening Snack: Fruit juice

Dinner: Sabudana Kheer

 

Second day

Breakfast: Oats idli

Mid-Morning Snack: Coconut water  

Lunch: Masala onion pongal

Evening Snack: Carrot balls

Dinner: Rice kheer

 

Third day

Breakfast: Bajra porridge

Mid-Morning Snack: Fried apple rings

Lunch: Curd rice

Evening Snack: Beetroot halwa

Dinner: Vegetable khichri

 

Fourth day

Breakfast: Mixed grain cheela

Mid-Morning Snack: Cheese balls

Lunch: Masoor dal khichri

Evening Snack: Potato fritters

Dinner: Apple oats porridge

 

Fifth day

Breakfast: Banana pancake

Mid-Morning Snack: Potato and beans poha

Lunch: Spinach khichri

Evening Snack: Corn patties

Dinner: Mix vegetable pongal

 

Sixth day

Breakfast: Ragi sheera

Mid-Morning Snack: Coconut water

Lunch: Baingan bhath/brinjal rice

Evening Snack: Mango and banana smoothie

Dinner: Steamed dosa

 

Seventh day

Breakfast: Mix vegetable dosa

Mid-Morning Snack: Beetroot cutlets

Lunch: Tomato khichri

Evening Snack: Stewed apple

Dinner: Jaggery ghee and chapati laddu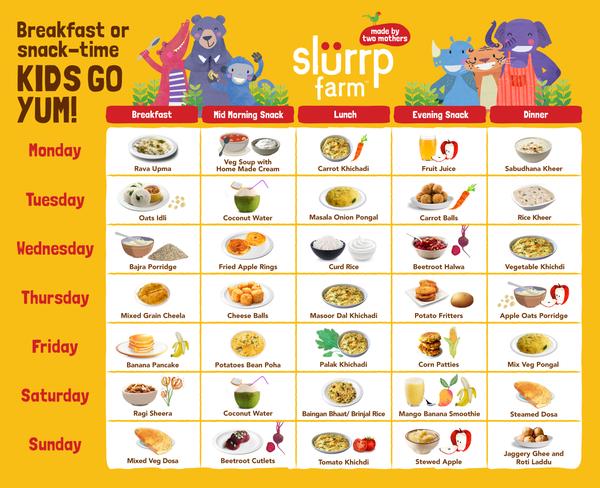 Click on the link to take the print
Week 3
First day

Breakfast: Ragi dosa

Mid-Morning Snack: Carrot potato patties

Lunch: Curd rice

Evening Snack: Pomegranate carrot juice

Dinner: Wheat almond oats porridge

 

Second day

Breakfast: Apple cereal

Mid-Morning Snack: Roasted cottage cheese

Lunch: Plain khichri

Evening Snack: Mango yoghurt

Dinner: Steamed dosa

 

Third day

Breakfast: Vegetable poha

Mid-Morning Snack: Baked pear

Lunch: Green gram dal and rice

Evening Snack: Fruit smoothie

Dinner: Soft paratha with white butter

 

Fourth day

Breakfast: Ragi porridge

Mid-Morning Snack: Cheese and corn patties

Lunch: Fox Nuts and rice kheer

Evening Snack: Vegetable soup

Dinner: Mix vegetable khichri

Fifth day

Breakfast: Rava idli

Mid-Morning Snack: Mango and banana smoothie

Lunch: Vegetable khichri

Evening Snack: Fruit fingers

Dinner: Mashed ghee chapati with green gram dal

 

Sixth day

Breakfast: Banana pancake

Mid-Morning Snack: Coconut water

Lunch: Masoor dal khichri

Evening Snack: Potato wedges

Dinner: Jaggery ghee and mashed chapati laddu

 

Seventh day

Breakfast: Rava upma

Mid-Morning Snack: Baked French fries

Lunch: Pongal

Evening Snack: Fruit smoothie  

Dinner: Apple oats porridge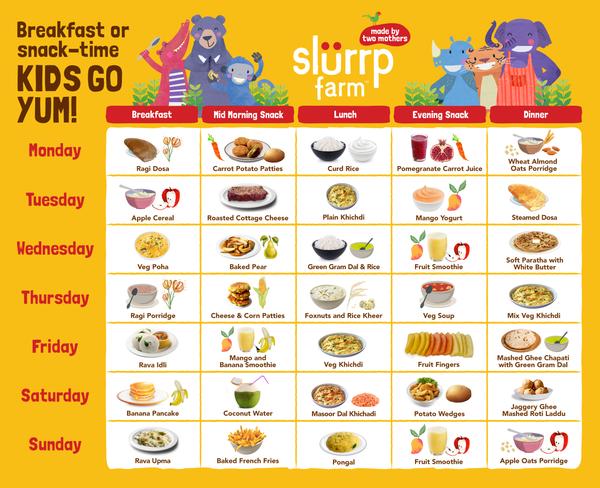 Click on the link to take the print 
Week 4
First day

Breakfast: Jowar porridge

Mid-Morning Snack: Baked sweet potato fingers

Lunch: Jeera rice and bottle gourd raita

Evening Snack: Mashed fruits

Dinner: Rice cereal

 

Second day

Breakfast: Mixed grain cheela

Mid-Morning Snack: Fruit puree

Lunch: Ragi porridge and plain curd

Evening Snack: Arbi fingers

Dinner: Sago kheer

 

Third day

Breakfast: Vegetable upma

Mid-Morning Snack: Coconut water

Lunch: Mix vegetable khichri

Evening Snack: Fruits yoghurt

Dinner: Soft paratha with white butter

 

Fourth day

Breakfast: Steamed ragi dosa

Mid-Morning Snack: Fruit smoothie

Lunch: Sweet pongal

Evening Snack: Potato corn patties

Dinner: Tomato onion khichri

 

Fifth day

Breakfast: Sago almond porridge

Mid-Morning Snack: Steamed carrot sticks

Lunch: Vegetable khichri

Evening Snack: Stewed apple and pear

Dinner: Moong dal and chapati

 

Sixth day

Breakfast: Oats idli and curd

Mid-Morning Snack: Mashed pear banana

Lunch: Masoor dal khichri

Evening Snack: Steamed vegetable sticks

Dinner: Oats apple porridge

 

Seventh day

Breakfast: Vegetable poha

Mid-Morning Snack: Banana and orange smoothie

Lunch: Apple oats porridge

Evening Snack: Corn and cheese patties

Dinner: Jaggery ghee and mashed chapati laddu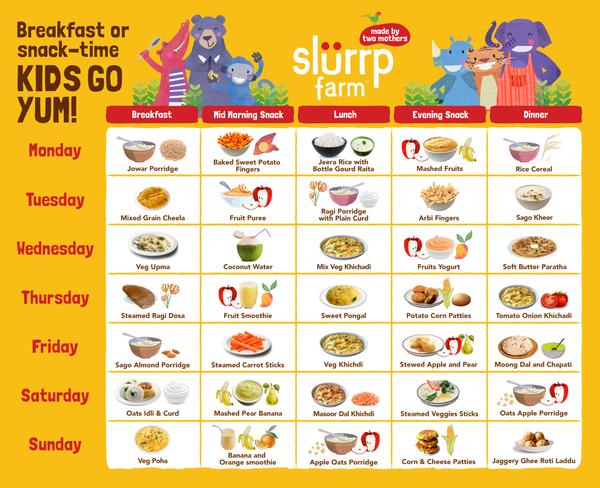 Click on the link to take the print 
Disclaimer:
1. Make sure to follow the 3-day rule. Note down the new ingredients introduced in the baby's diet to look out for any allergic reactions
2. It is common for babies to reject unfamiliar foods, as they wean. Be patient and keep offering a variety of foods. Do not worry, this is perfectly normal
3. Please remember that some foods can irritate your baby's digestive system. Avoid highly spicy or greasy foods. Also, avoid foods that could easily cause choking
4. If your baby as several episodes of vomiting after trying new food, has diarrhoea, develops a rash, or swelling of the lips or eyes, he or she may be having an allergic reaction. Stop the feeding and call your paediatrician