Millets are climate-smart, delicious, versatile and nutritious. For most of us, however, cooking with these supergrains is still a bit of a challenge. This recipe is part of a series we took all the guesswork out of cooking with millets and helped you make easy, creative dishes that will become a staple in your home. We have also mentioned it in our recipe cards which were shared earlier this month.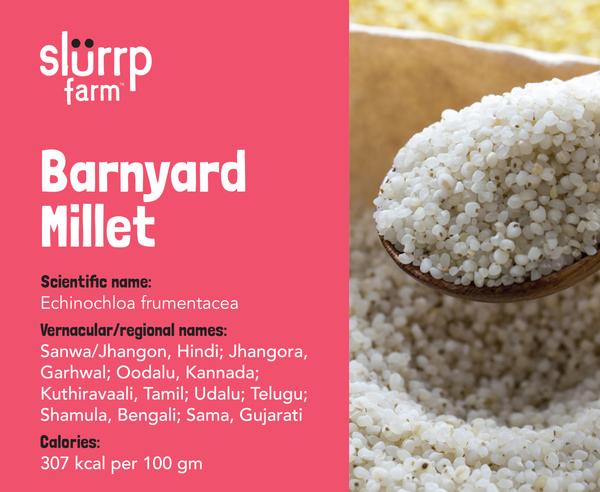 Barnyard Millet Payasam
Ingredients:
1. One Cup barnyard millet (you could also foxtail millet)
2. ½ Cup sugar
3. One Cup of milk
4. 4 – 5 Strands saffron + ½ cup dry fruits (cashew, almond, and pistachios) Or 1 tsp Slurrp Farm nut powder
5. 2 tbsp ghee
Method:
1. Cook barnyard millet (or foxtail millet) in milk and saffron on low heat until the millet becomes mushy.
2. Add sugar and stir gently to cook the payasam.
3. Heat ghee in a pan and roast all dry fruits in it until they are golden.
4. Add roasted dry fruits to the payasam.
OR
You could skip point 3 and straightaway add 1 tsp nut powder to the payasam.
5. Serve the payasam warm or cool, as per your taste.
You could also savor the goodness of foxtail millets via a breakfast meal of our Chocolate Pancakes, Spinach Dosa or making healthy recipes using Organic Millets and Oats Porridge.
Originally posted on Goya Journal which is a food media production company and a web publication focussed on food journalism, and healthy recipes.