The first time for anything is often exciting, exhilarating and even scary. Now that your baby's first birthday is coming up, how are you feeling? We're sure that time has flown and in just less than a year you already have a lifetime's worth of happy memories. A big congratulations on doing a great job this past one year!
Parents, let's re-evaluate the kind of foods you are giving them and the purpose these foods serve. At 11 months, babies will soon be ready to start small servings of home food. In addition, their curiosity and inquisitiveness will be at an all-time high; they are becoming increasingly aware of their surroundings and want to explore.
This is the right time to start thinking about healthy foods for brain development. While a balanced diet is the first box you should aim to tick, your next objective should be to look at the macronutrient benefits of different foods and the effect this has on brain development. For example, did you know that healthy fats are important for good brain development? Not all fats are bad!
Focussing on healthy foods for brain development ensures that your baby has all the nutrients their brain needs to grow and develop.
The brain is a muscle like others in the body but it is quite unique; to set a strong foundation for an intelligent, inquisitive and healthy child it's best to have an early start to give the brain what it needs.
All this is less complicated than it sounds! Just have a look at our 11-month baby food chart that can help you get started giving your child healthy foods for brain development.
11 Month Baby Food Chart:
Week 1
First day

Breakfast: Ragi dosa

Mid-Morning Snack: Coconut water

Lunch: Curd rice

Evening Snack: Orange segments

Dinner: Apple oats porridge

Second day

Breakfast: Ragi sheera

Mid-Morning Snack: Baked potato wedges

Lunch: Moong dal and chapati

Evening Snack: Banana fritters

Dinner: Thick spinach soup

Third day

Breakfast: Banana pancake

Mid-Morning Snack: Coconut water

Lunch: Vegetable poha with curd

Evening Snack: Beetroot halwa

Dinner: Barley porridge

 

Fourth day

Breakfast: Pureed carrot suji idli

Mid Morning Snack: Fruit yoghurt

Lunch: Bottle gourd khichri with pumpkin raita

Evening Snack: Ragi laddu

Dinner: Steamed dosa

  

Fifth day

Breakfast: Ragi porridge

Mid-Morning Snack: Stewed apple

Lunch: Sambhar rice

Evening Snack: Mashed fruits custard

Dinner: Yellow moong dal with chapati

 

Sixth day

Breakfast: Rava upma

Mid-Morning Snack: Coconut water

Lunch: Vegetable khichri

Evening Snack: Mango yoghurt

Dinner: Potato balls

 

Seventh day

Breakfast: Steamed dosa with paneer

Mid-Morning Snack: Roasted apple sticks

Lunch: Curd rice

Evening Snack: Ragi halwa

Dinner: Barley porridge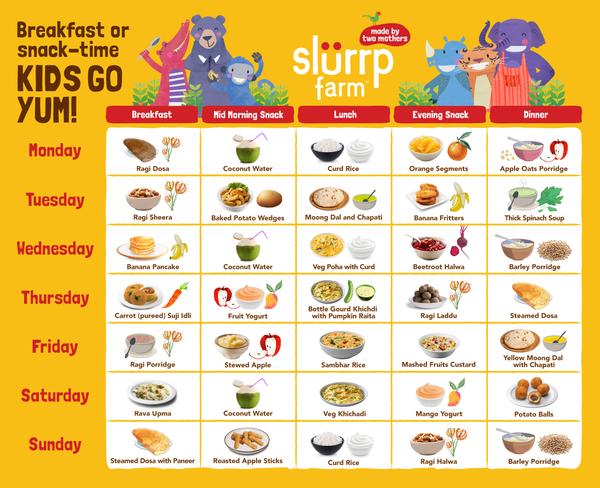 Click on the link to take the print
Week 2
First day

Breakfast: Sago kheer

Mid-Morning Snack: Watermelon segments

Lunch: Vegetable khichri with pumpkin raita

Evening Snack: Arbi fingers 

Dinner: Banana paratha

Second day

Breakfast: Mixed grain cheela with tomato chutney 

Mid-Morning Snack: Fruit smoothie

Lunch: Curd rice

Evening Snack: Hara bhara kabab with green chutney

Dinner: Suji kheer


 

Third day

Breakfast: Vegetable poha

Mid-Morning Snack: Thick lentil soup

Lunch: Oats idli with coconut chutney

Evening Snack: Pomegranate juice

Dinner: Oats almond porridge

 

Fourth day

Breakfast: Rava upma

Mid-Morning Snack: Roasted apple chips

Lunch: Beans rice with grated cucumber raita

Evening Snack: Potato fritters

Dinner: Wheat and vegetable khichri

Fifth day

Breakfast: Apple oats porridge

Mid-Morning Snack: Ragi halwa

Lunch: Moong dal and tomato khichri

Evening Snack: Orange sandesh

Dinner: Soft aloo paratha

Sixth day

Breakfast: Steamed ragi dosa with paneer

Mid-Morning Snack: Mix fruits smoothie

Lunch: Sweet carrot rice

Evening Snack: Pumpkin suji halwa

Dinner: Chapati and green moong dal with ghee


 

Seventh day

Breakfast: Wheat pancakes

Mid-Morning Snack: Papaya segments

Lunch: Tomato onion khichri

Evening Snack: Baked sweet potato

Dinner: Masoor dal and rice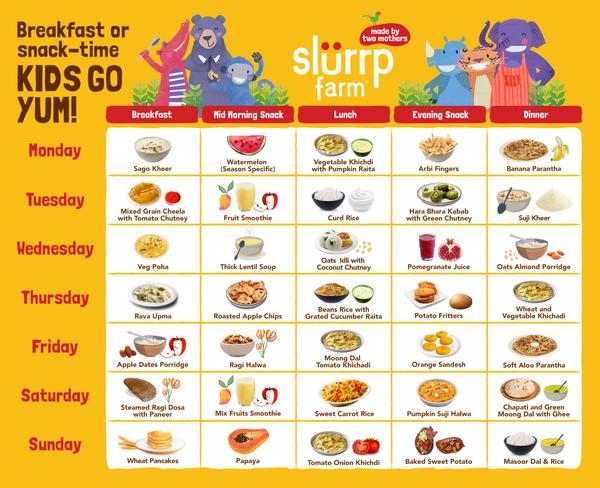 Click on the link to take the print
Week 3
First day

Breakfast: Green pea poha

Mid-Morning Snack: Beetroot sticks

Lunch: Lentils and rice

Evening Snack: Potato wedges

Dinner: Spinach pongal

Second day

Breakfast: Moong dal cheela with green chutney

Mid-Morning Snack: Banana fritters

Lunch: Beetroot rice

Evening Snack: Mango banana smoothie

Dinner: Cheese paratha

Third day

Breakfast: Banana pancake

Mid-Morning Snack: Vegetable soup with homemade cream

Lunch: Tomato onion khichri with pumpkin raita

Evening Snack: Chikoo milkshake

Dinner: Brown rice cereal

Fourth day

Breakfast: Suji dates kheer

Mid-Morning Snack: Flavoured yoghurt

Lunch: Vegetable khichri with curd

Evening Snack: Sweet potato fingers

Dinner: Vegetable upma

 

Fifth day

Breakfast: Vegetable idli with coconut chutney

Mid-Morning Snack: Roasted apple/pear

Lunch: Carrot onion khichri with bottle gourd raita

Evening Snack: Ragi halwa

Dinner: Wheat almond porridge

 

Sixth day

Breakfast: Ragi porridge

Mid-Morning Snack: Coconut water

Lunch: Moong dal and rice

Evening Snack: Mixed fruit yoghurt

Dinner: Mashed ghee chapati with green gram dal

Seventh day

Breakfast: Rava upma

Mid-Morning Snack: Mix fruit smoothie

Lunch: Masala vegetable pongal

Evening Snack: Phool makhana kheer

Dinner: Mashed ghee chapati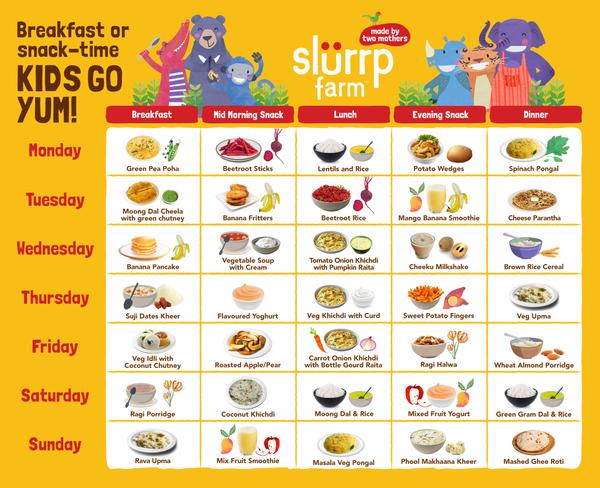 Click on the link to take the print
Week 4
First day

Breakfast: Vegetable ragi dosa

Mid-Morning Snack: Vegetable soup with cream

Lunch: Tomato and spinach pongal

Evening Snack: Banana fritters

Dinner: Apple oats porridge

Second day

Breakfast: Banana pancake

Mid-Morning Snack: Scrambled egg/scrambled paneer

Lunch: Sweet rice

Evening Snack: Coconut water

Dinner: Ragi porridge

Third day

Breakfast: Potato Pea Paratha

Mid-Morning Snack: Baked fruits

Lunch: Kadhi and rice

Evening Snack: Corn and pea patties

Dinner: Steamed dosa with paneer

Fourth day

Breakfast: Ragi sheera

Mid-Morning Snack: Beetroot rings

Lunch: Sago khichri with curd

Evening Snack: Vegetable Manchurian

Dinner: Mashed ghee chapati with ½ Tsp ghee and dal/vegetable

Fifth day

Breakfast: Rava upma

Mid-Morning Snack: Coconut water

Lunch: Curd rice

Evening Snack: Stewed apple

Dinner: Bajra porridge

Sixth day

Breakfast: Vegetable poha

Mid-Morning Snack: Fruit custard

Lunch: Masoor dal khichri with curd

Evening Snack: Beetroot sticks

Dinner: Mix vegetable cutlets

Seventh day

Breakfast: Paneer paratha

Mid-Morning Snack: Fried apple rings

Lunch: Vegetable pongal

Evening Snack: Banana smoothie

Dinner: Wheat sheera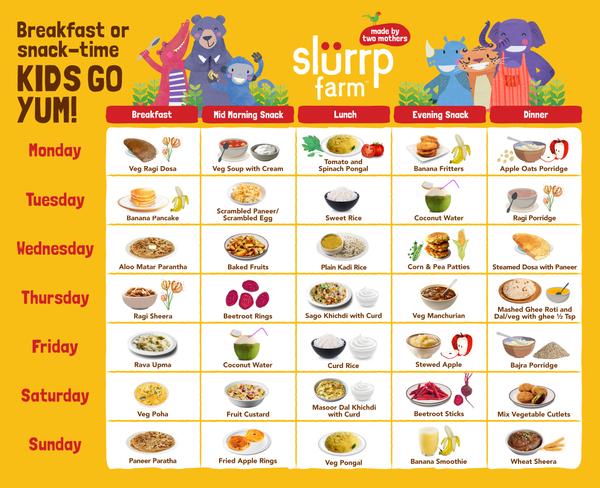 Click on the link to take the print
Disclaimer:
1. Make sure to follow the 3-day rule. Note down the new ingredients introduced in the baby's diet to look out for any allergic reactions
2. It is common for babies to reject unfamiliar foods, as they wean. Be patient and keep offering a variety of foods. Do not worry, this is perfectly normal

3. Please remember that some foods can irritate your baby's digestive system. Avoid highly spicy or greasy foods. Also, avoid foods that could easily cause choking

4. If your baby as several episodes of vomiting after trying new food, has diarrhea, develops a rash, or swelling of the lips or eyes, he or she may be having an allergic reaction. Stop the feeding and call your pediatrician