Millets are delicious and nutritious! And it's no brainer that healthy snack for kids can be made from traditional grains such as ragi, jowar, and bajra. Therefore, as a part of our collaboration with The Goya Journal, in our previous blog, we shared the recipe of yummy and healthy sorghum (jowar) muffins. Hope you enjoyed it. We all know how millets are climate-smart, sustainable food with more calcium than what's present in wheat and rice.
For most of us, however, cooking with these super grains is still a bit of a challenge. This recipe is part of a series we took all the guesswork out of cooking with millets and helped you make easy, creative dishes that will become a staple in your home. We have also mentioned it in our recipe cards which were shared earlier this month.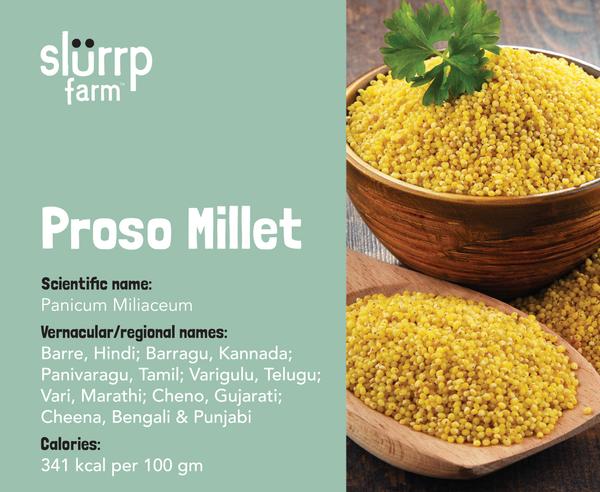 We are making a triangular-shaped flaky pastry (filled with veggies such as potato or mushrooms, cottage cheese/ chicken/lamb) aka samosa and you can tweak the filling it as per your taste.
All that you need to make this healthy snack for kids:
Ingredients:
1. One cup Proso millet flour or sprouted ragi powder
2. One cup all-purpose flour (maida) or you could actually replace this with whole wheat flour
3. 5 Tbsp water
4. One cup potatoes
5. 1/2 Cup boiled peas
6. 1/4 Cup onions
7. 2 Green chilies
8. 10 Curry leaves
9. Salt, to taste
10. 3 Tbsp oil 
Method:
1. Mix proso millet or sprouted ragi powder) and maida (or whole wheat flour), and add water to knead into the dough
2. Make chapatti-sized balls of the dough and use a rolling pin to spread them out
3. Use a knife to cut the chapattis into halves
4. For the stuffing, boil the potatoes and let them cool
5. Mash boiled potatoes and chopped onions, green chilies, curry leaves, and salt
6. Fill the above mixture in each half chapatti and fold in a triangular shape
7. Heat oil in a kadhai and deep fry the samosas
8. Serve hot with ketchup or a chutney of your choice
Here's hoping you will give this recipe a shot and savor the goodness of traditional grains.
Originally posted on Goya Journal which is a food media production company and a web publication focussed on food journalism, and healthy recipes.