By Ayesha Nallaseth
With a pandemic outbreak upon us, and all of us safely tucked inside our home, we are counting days when our lives would resume normalcy. Nothing comforts your little one more than a platter of snacks, which completely transforms the experience. However, at times like these, sometimes we even delve into unhealthy snacking which may add to health-related worries over a course of time. 
Here's a perfect healthy snack idea for kids – Akki Roti (chapatti) Canapes, your perfect companion during self-quarantine. It a quick and easy recipe, does not require grinding and fermenting any batters. A soft dough of brown rice flour perked up with veggies, green chilies, and onions are flattened deftly on a hot tava and cooked till it is an appetizing golden brown in color. 
Akki Rotis (chapattis) are usually made with wheat rice flour. Having said which, let's break the tradition! Since we are on a lookout for healthy snack ideas for kids, we will use something which is surprisingly healthy and rich in fiber – Slurrp Farm Organic Brown Rice Powder. Brown rice flour is rich in manganese, which helps in the proper development of bones and cartilage.
PS: Veggies and masala powders are totally optional and their quantity can vary according to your preferences. Avoid green chilies and ginger if preparing for younger kids. Also, make sure you cook the rotis as soon as the dough is made, as the dough will get stiff and dry after some time.
Akki Roti Canapes
Ingredients:
1. 80 Gms of Slurrp farm Brown Rice Flour
2. ½ Small onion (chopped)
3. One tbsp coriander (chopped)
4. One green chilli (chopped) optional
5. ½ Carrot (grated)
6. One tsp jeera powder
7. One tsp ghee
8. 60 Gms lukewarm water (water may vary)
9. Salt to taste
Method: 
1. Put all the ingredients together.
2. Make a dough of all the ingredients.
3. Take a plastic sheet and oil it.
4. Place the dough on the sheet and fold the plastic sheet. Using your fingers flatten the dough as thin as possible
5.  Using a preferred cutter, cut the dough into the desired shape.
6. Heat a non-stick pan and panfry till golden brown over medium.
7. Top the brown rice akki roti with your favorite chutney or hung curd and serve.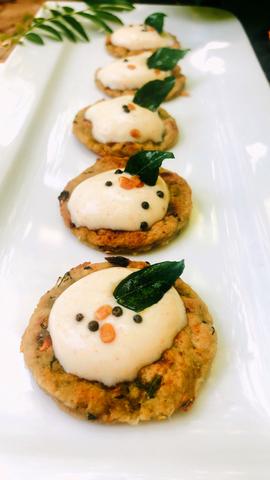 Tips:
1. As the dough is sticky you need to oil your hands while working with it.
2. You can add any flavoring to the dough like chopped ginger or methi or spinach.
3. The water requirement may vary depending on the ingredients used. In case the dough is way too sticky add a little more brown rice flour.
4. Top with your favorite chutney, pickle or tadka yogurt.