Meet Anjali Harjani
Anjali Harjani, founder of Malabar Baby, in 2016. Anjali was brought up in Miami Beach, Florida from birth to thirteen years old. Anjali then spent her high-school years at boarding school in India (Kodai Kanal International School) where she concentrated heavily on Art and Psychology. Anjali went to Brandeis University and worked at Morgan Stanley and Credit Suisse in New York for 10 years (before starting Malabar Baby). Most people don't know, but, Malabar Baby was named after Anjali's family home in Malabar Hill where her parents currently live. And where she is currently spending the lock-down period with her son Aryan.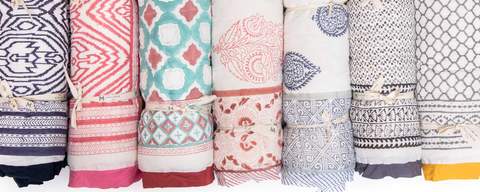 Get to know her:
1. Words I live by…
Authenticity, kindness, empathy
2. Why do I love to feed my family healthy food?
Ever since I was a kid I always craved healthy snacks. Indian food, in particular, was a regular part of my diet. I'm so happy that my son has the same cravings! His favorite food is dal and that is just fine with me! We love Slurrp Farm products and the whole fam is perfectly happy to gobble up healthy pancakes!
3. A dream I am turning into reality is?
Going to work doesn't ever feel like I'm working. I never had a dream to own my own business per se, but, it's pretty darn cool to wake up and never dread "going to work". I'm a people person and I always loved my corporate job in HR, however, I had an inner desire to be more creative. I also had a passion to want to give back to children in need. Malabar Baby is 3+ years old now and it feels amazing to know we are making quality products that families around the world cherish and depend on, as well, as being able to give back to communities that need some love. We are involved with different charity initiatives that are small scale and grassroots with the truly meaningful impact that we can see for ourselves.
For example, a memory that is etched in my heart forever is from this past Valentine's Day where we worked with Mother's Choice (an NGO in HK that helps girls and women going through crisis pregnancies and who are left with the challenging decision of caring for their newborn baby or putting him or her up for adoption). I spent the day visiting expecting and new moms, giving them makeovers, and doing a full photoshoot with their little ones. It was a special, emotional time for some of the young women before they gave their babies up for adoption.  I was so honored and grateful that we could help these ladies know just how beautiful and strong they are while giving them memories to last a lifetime. 
4. How are you keeping stress at bay (now that the whole family is home)? 
My son Aryan and I are in Mumbai at my parent's house while my husband is in Hong Kong. Everything happened so quickly and we didn't expect to be here in lockdown for 50+ days! That being said, I have connected with my parents and India in a way I don't think I would have ever been able to do. It's a slower pace and seeing my son hang out with his grandparents and challenge them to a game of Uno every evening makes it all worthwhile! Nonetheless, we do have tough days where we miss Papa and home, but, painting has become our new hobby, together. Never thought my 5-year-old would sit with me for hours and just paint… It's a slow mode that I'm cherishing. 
5. What do you think the greatest invention has been during your lifetime? 
Zoom! Haha. This period of lockdown in India has taught me that anything is possible, remotely.
6. Describe motherhood in just one word!
Magical
Malabar Baby is an authentic and relatable lifestyle brand that integrates easily into today's modern family. Every collection is slowly made and has a personal story weaved through and through. As the founder, Anjali feels passionate and proud to have an opportunity to share India's rich culture and handmade heritage with the world. It's a proud moment for her when International buyers in Paris and France, say they are so happy to see sophisticated Indian textiles made for the nursery.
A professional highlight?
When Meghan Markle carried Baby Archie out in his first public outing, wrapped in our mustard gold Erawan Dohar receiving blanket.