Meet Megha Chawla
Megha Chawla is a partner in Bain & Company's New Delhi office. She has more than 10 years of consulting experience and has led client engagements and teams globally across Southeast Asia, Boston, and Silicon Valley.
Megha earned an MBA from the Indian Institute of Management, Bangalore, and holds a graduate degree in Economics from Shri Ram College of Commerce, University of Delhi.
Get to know her:
1. Words I live by…
Life can be easy or interesting.
2. Why do I love to feed my family healthy food?
Because we never want to let poor nutrition come in the way of making the most of life.
3. A dream I am turning into reality is?
Living an interesting life – where I have the opportunity and the courage to uphold my individuality, interests, and choices.
4. How are you keeping stress at bay (now that the whole family is home)?
In many ways, my daughter and husband help me keep stress away. A few steps that help me manage better :
I make sure to not default to video calls always.
I'm very comfortable if my daughter joins my calls (and brings a smile to most other faces).
I guiltlessly say no to family or to work when the other demands my focus
I get 60 minutes of solid exercise every day.
We make sure to have all our meals together – when else are we going to get this opportunity.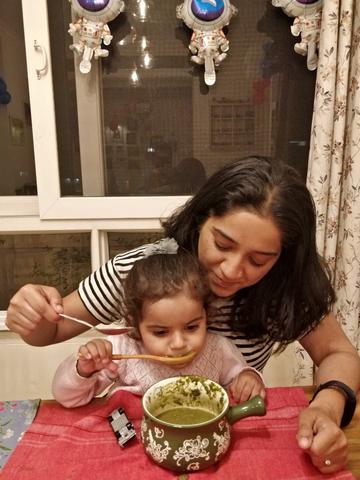 5. What do you think the greatest invention has been during your lifetime? 
It was before my time, but it has to be the integrated circuit.
6. What's the easiest thing about being a mother?  
You know where to look to bring a quick smile to your face.